Here's a writeup of Penn State's 3-0 victory over VCU, from vcuathletics.com:
PENN STATE OVERPOWERS VCU, 3-0

UNIVERSITY PARK, Pa. – It was business as usual for top-ranked Penn State Saturday night at Rec Hall. Virginia Commonwealth University put up a fight, but couldn't prevent the Nittany Lions from their 108th consecutive victory in the finale of the Hampton Inn Classi

The Rams (1-6) received seven kills and three blocks from sophomore Kristin Boyd (Wilmington, N.C.), while senior Mariel Frey (Lititz, Pa.) added six kills. Sophomore libero Marisa Low (Carlsbad, Calif.) provided 11 digs. Low averaged 4.18 digs per set in three tournament matches and was named to the All-Tournament team.  Penn State (6-0) looked much like the team that won the last three women's volleyball national championships. With a near-capacity crowd of 4,626 behind them, the Nittany Lions hit .422 on the way to victory.  "The biggest telling number was that we had zero blocks in the first two games. So, we were getting beat and not reading their setter," VCU Head Coach James Finley said."
For the complete release from vcuathletics.com, Click Here.
For the writeup by gopsusports.com, Click Here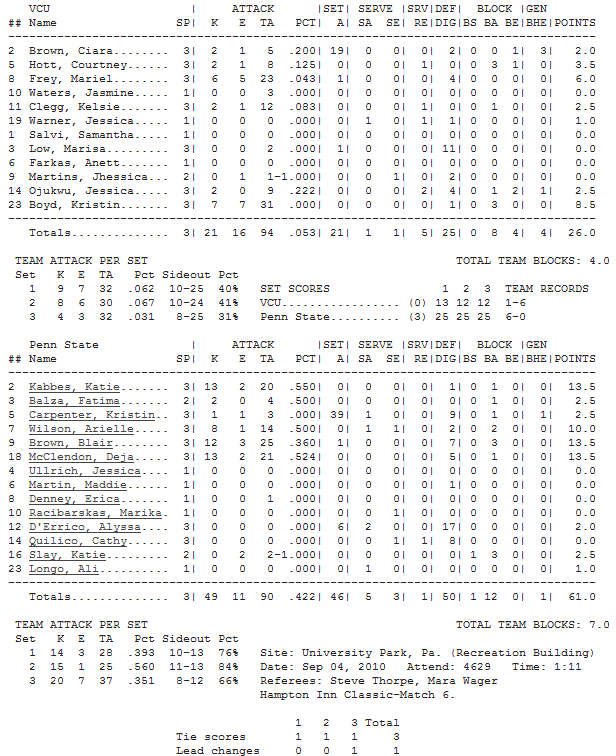 .
Here are the match stats, courtesy of gopsusports.com: