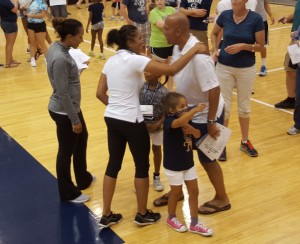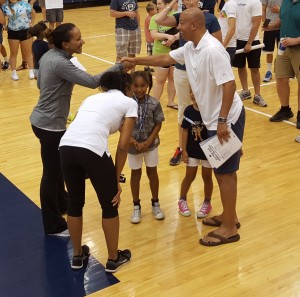 Penn State Sweeps Stony Brook as Head Football Coach James Franklin Looks On
Penn State Women's Volleyball Head Coach Russ Rose probably hasn't changed his opinion about the "work-in-progress" status of this year's team, but after the match, Assistant Coaches Salima Rockwell and Stevie Mussie were all smiles as they greeted Penn State's Head Football Coach James Franklin, who attended the match with his daughters.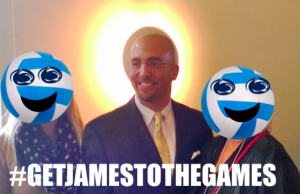 We can't claim it was entirely because of our #GetJamesToTheGames campaign (OK, maybe despite our campaign) but whatever the reason, it was great to see him at the match.  Come back again soon, Coach Franklin!
About the Match
Penn State (2-0) swept Stony Brook (0-2) 25-13, 25-13, 25-20. The offensive standouts for the match were 6-2 Sr.  OH Megan Courtney (11 kills, 17 swings, no errors — .647 attack % — 9 digs, and 4 blocks) and 6-2 So. OH Ali Frantti (10 kills, 3 digs, 2 blocks).  Led by 6-0 RS Fr. Bryanna Weiskircher, who tallied 30 assists, Penn State hit .398 as a team. 5-8 Fr. Wilma Rivera was the setter for parts of sets two and three, registering 5 assists and 3 digs.
6-2 So.MB Heidi Thelen, with 9 total blocks, again led the team (she now has 16 blocks in 6 sets).  6-4 RS Sr. Aiyana Whitney contributed 5 blocks and 6 kills.  6-3 So. MB Haleigh Washington registered 4 blocks, as the Nittany Lions out-blocked Stony Brook 13.5 to 2.0.  5-6 Fr. Keeton Holcomb was the starting libero in all three sets, totaling 9 digs. RS Fr. OH Nia Reed and 5-6 So. DS Carley Muller saw their first action of the season.