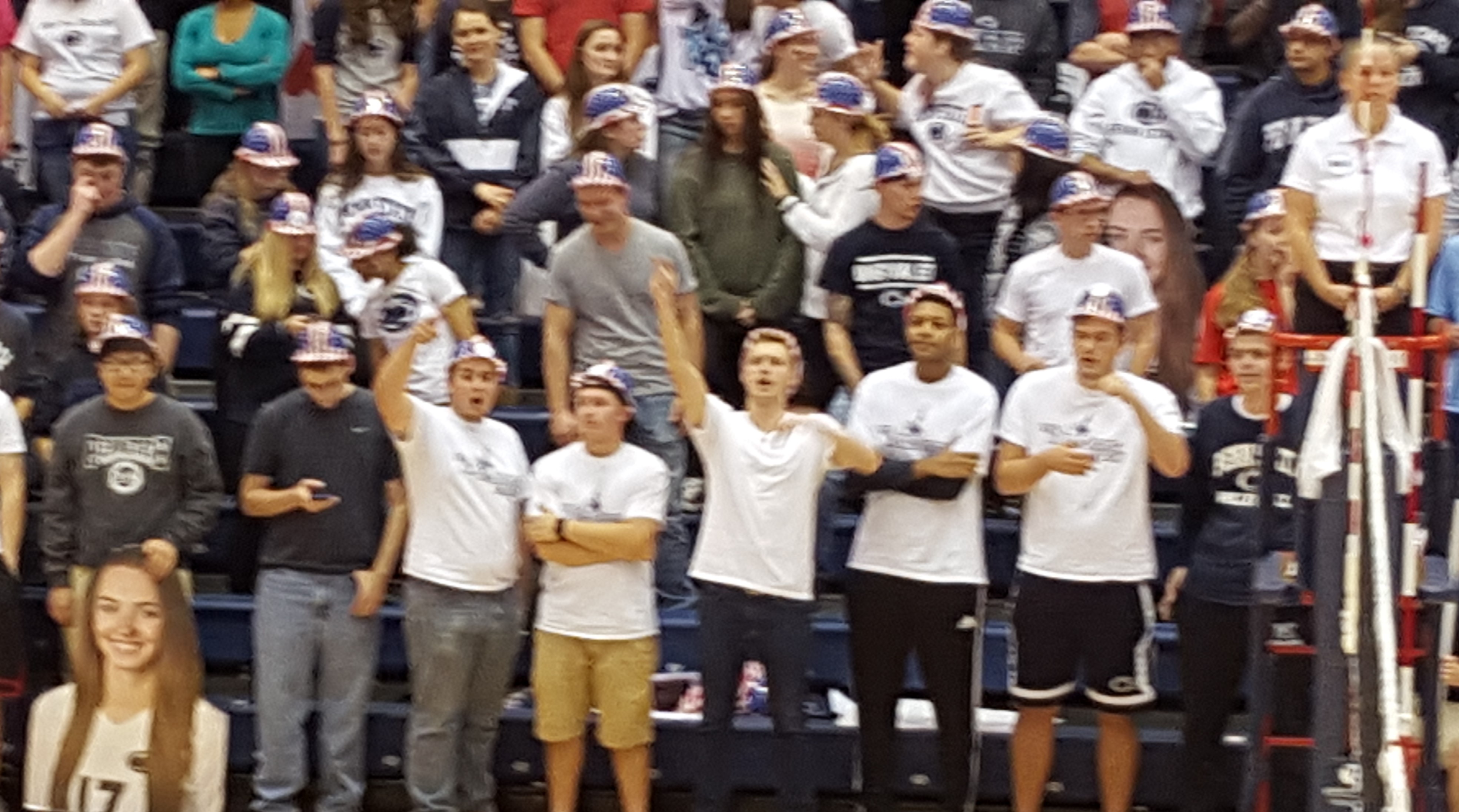 Penn State's 3-0 win over Indiana (25-18, 25-15, 25-14) was a night for firsts:
the first start for 6-2 RS Fr. RS/OH Nia Reed (6 kills; 2 blocks);
the first start for 5-4 Sr. DS Lara Caraway (8 digs);
the first appearance of 6-2 So. MB Heidi Thelen at RS (1 kill, 1 block); and
the first match 6-2 Sr. OH Megan Courtney — injured on the final point against Northwestern — hasn't been in the starting lineup since 2013 (and only the second match she has missed in her entire career at Penn State, having played in 127 of 128 matches and 425 of 437 sets prior to tonight).
Head Coach Russ Rose described it as "an interesting match":
We had to play a different lineup, and we're asking different people to do different things, but I thought [So. OH Simone Lee] and [Lara Caraway] played especially well tonight. Simone was the top hitter on the floor tonight [10 kills; .474 attack %].  I thought Lara did what a senior should do, and that is come in, play well, talk, and help the younger players.  We have alot of really young players out there on the floor.  It takes time for everybody to get themselves together.
Asked what was missed most from Courtney's absence, Rose said:
Megan makes other people better.  She makes other people confident because of what it is she does.  She's our best passer and our most confident and experienced player, but she's not able to play, and the schedule goes on.  I thought I saw some good things from Nia [Reed] and Heidi came in and did some good things.  It's still Penn State.  It wasn't Megan's team before — she's maybe our most important player, but it's a team game.   So I'm happy with the contributions the other players made.
Caraway admitted to being somewhat nervous prior to the match, but said that the nervousness disappeared once the match began:
It feels great being a part of the team on the floor — there was alot of camaraderie and energy.  It was like nothing I've experienced here so far and I'd like to keep experiencing it moving forward.  I was nervous — everyone's nervous — but once we all said 'here we go, start the game, first ball" it just all kind of went away.
Coach Rose said he was nervous:
You don't know how they're going to play — it's a whole new lineup.  I wouldn't say practices were great.  It was a good week because the Cubs won."
[Editor's note: Coach Rose is a diehard fan of the Cubs, who are favored by Jay Kornegay of Westgate Las Vegas SuperBook, to win the 2015 World Series.  A Cubs victory in the 2015 World Series was also predicted in the 1989 movie "Back to the Future Part II."]
Lee, who moved back to OH after playing several matches at RS, said she is comfortable hitting from either side.
I try to stay confident at each position I'm put in, making sure I can contribute the most to my team  Whatever position he puts me in, I'm going to try to do my best at all times.
Sr. OH Amelia Anderson topped the Hoosiers (12-7, 2-5 in the B1G) with 10 kills.
Match Stats
(Courtesy GoPSUsports.com)