Highlights and Not So Highlights
The saying is that a picture is worth 1000 words. Certainly, a video can get 1000 times more internet hits than 1000 words. And tell a different story.
Case in point, the video highlights, courtesy of GoPSUsports.com, from Penn State's 1st and 2nd round 2014 NCAA Women's Volleyball Tournament wins over Siena and Dayton, respectively.  From those highlights, it was pretty much a Penn State juggernaut that had it's way in both matches.  (We think it's important to point out that the video highlights don't include the play that for us was the coolest of the weekend — the "super secret, never been shown before, Haleigh Washington setting Micha Hancock for a kill" play.  Maybe you had to be there?) :
Then there are the words — Penn State Head Coach Russ Rose's words, to be specific, following the Nittany Lions'  sweep (25-20, 25-18, 25-16) of Dayton (30-6) last night in Rec Hall:
I didn't think we played very well tonight . . . . Our serving was really a problem and we made a lot of not typical errors for the veteran players that were involved in making those mistakes.
We don't know which plays Coach Rose was referring to, but Penn State had 12 service errors (nine aces), and there were several balls that the Nittany Lions judged to be going out, and let drop, but which turned out to be in. One gets the sense that Coach Rose won't be spending much time over the next week enjoying that highlight video.  And that the Nittany Lions (32-3) have some . . . challenging . . . practices ahead of them before they face off against  #12 seed UCLA on Friday, Dec. 12th in Louisville, Kentucky at the KFC Yum! Center.
Here's the complete post-match press conference, with Coach Rose, 6-2 Jr. OH Megan Courtney, and 6-4 RS Jr. Opp/RS Aiyana Whitney:
And here's a post-match interview with Megan Courtney:
Match Recap
Alaina Turner was impressed with Micha Hancock's serve. We were impressed with Aliana Turner's play.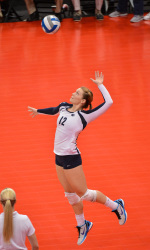 On the bright side for Penn State, 5-11 Sr. setter Micha Hancock's three service aces gave her the NCAA record for most services aces in a single season in the 25-point rally serving era.  Dayton's 5-10 Jr. OH Alaina Turner was impressed:
"I don't think I've ever passed a serve like [Hancock's].  Her serve is definitely a little more difficult than some serves I've come across. It's fun to pass her serves. It's a challenge."  As quoted in an article by Patrick Kowalski of the Daily Collegian.
Turner had a nice sub-regional, recording 30 kills in Dayton's 4-set win over American in the 1st round, and 9 kills and 10 digs against Penn State.  Other key contributors for Dayton were 5-10 Fr. setter Jane Emmenecker (25 assists and 6 digs), 5-5 Jr. libero Janna Krafka 8 digs and one kill), and 6-4 Jr. OH Jill Loiars (8 kills).
Coach Rose was quick to praise the Flyers:
"You have to give Dayton credit. There were nine teams in the country that won 30 matches. Two of them were playing out there tonight. They served well and we knew they would serve well. We didn't even go for some balls."  Penn State Head Coach Russ Rose, quoted in an article by Patrick Kowalski of the Daily Collegian.
Penn State was led by Courtney's 11 kills on 25 attempts (.440 attack %), with 6 digs and two blocks, 6-1 Fr. OH Ali Frantti (9 kills, .348 attack %), 6-3 Fr. MH Haleigh Washington (9 kills, .571 attack %), Whitney (8 kills, .538 attack %), and 6-2 Jr. MH Nia Grant (6 kills, 2 service aces, 3 blocks).  Micha Hancock guided the team to an overall .436 attack %.
Here's Dayton's post-match press conference:
Match Stats (Courtesy of GoPSUsports.com)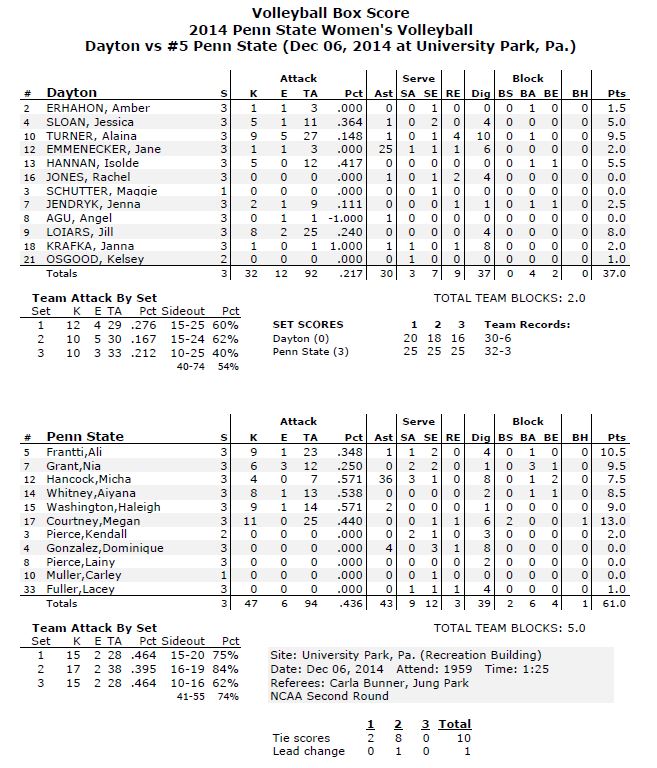 __________________________
Photo Credits
Photo of Nia Grant, Aiyana Whitney, Micha Hancock, Megan Courtney and Ali Frantti courtesy of GoPSUsports.com
Photo of Alaina Turner courtesy of DaytonFlyers.com