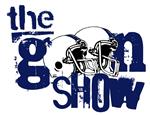 Goon Show Graphic Courtesy of The Goon Show.
Penn State Women's Volleyball Head Coach Russ Rose is the lead guest on tonight's edition of "The Goon Show," a live, sports show hosted by Keith "Goon" Conlin, a tackle on Penn State's 1994 Big Ten and Rose Bowl champions, and Tim Sweeney, a linebacker on the 1986 Penn State national championship team, who is President of the Penn State Lettermen's club.
Previous episodes of "The Goon Show" have featured Penn State's new Head Football Coach Bill O'Brien, former All-American running back Ki-Jana Carter, and Penn State's new Men's Hockey Coach Guy Gadowsky. From the graphic above,  it's clear the show is rather football-centric, but it covers other Penn State sports, as well as sports news generally, and we think it will be interesting to hear what Coach Rose has to say.
Below is the link to tune in:
www.goonshowpsu.com.   The show will stream directly on The Goon Show's home page when they go livem, plus listeners will be able to interact and ask questions of Coach Rose using CoverItLive.
And here's a link for the UStream channel broadcast: