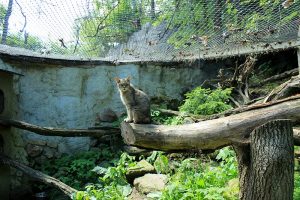 Penn State (9-3) is at Northwestern this afternoon to take on the Wildcats (7-6) at 2 p.m. ET at Ryan-Welsh Arena in Evanston, Illinois.  Although Penn State leads the all-time series with Northwestern by a 49-9 margin, last year, the Wildcats upset PSU in five sets (18-25, 25-23, 24-26, 25-17, 12-15) (the match in which Megan Courtney was injured — not an excuse, just historical fact).   Penn State then swept Northwestern in Rec Hall(25-18, 25-14, 26-24). The Nittany Lions are 24-5 in matches in Evanston, Illinois.
Since dropping three consecutive matches (to North Carolina, Colorado, and Stanford), the Nittany Lions have won seven consecutive matches, including a 3-0 win (25-17, 25-17, 25-5) over Rutgers in their Big Ten opener.   6-1 Jr. OH Ali Frantti (11 kills, .579 attack %) and 6-1 Jr. OH Simone Lee (13 kills, .458 clip attack %) led Penn State against the Scarlet Knights, while
6-0 Jr. setter Abby Detering had a solid match with a team-high .468 attack %, 34 assists, a career-high 4 aces, 6 digs, and 2 blocks.  6-2 RS Fr. MB Tori Gorrell chipped in 4 kills (.800 attack %), 6-2 Jr. MB Heidi Thelen added 5 kills, and 5-5 Fr. libero Kendall White came up with a team-high 13 digs.
Penn State leads the B1G (and is 2nd in NCAA D1) in opponents' attack % — 0.093.
The Nittany Lions are second in the Big Ten in team attack % — .302 average (5th in NCAA D1).
The team's 2.78 blocks/set ranks 6th in the B1G and 23rd nationally.
This will be a tough match, and is far from a gimme for the Nittany Lions.  But we're going to go out on a limb and pick Penn State in 4 sets.  Or 5.  Well, in any rate, a Penn State win.
Media
Here are links to the available media:
Q&A with Talking Head
DigNittany: Northwestern has several very good players, including 6-0 Jr. setter Taylor Tashima, 6-1 Jr. OH  Symone Abbott and 6-2 Sr. RS Kayla Morin.  Your thoughts on the Northwestern squad?
Talking Head: Simone Abbott is very good.  She lit us up last year.  Tashima is obviously very, very talented.  New Head Coach Shane Davis has them in some kind of a modified 6-2, and that may have taken some getting used to for the team.  In the backrow they've been led by 5-7 RS So. Katie Kniep.   The backrow hasn't been as strong for the Wildcats, but again, that may simply be a matter of them adjusting to a new coach and new teammates.  As much as people point to the fact that Northwestern returned alot of players, they also are using them in different ways.  It's a feeling out period for a new coaching staff.
DigNittany: Ali Frantti and Simone Lee both had strong matches against Rutgers.  Are you pleased with what you're seeing from them?
Talking Head:  Very much so.  I think to perform as they did against Rutgers was a great way to start off the Big Ten schedule.  I really like what I'm seeing from both of them.  Simone is hitting so high now, and with such velocity, that she rarely gets blocked straight down.  When she's blocked, they're just getting pieces of the ball.  And Ali has been swinging very well in recent matches.  Against Rutgers, that paid off.
DigNittany: What can you tell us about Northwestern's Head Coach Shane Davis?
Talking Head: He came from the men's program at Loyola, where he took over when he was quite young, shortly after graduating.  It was almost like being a player coach.  He's a very good coach — he coached Loyola to back-to-back NCAA championships in 2014 and 2015.  But there will be adjustments for the team, with a new system.  Northwestern will be an interesting team to watch throughout the season, to see how they develop.
DigNittany: Your prognosis for the team (not to put you on the spot or anything)?
Talking Head: I think this season is more open than many people think — although Nebraska clearly has a great team and is the odds-on favorite to repeat as NCAA Champions.  But if Ali and Simone can continue to perform well, and Washington, Gorrell, Thelen, White, and Holcomb (who has been playing out of her mind the past couple of weeks, in my opinion) continue to play well, Penn State will win alot of matches.  Too early to predict beyond the regular season, but this Penn State team has real potential.
DigNittany: Thanks very much.  We appreciate you taking the time to speak with us.
Credits