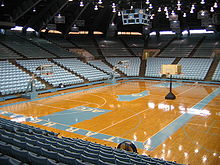 Playing their first match of the 2010 Season, in front of 4,000+ fans cheering for their opponents (the University of North Carolina Tar Heels), starting two freshmen in the first set (OH Deja McClendon and Setter Mikinzie Moydell ) and playing five in the match (McClendon, Moydell, MH Erica Denny, DS Ali Longo, and OH Maddie Martin), the Penn State Women's Volleyball team held off a determined UNC squad for a 3-0 (25-19, 25-21, 25-16) sweep of the Tar Heels. Adhering to our new, temporarily permanent, definitely unofficial, and made to be broken policy of not specifying the length of The Streak, we'll just say that it's currently at a number that is greater than 102 but less than 104.
Senior Opposite Blair Brown's nine kills led the Nittany Lions, followed by McClendon's eight kills and senior Middle Hitter Arielle Wilson's seven. Wilson topped the Nittany Lions with seven blocks, with senior MH Fatima Balza and McCledon recording six each.
Sophomore Kristin Carpenter, who substituted for Moydell midway in the first set, led Penn State with 23 assists (Moydell had four in her first-set action) and added six digs and four blocks.  Senior libero Alyssa D'Errico led the backrow defense with 19 digs, with Brown chipping in 11, followed by senior DS Cathy Quilicoand McClendon with seven each.
As a team, Penn State hit for a less-than-stellar .185 attack percentage, with a very respectable 15.0 total team blocks. The Nittany Lions held UNC to a .016 attack percentage and 5.5 total team blocks for the match.
Room for improvement? Sure. Plenty to work on? Absolutely.  But Head Coach has stressed this is a team that will need to improve throughout the season, and will "hit a lot of bumpy roads along the way."  Our inexpert view: maybe this match wasn't a work of art.  But it was a starting point from which to measure the improvement.  And . . . it was a sweep.  On to the next.
For a recap of the match from gopsusports.com Click Here.
Here's a link to the Final Stats.
Here's a link to the Match Summary, Game Flow, and Player Statistics from GameTracker