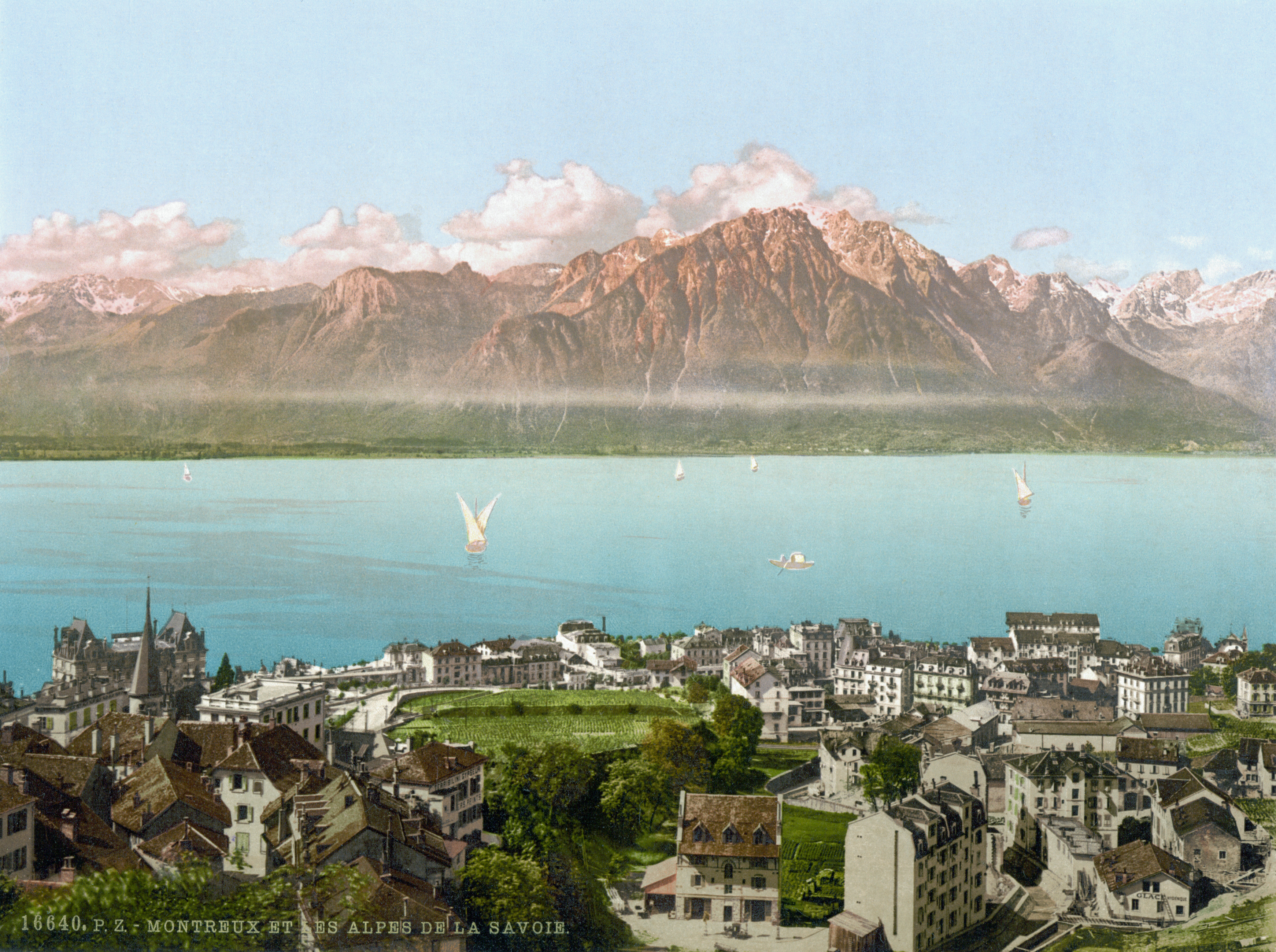 Three former Penn State players — Nicole Fawcett, Alisha Glass, and Christa Harmotto — have been named to the U.S. Women's National Team preliminary roster for the 2011 edition of the Montreux Volley Masters Tournament, in Montreux, Switzerland.  (That's Montreux in the photo above, circa 1900.)  Penn State's Head Coach Russ Rose is the designated team leader.
The tournament, which will take place from June 7 to June 12, 2011, features eight of the world's best women's volleyball teams.  Here's a description of the event from the tournament's website:
The Montreux tournament is a world exclusive and today is undeniably one of the major world volleyball events. It allows championship teams and Olympic medal winning teams from around the globe to meet and compete at an optimal period of the year and to prepare for the official IVBF competitions, notably the World Grand Prix, the World Championships and the Olympic Games.
The U.S. Women's National Team, which is currently the #2-ranked team in the world, won the silver medal at the 2010 tournament (for results from the 2010 Tournament, Click Here) and also won medals at the 1991, 1995, 1996 and 2004 tournaments.  
The United States' will face Peru on June 7th in its opening match, followed by Germany on June 9th and China on June 10th.  The Semi-Final matches are scheduled for Saturday, June 11th, and the Finals for Sunday, June 12th.  For the complete schedule, Click Here.
Below is the published United State's preliminary roster for the 2011 Montreux Volley Masters Tournament (although we note that this roster reportedly was submitted some time ago, so some players — e.g. Stacy Sykora, who is recovering from injuries she suffered in a bus accident in Brazil — are unlikely to be on the final roster):
# – Name (Position, Ht, Hometown, College)
1 – Alexis Crimes (MB, 6-3, Rancho Cucamonga, Calif., Long Beach State)
2 – Danielle Scott-Arruda (MB, 6-2, Baton Rouge, La., Long Beach State)
3 – Tayyiba Haneef-Park (OPP, 6-7, Laguna Hills, Calif., Long Beach State)
4 – Angie Forsett (OH, 5-8, Lake Mary, Fla., California)
5 – Stacy Sykora (L, 5-10, Burleson, Texas, Texas A&M)
6 – Nicole Davis (L, 5-4, Stockton, Calif., Southern California)
7 – Ashley Engle (S, 6-3, Yorba Linda, Calif., Texas)
8 – Alisha Glass (S, 6-0, Leland, Mich., Penn State)
9 – Jennifer Tamas (MB, 6-4, Milpitas, Calif., Pacific)
10 – Kim Glass (OH, 6-2, Lancaster, Pa., Arizona)
11 – Jordan Larson (OH, 6-2, Hooper, Neb., Nebraska)
12 – Nancy Metcalf (OPP, 6-1, Hull, Iowa, Nebraska)
13 – Christa Harmotto (MB, 6-2, Aliquippa, Pa., Penn State)
14 – Nicole Fawcett (OPP, 6-4, Zanesfield, Ohio, Penn State)
15 – Courtney Thompson (S, 5-8, Kent, Wash., Washington)
16 – Foluke Akinradewo (MB, 6-3, Plantation, Fla., Stanford)
17 – Nellie Spicer (S, 5-9, Barrington, Ill., UCLA)
18 – Kristin Richards (OH, 6-1, Orem, Utah, Stanford)
19 – Destinee Hooker (OPP, 6-4, San Antonio, Texas, Texas)
Here's video from last year's match between the US and Cuba: