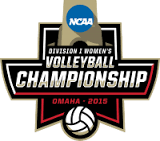 We asked Lionsfan to give a quick rundown on the 2015 NCAA Women's Volleyball Tournament teams and matchups.  Here's his write-up, along with links to each of the host teams NCAA Tournament Central webpages (except for Nebraska, which as of this posting did not have one that was readily apparent — sort of like their seating for parents of visiting team's players):
Des Moines Regional
(click venue links for more match info)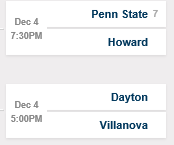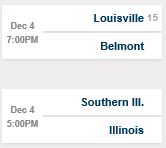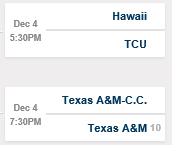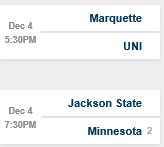 Best First Round Match-up: Dayton vs. Villanova
Best Potential Second-Round match-up: Texas A&M vs. Hawaii
Unseeded Spoilers: Hawaii, Illinois
Potential Cinderella: Dayton/Villanova
Head Scratcher: Hawaii not seeded?
They're one of the 16 best teams, for sure…and that's not a knock on Texas A&M, which earned its seed with a 14-match winning streak that helped it secure its first ever SEC title (we're looking at you, Creighton!).
Howard is making its first-ever NCAA tournament appearance, one of six newbies this year. Penn State beat Dayton in Round 2 last year, and swept Villanova earlier this season—but the Wildcats broke the 20-point barrier in each set. And every Penn State fan vividly recalls 2002, when an unseeded Pennsylvania team (Temple) stunned the Lions in State College in Round 2 (let's make sure that doesn't happen again, ummkay?).
TCU has lost four of its last seven matches (taking only one set in those four games), but that stunning sweep of Texas at the end of October will undoubtedly get Dave Shoji's team laser focused.
A&M had five-set wins over Minnesota and Colorado State earlier this year, then rebounded from a rough stretch to take the SEC—three of its last four wins against the other top conference teams (Kentucky, Florida and Missouri).
Illinois opened its season with a sweep of Louisville in Champaign (the same weekend it swept Creighton).
Advancing to Regionals: Minnesota, Penn State, Illinois and…Hawaii, although I think Texas A&M at home should be a great battle for the Bows (the Aggies only lost once at home this season).
Advancing to the Final Four: Minnesota is ready for a return to the Final Four—and if it gets there over the teams in its way at the Regionals, it will have earned it the hard way.
I'm real curious to see who that final team challenging them is (I hope its Penn State, who I imagine would love another shot after being swept in Minneapolis last month), and I would love to see a Penn State/Hawaii matchup.
Lexington Regional
(click venue links for more match info)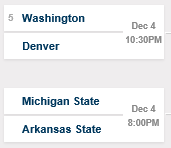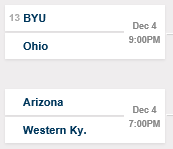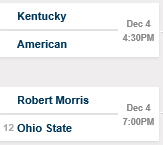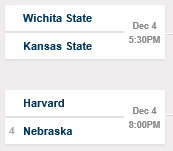 Best First Round Match-ups: Michigan State vs. Arkansas State; Arizona vs. Western Kentucky; Kentucky vs. American
Best Potential Second-Round match-ups: BYU vs. Arizona; Ohio State vs. Kentucky
Unseeded Spoiler: Michigan State
Potential Cinderella: Western Kentucky
Head Scratcher: Should Michigan State have made the field? We're biased and say yes, but it was surely one of the last selections—giving the Big Ten an impressive nine entries. Arkansas State and Western Kentucky were definitely in the seed discussion (the Lady Toppers finished two spots ahead of the Bluejays in the RPI)…will either of them prove they should have been seeded?
Of Note: BYU's remarkable run to the final last year started in Tucson, where it upset the seeded Wildcats to advance to the third round. The two could meet in the same round this year—but in Provo. Ohio State and Kentucky have met in the second round two of the last three years: The Buckeyes won 3-1 last year, while the Wildcats won 3-1 in 2012 (both of those matches were in Lexington). Kansas State stunned second-seeded Nebraska in Lincoln in Round 2 of the 2011 tournament. The last four tournaments, Washington's run has been halted by a Big Ten team.
Advancing to Regionals: Washington, Ohio State, BYU, Nebraska.
Advancing to the Final Four: Don't lie: You all want to see it. The tournament history between Washington and Nebraska is so fierce, it just has to continue! The Huskers stunned the Huskies in Seattle last year in Round 3 and swept them in Round 3 in 2012 (in Omaha), while the Huskies came out on top 3-1 in Round 3 in 2010 (also in Seattle).
Then there was the epic Regional Final in Seattle in 2008, when the Huskers made one of the most remarkable comebacks the sport has ever seen—coming down from two sets down to force a fifth set, then coming back from 9-3 down in the fifth to win the whole thing 14-25, 23-25, 25-17, 26-24, 15-13.
If they meet again, it would be on neutral ground (although we're betting the Husker faithful will travel well to Lexington, 12 hours away). But there are more than a few teams that can catch fire and upset one of these titans, so we'll have to see.
This quarter is too close to call, but I give the edge to Nebraska given the competitiveness of the B1G this year.
Austin Regional
(click venue links for more match info)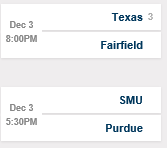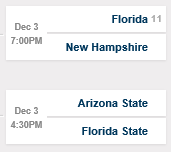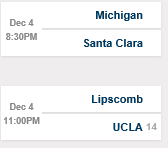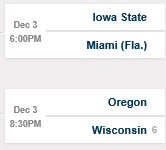 Best First Round Match-ups: Arizona State vs. Florida State, Wisconsin vs. Oregon, Michigan vs. Santa Clara
Best Potential Second-Round match-ups: Texas vs. Purdue, UCLA vs. Michigan, Florida vs. Florida State
Unseeded Spoiler: Purdue Potential Cinderella: Santa Clara
Head Scratcher: Wait…what? Wisconsin's first-round opponent is Oregon?!
The Ducks finished sixth in the Pac this year (which landed seven teams in the tourney), while Wisconsin finished third in the B1G. That seems a little…off. Imagine if third-place Pac finished Stanford got Ohio State in Round 1. Heck, we'll spot them a place given the competitiveness of the Big Ten this year—imagine if Stanford got Illinois, Michigan State or Michigan in Round 1. The Ducks have had a rough season, but they are certainly capable of beating a top team (three weeks ago, they edged UCLA).
Of Note: Florida and Florida State have met in the second round a few times recently: The Seminoles topped the Gators 3-2 in Gainesville in 2013—and lost in five there in 2010.
Purdue gave Texas a fight in Round 3 in Austin in 2010…can they score a second-round road upset again? They topped Missouri in Columbia in 2013, and beat Florida State in Tallahassee in 2012.
Can Michigan get hot again? Two unseeded Big Ten teams could spell trouble here.
Advancing to Regionals: Texas, UCLA, Florida, Wisconsin (Florida could be upset, but they have a much easier first round opponent and may have more energy for whoever advances as its second-round opponent)
Advancing to the Final Four: I'll pick Wisconsin over UCLA to advance…but this quarter is perhaps the one most likely to get bonkers. There are lots of great teams here.
San Diego Regional
(click venue links for more match info)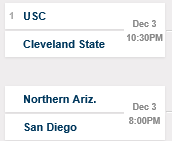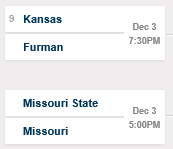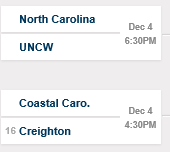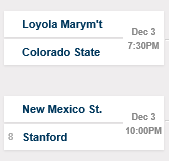 Best First Round Match-up: Colorado State vs. Loyola Marymount
Best Potential Second-Round match-up: Kansas vs. Missouri
Unseeded Spoiler: North Carolina Potential Cinderella: Loyola Marymount
Head Scratcher: Creighton as a seed? North Carolina is the only non-seeded team to host, and can easily take it. We're betting the unseeded B1G and Pac teams were wishing they got this pod.
Of Note: Should Colorado State advance, it faces a tall task: beating Stanford for the first time in 12 tries. San Diego finished one game ahead of Loyola Marymount to place second in the WCC—but the Lions swept them at the Jenny Craig Pavilion to end the regular season. USC beat both UNC and Creighton early in the season.
Advancing to Regionals: Southern Cal, North Carolina, Kansas, Stanford
Advancing to the Final Four: In 2010, third-seeded Stanford and sixth-seeded Southern met in the Regional Final—Southern Cal coming out on top of a five-set thriller.
This quarter seems to be the least upset prone, and all signs point to this matchup happening again. The two teams only met once this season, way back in September when USC won in five at Palo Alto.
Stanford has won 11 of its last 12 (the lone loss without potential Freshman of the Year Haley Hodson on the floor), and I'll pick the Cardinal—behind a breakout performance from Hodson and the experience of setter Madi Bugg—to punch their ticket.