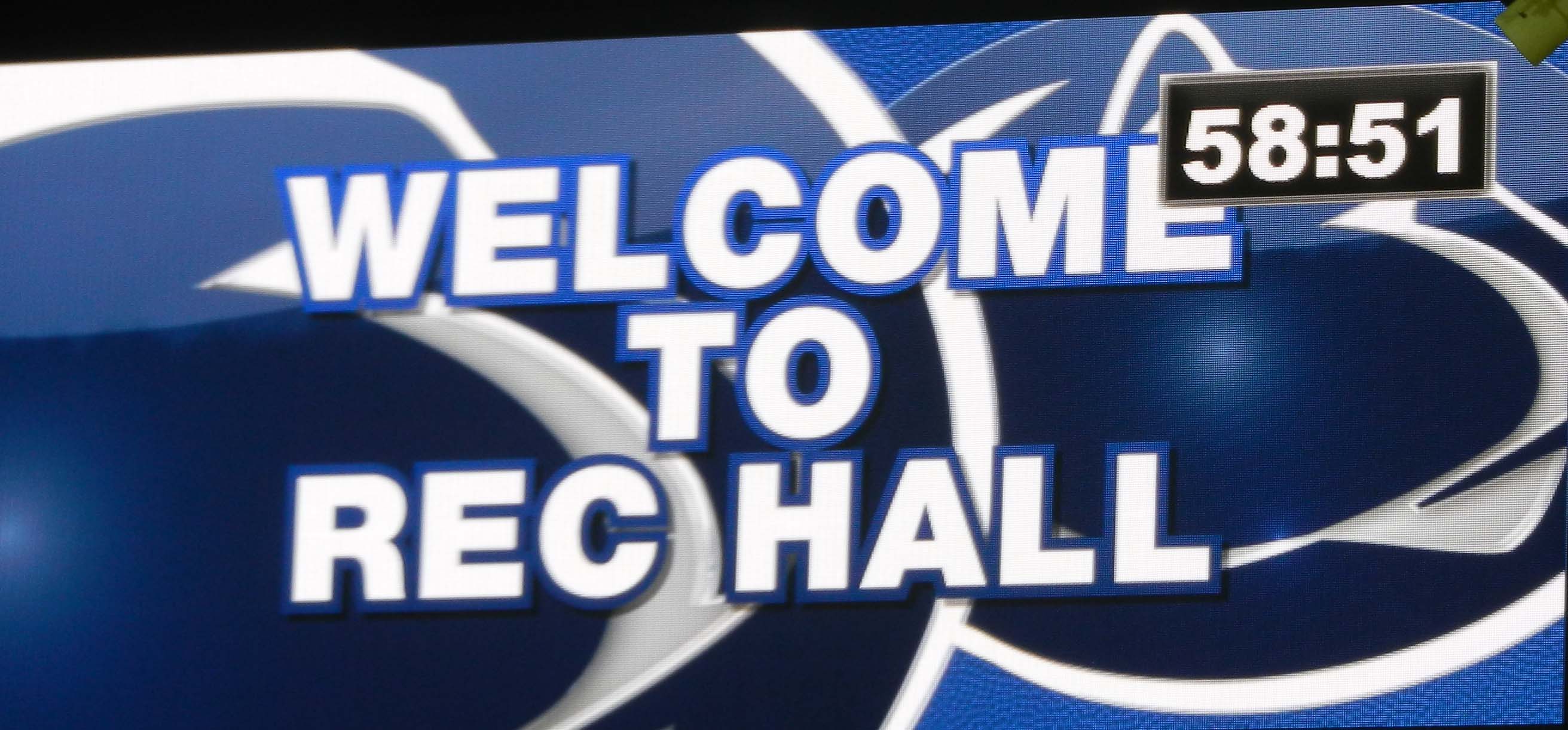 Courtesy GoPSUsports.com
Live Link Information

Game One

Yale vs. Utah

Dec. 6 at 5:00 p.m. ET

Live Video

Game Two

Penn State vs. LIU Brooklyn Dec. 6th – 7:30pm ET

 www.btn2go.com/btn2go/
So, it's finally with us, and all the pre-tourney angst can turn to actual-tourney anxiety.
The Nittany Lions (28-2, 19-1 in the B1G) will be making its 33rd appearance in the NCAA Women's Volleyball tournament this weekend (that's every year the tournament has been held, for those of you who are counting), and will face the LIU Brooklyn Blackbirds (23-7, 14-0) tonight, Dec. 6 at 7:30 p.m. in Rec Hall.
That match will be preceded by Yale vs. Utah at 5 p.m.  The winners of those two matches will meet Saturday, Dec. 7 at 7:30 p.m. in Rec Hall.
Penn State is 5-0 against LIU Brooklyn in the series that began on Dec. 3, 2005.
The Black¬birds have won their last ten matches, including a 3-0 (25-12, 25-19, 25-14) defeat of Central Connecticut State that clinched LIU Brooklyn's eighth NEC title, the most by any volleyball team in NEC history.   In that match, 5-9 Jr. Opp Annika Foit registered 18 kills (.556 attack %), 5-11 So. OH Tamara Ignjic totaled 15 kills (.419  attack %), 6-1 Gr. MB Jessica Rice put down 7 kills and 5 blocks, and 5-9 RS So. MB Nicole Okeke totaled 5 kills with 5 blocks.
LIU Brooklyn Roster
| # | Full Name | Pos. | Ht. | CL. | Hometown/Previous School |
| --- | --- | --- | --- | --- | --- |
| 1 | Artisha Jackson | L | 5-9 | R-Jr. | Euless, Texas / Trinity |
| 2 | Cydni Asuncion | OH/DS | 5-7 | So. | Kailua, Hawai'i / Hawai'i Baptist Academy |
| 3 | Jorden Jackson | MB | 5-11 | So. | Fairfax, Va. / W.T. Woodson |
| 4 | Nicole Okeke | MB | 5-9 | R-So. | DeSoto, Texas / Central Arkansas |
| 5 | Mia Radisic | OH | 5-11 | Jr. | Pula, Croatia / School of Economics |
| 6 | Nicole Hopton | S | 5-9 | Fr. | Chester Springs, Pa. / Downingtown East |
| 7 | Mirjana Rajic | OH | 6-1 | So. | Belgrade, Serbia / Sportska Gimnazija |
| 9 | Adriana Viñas Joy | L | 5-5 | So. | San Juan, Puerto Rico / Colegio Marista |
| 10 | Annika Foit | OPP | 5-9 | Jr. | Hausach, Germany / Robert-Gerwig-Gymnasium |
| 11 | Sandy Zhao | MB | 6-3 | Fr. | Beijing, China / Beijing 101 |
| 12 | Vera Djuric | S | 5-10 | Jr. | Lazarevac, Serbia / Svetozar Markovic |
| 14 | Jessica Rice | MB | 6-1 | Gr. | Marlton, N.J. / Cherokee |
| 15 | Tamara Ignjic | OH | 5-11 | So. | Belgrade, Serbia / First Economic |