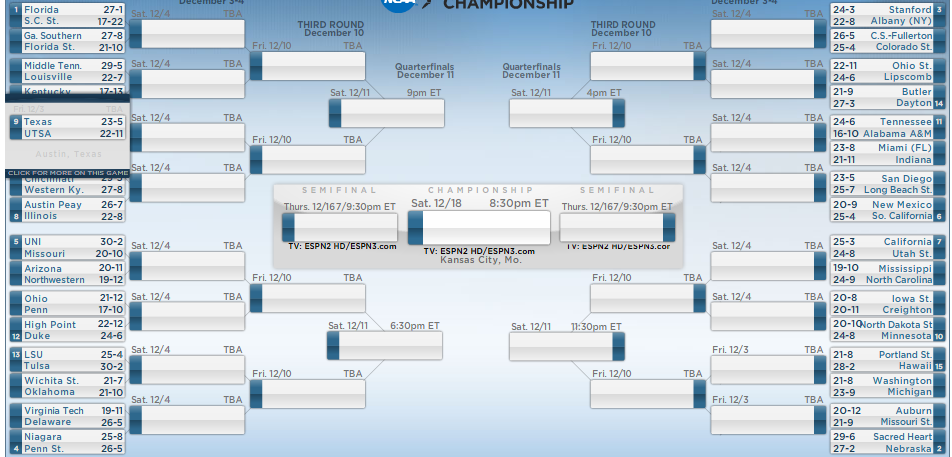 The Match: Penn State  (26-5) vs. Niagara (25-8)              
When & Where: December 3, 2010, 7:30 p.m. ET.; Rec Hall     
Media Coverage: GameTracker; Live Stream: NCAA AllAcess.com;Television: Big Ten Network – HD (Tape Delay – 12-4-10, 4:30 pm E.T.)                             
Match Snapshot                              
Many volleyball fans are writing off the Niagara Purple Eagle's chances against #4 seeded Penn State, but Niagara head coach Susan Clements is having none of it.      
We deserve to be here [in the NCAA Tournament].  We won 19 in a row and beat some good teams. We need to play hard and hope good things happen.     
Niagara (25-8), received an automatic bid when it knocked off Iona in the 2010 MAAC Championship in straight sets.  This will be the Purple Eagle's second-ever NCAA Tournament.  In 2009 they lost to Michigan in the first round.   Niagara's 19-match win streak is the sixth longest streak in the nation and the program's longest.      
Penn State, seeded #4 overall, will be playing at home in its 30th NCAA Tournament (the Nittany Lions are one of only two teams (Stanford is the other) to be selected for every NCAA Tournament since it began in 1981).  But unlike the streaking Purple Eagles, Penn State is coming off a tough 3-2 loss to Minnesota in Minneapolis.  Here's what Head Coach Russ Rose had to say:     
We're excited about participating in the NCAA Championships.  After coming off a tough road loss to a solid Minnesota team, we have to regroup and focus on the things that allowed us to win the Big Ten Championship this year.    
Penn State is one of four Big Ten teams among the 16 seeded teams in the Tournament (#8 seed Illinois (22-8), #10 seed Minnesota (24-8),  and #16 seed Purdue (21-10),  are the others).  Indiana (21-11), Michigan (23-9), Ohio State (22-11) and Northwestern (19-12), are made the Tournament from the Big Ten.     
Stat Joust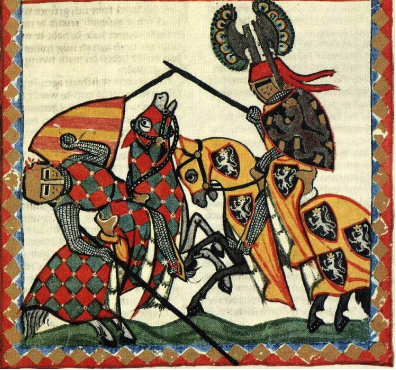 Below are selected NCAA individual and team rankings for Penn State and Niagara as of November 27, 2010: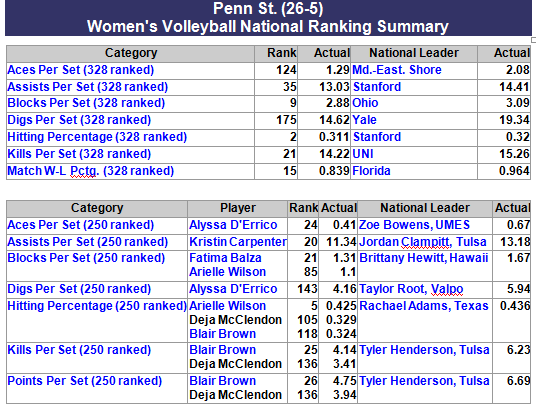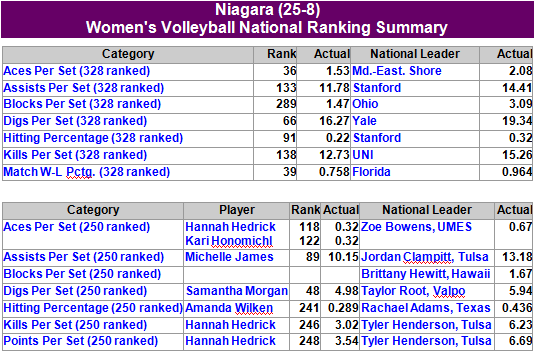 Team Rosters     
Below are Penn State's and Niagara's 2010 Team Rosters,  and Niagara's 2010 Schedule and Results:     
2010 Team Roster
| | | | | | | | | |
| --- | --- | --- | --- | --- | --- | --- | --- | --- |
| # | Name | Yr. | Ht. | Pos. | Hometown | Previous School | Club | Major |
| 8 | Kathy Bibler | Jr. | 6'0″ | MB | Bowling Green, Ohio | Bowling Green | Premier | Accounting |
| 1 | Lisa Bilich | Jr. | 5'8″ | DS | Pittsburgh, Pa. | Mt. Lebanon | Pittsburgh Elite | Accounting |
| 4 | Lauren Costello | Sr. | 6'1″ | MB | Webster, N.Y. | Our Lady of Mercy | VolleyFx | Business Management |
| 10 | Hannah Hedrick | Jr. | 5'10" | OH | Cincinnati, Ohio | Oak Hills | CincyDigs | Communications |
| 15 | Kari Honomichl | So. | 6'0″ | OH | Petersburg, Mich. | Ida | Premier | Communications |
| 11 | Michelle James | Jr. | 5'9″ | S | Cincinnati, Ohio | Mother of Mercy | NKYVC | Accounting |
| 5 | Sam Morgan | Jr. | 5'9″ | L | Cincinnati, Ohio | Colerain | CincyClassics | Criminology & Criminal Justice |
| 13 | Shannon Ryan | Sr. | 5'9″ | RS/S | Fairport, N.Y. | Fairport | VolleyFx | Education |
| 12 | Taylor Scully | Fr. | 5'10" | OH | Elgin, Ill. | Burlington Central HS | Club Fusion 18 Black | Criminal Justice |
| 2 | Ellen Senf | Fr. | 6'0″ | RS | St. Paul, Minn. | Central Senior High School | Mizuno Northern Lights | Business |
| 3 | Rebecca Suchy | Sr. | 5'10" | OH/DS | Lancaster, N.Y. | St. Mary's | Niagara Frontier | Education |
| 7 | Amanda Wilken | So. | 6'2″ | MB/OH | Cincinnati, Ohio | Mount Notre Dame | CincyClassics | Business |
Niagara 2010 Schedule and Results
Date
Opponent
Time/Result
Media Coverage
8/27/2010
$ vs. Hartford (Philadelphia, Pa.)
W 3 – 0
25-12, 25-20, 25-17
Live Stats
8/28/2010
$ at La Salle (Philadelphia, Pa.)
W 3 – 0
25-15, 25-16, 25-10
Live Stats
8/28/2010
$ vs. Valparaiso (Philadelphia, Pa.)
L 1 – 3
19-25, 25-23, 25-19, 25-20
Live Stats
9/1/2010
Buffalo (Niagara University, N.Y.)
L 2 – 3
20-25, 25-12, 25-20, 26-28, 15-12
LCTV
Live Video
Live Stats
9/3/2010
% vs. Central Michigan (Youngstown, Ohio)
L 1 – 3
26-24, 22-25, 25-17, 25-13
 
9/4/2010
% at Youngstown State (Youngstown, Ohio)
W 3 – 1
25-14, 23-25, 25-21, 26-24
 
9/4/2010
% vs. Howard (Youngstown, Ohio)
W 3 – 0
25-19, 25-14, 26-24
 
9/8/2010
Binghamton (Niagara University, N.Y.)
L 2 – 3
28-26, 25-18, 19-25, 22-25, 15-13
Live Stats
9/10/2010
^ Bucknell (Niagara University, N.Y.)
W 3 – 0
25-11, 25-14, 25-23
Live Stats
9/11/2010
^ Indiana (Niagara University, N.Y.)
L 0 – 3
25-18, 25-9, 25-15
Live Stats
9/11/2010
^ Colgate (Niagara University, N.Y.)
L 2 – 3
25-20, 20-25, 20-25, 25-15, 15-11
Live Stats
9/14/2010
at Syracuse (Syracuse, N.Y.)
L 0 – 3
25-20, 25-19, 25-20
 
9/18/2010
* at Marist (Poughkeepsie, N.Y.)
W 3 – 1
25-18, 20-25, 25-16, 25-22
 
9/19/2010
* at Siena (Loudonville, N.Y.)
L 1 – 3
25-22, 15-25, 25-19, 25-23
 
9/25/2010
* Rider (Niagara University, N.Y.)
W 3 – 0
25-17, 25-18, 25-14
Live Stats
9/26/2010
* Loyola (Niagara University, N.Y.)
W 3 – 0
25-17, 25-19, 25-17
Live Stats
10/2/2010
* at Manhattan (Riverdale, N.Y.)
W 3 – 0
25-12, 25-18, 25-18
 
10/3/2010
* at Saint Peter's (Jersey City, N.J.)
W 3 – 0
25-15, 25-21, 25-16
 
10/9/2010
* Iona (Niagara University, N.Y.)
W 3 – 0
25-22, 25-22, 25-21
Live Stats
10/10/2010
* Fairfield (Niagara University, N.Y.)
W 3 – 2
23-25, 25-17, 26-24, 22-25, 15-9
Live Stats
10/16/2010
* at Loyola (Baltimore, Md.)
W 3 – 0
25-18, 25-14, 25-19
 
10/17/2010
* at Rider (Lawrenceville, N.Y.)
W 3 – 0
 
10/20/2010
* Canisius (Niagara University, N.Y.)
W 3 – 0
25-13, 25-10, 25-16
Live Stats
10/23/2010
* Saint Peter's (Niagara University, N.Y.)
W 3 – 0
25-22, 25-11, 25-18
Live Stats
10/24/2010
* Manhattan (Niagara University. N.Y.)
W 3 – 0
25-23, 25-15, 25-20
Live Stats
10/30/2010
* at Fairfield (Fairfield, Conn.)
W 3 – 0
25-16, 25-18, 25-16
 
10/31/2010
* at Iona (New Rochelle, N.Y.)
W 3 – 2
17-25, 25-18, 25-19, 21-25, 16-14
 
11/6/2010
* Siena (Niagara University, N.Y.)
W 3 – 2
24-26,25-13,20-25,26-28,15-7
Live Stats
11/7/2010
* Marist (Niagara University, N.Y.)
W 3 – 0
25-18, 25-23, 25-15
Live Stats
11/13/2010
* at Canisius (Buffalo, N.Y.)
W 3 – 2
25-18,25-22, 21-25, 21-25,22-20
 
11/18/2010
# vs. Siena (Lake Buena Vista, Fla.) (2010 MAAC Championship First Round)
W 3 – 1
17-25,25-23,25-19,25-10
Live Stats
11/19/2010
# vs. Fairfield (Lake Vista Buena, Fla.)
W 3 – 1
25-19,20-25,25-20,25-15
ESPN3
Live Stats
11/20/2010
# vs. Iona (Lake Buena Vista, Fla.) (MAAC Final)
W 3 – 0
25-19,25-14,25-18
ESPN3 Replay
Live Stats