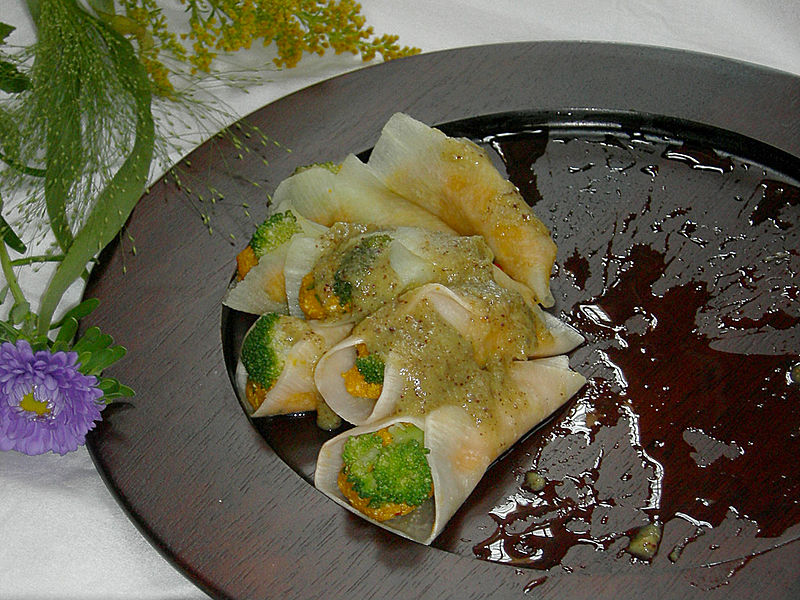 (Korean sweet zucchini wrap photo courtesy of Joe Mabel)
Purdue: Lions Pick Up Steam to Down Boilermakers

Penn State picked up steam throughout the match
In a match that was tight during the first set, but in which Penn State steadily pulled away, the Nittany Lions swept No. 17 Purdue (25-19, 25-16, 25-16).  6-1 Jr. OH Deja McClendon was presented with a gold volleyball (we suspect it wasn't actually gold, the metal) prior to the match for having totaled 1,000 career kills — halfway through her junior season!
Right on cue, McClendon led the Nittany Lions with 12 kills, followed by 6-4 Jr. RS/Opp Ariel Scott, 6-6 Jr. MH Katie Slay, and 6-2 Fr. OH Megan Courtney with 9 each.   5-11 So. S Micha Hancock had 38 assists and 5 digs, and 5-6 So. L Dominique Gonzalez had eight digs.
Complete stats for the match are below.
Akbar's Take
Our friend Akbar watched the Purdue match, and sent us these observations on Penn State's performance:
Boy did I like what I saw last night. This, in my mind, was a match that got better and better for PSU as it unfolded.  The Boilermakers clearly are not playing like the team they were last year, and their outstanding leader, 6-1 Sr. OH Ariel Turner, just could get not traction.  Much of that had to do with the consistent pressure put on by PSU's solid serving and very efficient transition.

The first game was the best played match from a competitive standpoint, with ten tie scores and four lead changes.  But to this observer, it was only a matter of time before PSU, which was much more physical, would overpower Purdue, and that's exactly what happened.

Games 2 and 3 had five and two ties scores respectively, and at only one point did Purdue have a lead in either game.  Both Katie Slay and Nia Grant seemed to have developed a little more pep in the step, and the solid connection between them and Hancock has increased.  Last year it seemed like Katie was often getting "fluff" kills, but yesterday she bounced some balls and the height and angle of her arm is so hard for teams to read.

I was very impressed with the Nittany Lions control of the net and outstanding backcourt management of Dom Gonzalez.  I'm not sure how much people are truly appreciating Dom's level of execution.  Her setting was pinpoint and I really like the way she has expanded her passing responsibility.  In addition to her always seeming to be in the right position, I so enjoy her making hard digs look easy.  If I were a young player looking to play this position, I would watch how she reads and never loses her platform and still plays the ball.

On a night that we celebrated Deja McClendon's 1000th career Kill, Deja did not disappoint, as she came through with some booming attacks on the left side and two or three really smart pipe balls on her way to a ridiculous .429 average.  I was slightly anxious about some of her serve receptions and defense but the positives that she brings to the court far outweigh her occasional missed dig and shanked pass.

I'd also say that Deja and Megan Courtney might well be the best leftside blocking tandem in the country.  Time and time again I have seen them (and especially Courtney, who leads the team in solo blocks with 12 — A. Scott is second, with 7) come up with a timely one-on-one block, which is so demoralizing to an opposing team.

PSU had four players in double digits for points scored.  Considering this was a 3-0 match, that is impressive.  The team had a 78% sideout rate for the match, and for that, I have to give much of the credit not only to Micha Hancock, who I thought was setting very well, but to Dom, Courtney and 5-6 So. DS Lacy Fuller, who all had superior touches on some first contacts in the match.

Although the team only registered four aces, Penn State's serve had the Boilermaker receivers on their heels all night, and rarely did I see "3" passes for them to run their offense. The Boilermakers sided out at a 54% rate and much of this was PSU's serve and volley tennis approach, with aggressive serving and strong blocking at the net.  Again, I have to go back to Gonzalez, Fuller and newbie 5-6 Fr. DS Kendall Pierce (who saw her first action in the B1G with six service points and one ace in game 3 alone), all of whom had numerous runs in their serves.

The Nittany Lions had 13 different players see playing time last night and everyone seemed up to the challenge.  Purdue has now gone 31 years without a victory at Rec Hall.
Match Stats
(Courtesy of GoPSUsports.com)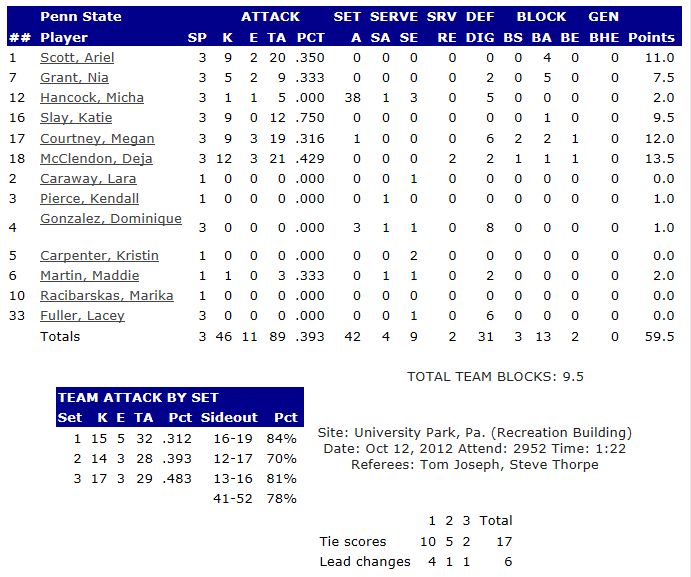 Penn State vs. Indiana: Goliath Syndrome?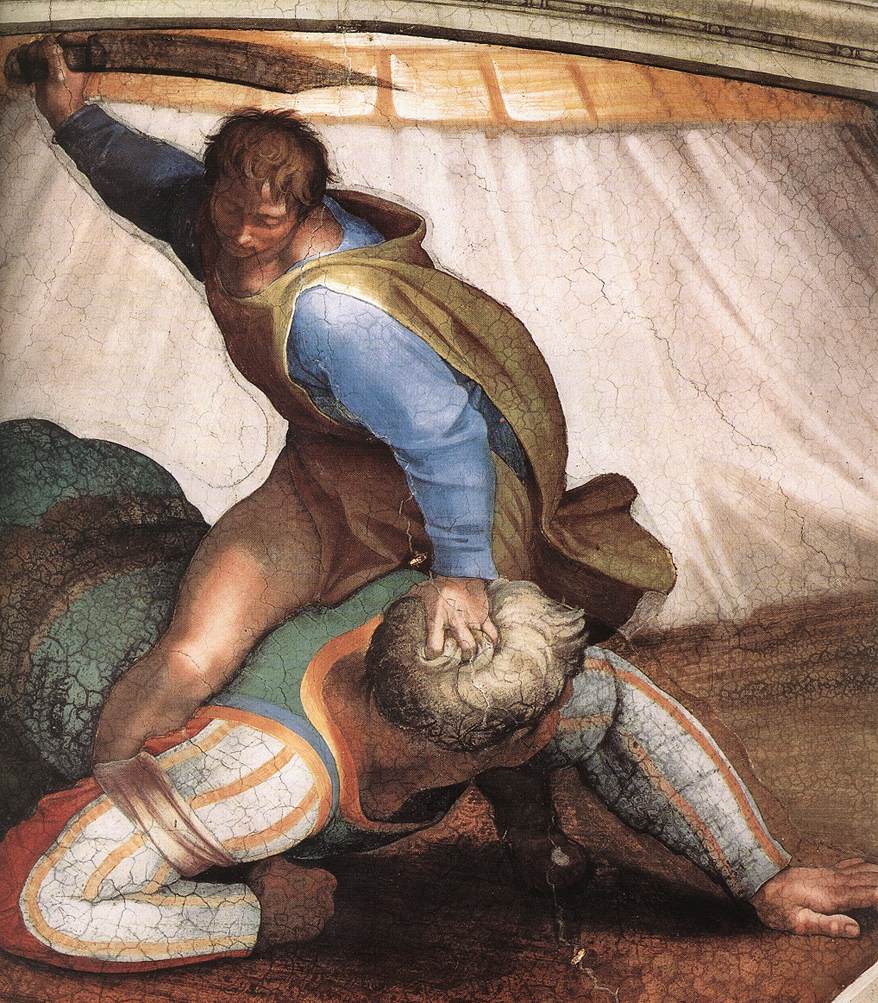 Coach Rose thinks the Nittany Lions don't always respect their opponents enough.  Goliath (pictured above — the big guy on the bottom) had that problem too. 
Penn State got the "W" against Indiana Saturday night, 3-1 (22-25, 25-19, 25-16, 25-21), but Head Coach Russ Rose wasn't awarding the Nittany Lions any style points.  After the match, he had this to say to Matt Buffano of The Daily Collegian:
It wasn't one of our cleaner games . . . but I think we have some difficulty with teams that play hard. . . .  It's a long season, and a couple kids are beat up, and they're not fresh.  I wasn't too high on a couple kids' efforts today. . . .  I think we've got some issues that maybe they'll get fixed, maybe they won't.
Read the complete article at The Daily Collegian.
For the match, 6-4 Jr. RS/Opp Ariel Scott totaled 14 kills, followed by Deja McClendon's 12. Micha Hancock posted some nice statistics, with 40 assists, three aces, 15 digs and 6 blocks.   Dominique Gonzalez, who played the match with one leg wrapped, still led the team with 16 digs, and Megan Courtney had yet another solid defensive performance with 11 digs. Nia Grant's 8 blocks led the team.  Katie Slay posted six.
Match Stats
(Courtesy of GoPSUsports.com)