Media Wrap
By Wynton Jake Somerville, The Daily Collegian
Penn State has experienced just one loss in Big Ten play this season and it came at the hands of Michigan State in the conference opener. The Spartans bested the Nittany Lions in Rec Hall, Penn State's only home loss of the season. So on the backstretch of the Big Ten, the Lions had the opportunity to redeem themselves on a national stage. The Lions delivered their message loud and clear sweeping No. 14 Michigan State in three games (25-14, 25-18, 25-20) in a match aired on the Big Ten Network. Junior Micha Hancock acknowledged an increased focus throughout the team in the Lions' 11th straight win. "I think when we came out in the first game of the Big Ten we weren't really ready to play," Hancock said. "I think it was way better effort as a team tonight."
For the complete article by Wynton Jake Somerville, Click Here.
By Omari Sankofa II, The State News
After MSU began Big Ten season with a stunning upset over then-No. 1 Penn State at home, it's a safe assumption the Nittany Lions had their rematch against the Spartans circled on the calendar.  On Saturday night, No. 2 Penn State proved why they're one of the top powerhouses in the nation. They imposed their will on No. 14 MSU. There's no other way to describe it.  They out-blocked the Spartans by a 15-5 margin, and MSU didn't register a block until the third set. Penn State took care of the ball, committing just five errors for the match.  It all added up to a 3-0 sweep. It's MSU's (18-6 overall, 7-5 Big Ten) first sweep since falling to Pacific in straight sets on Aug. 31.

"Penn State came out and played extremely," head coach Cathy George said after the game. "They executed extremely well. I thought they passed well, it enabled them to do a lot with their offense. And with the kind of players they have, that's kind of hard to do, to play defense against three very viable options in their offense."
For the complete article by Omari Sankofa II, Click Here.
from MSUspartans.com
East Lansing, Mich – No. 14 Michigan State fell to No. 2 Penn State, 3-0 (14-25, 18-25, 20-25) on Saturday at Jenison Field House.  MSU falls to 18-6 overall, and 7-5 in the Big Ten.  PSU wins its 11th straight match and avenges MSU's victory in State College earlier this season; the Nittany Lions are now 20-2 and 11-1 in Big Ten play.

The Nittany Lions limited the effectiveness of the Spartans' leading hitter Lauren Wicinski, keeping her to a season-low five kills on the night.  Freshmen Chloe Reinig had 11 kills, while Allyssah Fitterer had 10 kills and two blocks.  Kristen Kelsay had 19 assists. Wicinski had five digs, and Taylor Galloway had eight kills, four digs, and one block on the night.
For the complete recap from MSUspartans.com, Click Here.
from GoPSUsports.com
EAST LANSING, Mich. – Seniors Deja McClendon and Ariel Scott led the No. 2 Penn State women's volleyball team (20-2, 11-1) to a straight-set victory (25-14, 25-18, 25-20) at No. 14 Michigan State (18-6, 7-5) Saturday evening at Jenison Field House. The triumph extends the current winning streak to 11 consecutive matches and marks the 37th time in program history that the Nittany Lions have reached 20 wins in a season.

McClendon led the offense with 14 kills on .423 hitting, adding eight digs and one block. Scott followed closely behind with 13 kills, recording a .462 hitting clip, while also tallying six digs and four blocks. Defensively, Dominique Gonzalez led the team with 11 digs, while senior Katie Slay posted five blocks, including one solo stop.

Junior Micha Hancock paced four Nittany Lion attackers to .400 or better hitting, while guiding the squad to a .451 overall attacking percentage. Hancock dished out 35 assists, adding nine digs and one block.
For the complete recap from GoPSUsports.com, Click Here.
Stat Joust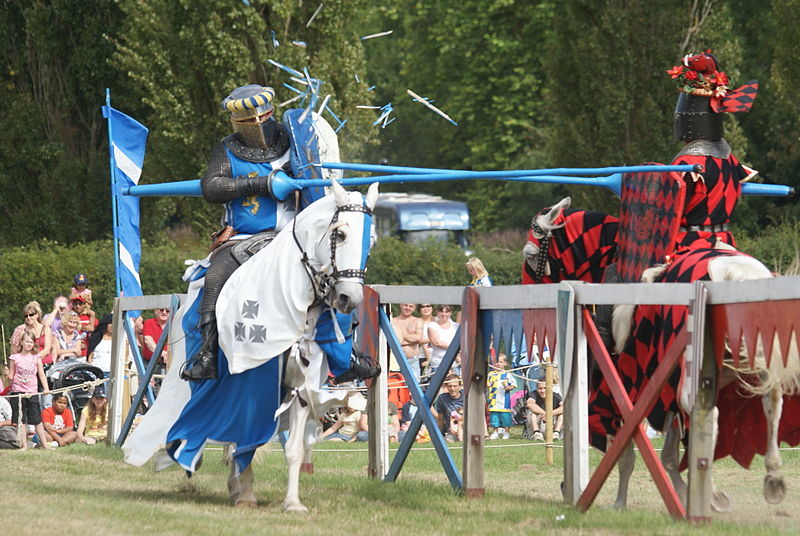 Below are selected team and individual statistics, through 11-2-13, for Penn State and its upcoming opponents, Purdue and Indiana, showing where they stand in the B1G:
Team Stats (All Matches)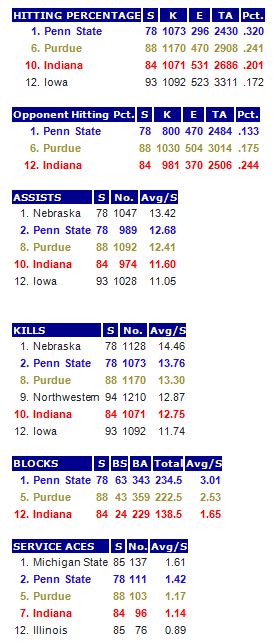 Individual Stats (All Matches)