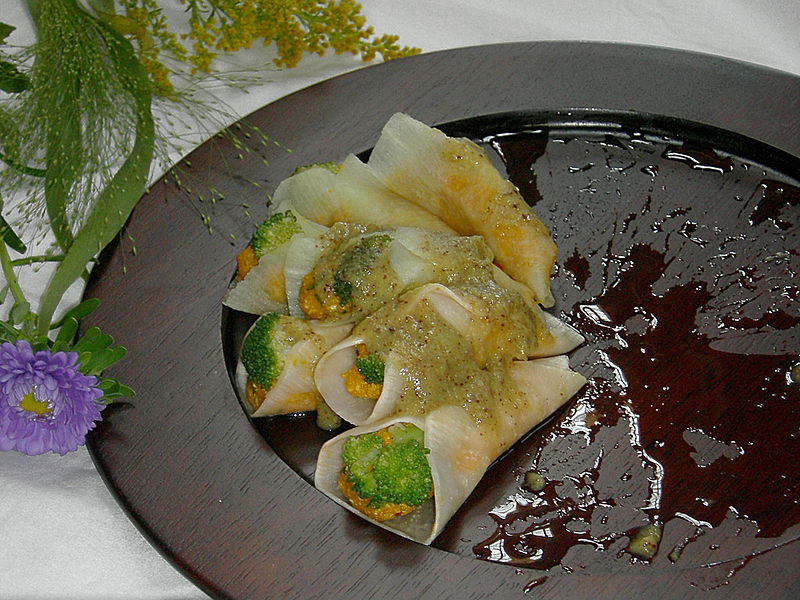 Media Wrap
By Wynton Jake Somerville, The Daily Collegian
Coach Russ Rose was critical of his team's effort despite a sweep of Purdue on Friday. Coming out on Saturday against Indiana (9-16, 1-13 Big Ten), the No. 2 Nittany Lions (22-2, 13-2 Big Ten) had something to prove to their coach and to themselves. The effort was noted from set one as the Lions made the extra effort and cruised past the Hoosiers in three sets (25-16, 25-11, 25-11) in front of an energized crowd of 4,000 in Rec Hall. . . .

"The general effort by everybody was a little more focused," Rose said. "We obviously had a great night blocking and that's one of the things that we have to do. When we make great defensive plays it doesn't go unnoticed because those are about effort."
For the complete article by Wynton Jake Somerville, Click Here.
By Andrew Vailleincourt, Indiana Student Daily 
When asked how she felt about her team's performance over the weekend, IU volleyball Coach Sherry Dunbar was very straightforward.

"Probably one of the worst weekends of the season," she said. "I was very disappointed in the Ohio State match. I was disappointed in our fight and how we came out in that match and didn't really battle."
For the complete article by Andrew Vailleincourt, Click Here.
from GoPSUsports.com
UNIVERSITY PARK, Pa. – Eight members of the No. 2 Penn State women's volleyball team (22-2, 13-1) recorded at least one kill in a straight-set victory (25-16, 25-11, 25-11) against Indiana (10-16, 1-13) Saturday evening at Rec Hall. The Nittany Lion victory extends the current PSU winning streak to 13 consecutive matches.

Senior Deja McClendon led the group with nine kills on .643 hitting, adding two digs and two blocks. Slay followed close behind with six kills on 14 errorless swings, while leading the team with five blocks. Redshirt freshman Paulina Prieto Cerame matched a career-high mark, tallying three solo blocks, while also registering four kills.

Junior Micha Hancock paced the PSU offense to a .427 hitting percentage, distributing 26 assists and totaling three aces, a squad-best eight digs and three blocks. Hancock has now guided the Nittany Lion offense to .300 or better hitting in the last three consecutive matches.
For the complete article from GoPSUsports.com, Click Here.
From iuhoosiers.com
UNIVERSITY PARK, Pa. – The Indiana volleyball team suffered a 3-0 loss to the No. 2-ranked Nittany Lions of Penn State this evening, falling in straight sets at 25-16, 25-12 and 25-11. The loss sets the Hoosiers back to 9-16 on the year and 1-13 in Big Ten play, while Penn State improves to 22-2 and 13-1 in B1G matches.  Jordan Haverly led Indiana with eight kills on the night, including five in the opening set, while Awele Nwaeze added six terminations and a block assist and Morgan Leach recorded six kills for the Hoosiers. Megan Tallmen handed out 24 assists and Caitlin Hansen recorded a team-high 13 digs.
For the complete article from iuhoosiers.com, Click Here.
Stat Joust (Nittany Lions, Badgers, and Gophers)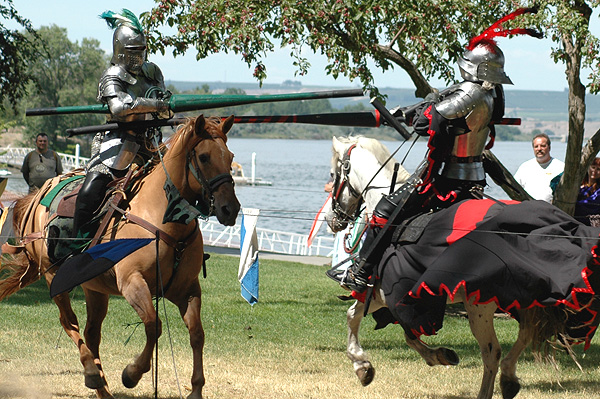 B
1G

Team Stats (as of 11/10/13)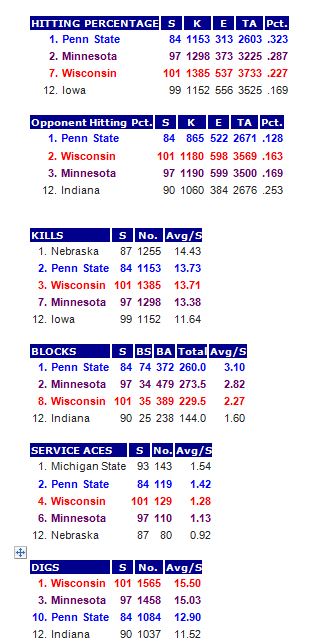 B
1G

Individual Stats (as of 11/10/13)