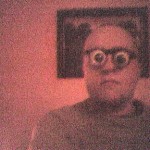 The good news:  In last nights 3-1 loss (25-14, 22-25, 22-25, 22-25) to Michigan (18-10, 8-9 in the B1G), Penn State (24-4, 13-4) out-blocked Michigan 14.0-8.0, and registered 7 service aces to 4 for the Wolverines.  The bad news: Penn State lost the match to Michigan 3-1.  That's the only stat that counts.
Well, another stat is revealing: Here are Penn State's sideout percentages by set (hint – 51%, 45% and 56% typically aren't going to cut it):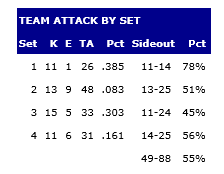 And here are Michigan's sideout percentages by set (revelation:  59% and 52% typically won't cut it, unless the other team's sideout percentages are 51% and 45%)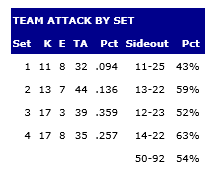 Other stats: 6-3 So. MB Haleigh Washington registered 12 kills (.714 attack %), and 5 blocks, while 6-1 So. OH Ali Frantti and 6-4 RS Sr. MB/RS Aiyana Whitney also reached double digits with 10 kills each.  Whitney was very good blocking in the first set (at least 3 blocks) and totaled 7 for the night.  6-2 Sr. OH Megan Courtney chipped in 9 kills and 3 blocks, with 12 digs, tying 5-6 Fr. libero Keeton Holcomb and 6-0 RS Fr. setter Bryanna Weiskircher, both of whom also came up with 12 digs.
If the Crowd Really Booed the Team, then Lame Lame Lame, Shame, Shame Shame on the Crowd
There were reports that the crowd booed the team — since debunked (the crowd was booing the officials for what the crowd perceived to be a really bad call that took waaaaaaaay to much time to make).  Here's our take: Boo the officials if you want — they're adults and they're paid.  Perhaps a situation might arise where you would boo players if they were behaving in an egregiously unsportsmanlike manner, or making it clear they don't care, at all, if they win or lose (though we've never done either of those things, and suspect they are way to subjective).  But booing a team because they are struggling?  That would win our Lame Lame Lame, Shame Shame Shame award.
What do you think?  You can vote in our poll on the question here: Is is ever OK to boo a D1 women's volleyball team?
HappyVolley, a Penn State fan, had, in our view, a far better response on the DigNittanyVolleyball Forum:
In general: Penn State is its own worst enemy. Michigan played well –to their credit–but State should have had this match. They are flat out better, at least in theory (yikes). Seems like a classic case of young girls managing the pressure that comes along with playing for a big time program that's won back to back championships. We all expect another championship, and nothing less, every year. There are only a handful of college sports programs (singular sport, not school) across the country that has these types of expectations. Considering Bryanna was crying after the loss tonight, I think it's safe to say that this is at least part of the problem. It's a great issue to have until a team starts underperforming even slightly. Here's to hoping that they can regroup, but boy this was sad. It hurt watching the reaction to the loss. Almost like they didn't believe it was happening until it did.
Match Stats
(Courtesy of GoPSUsports.com)