Michigan's Abby Cole
Penn State (18-3, 6-2 B1G) welcomes Michigan (10-8, 5-3 B1G ) to Rec Hall on Friday night (7:00 p.m., televised live on Big Ten Network) in a match in which the Wolverines will hope to continue their push into the upper echelons of the B1G. The Wolverines have a lot going for them, not least of which is the stellar play of 6-5 So. MB Abby Cole, who has taken home consecutive B1G Player of the Week awards — the first Wolverine to accomplish that since 6-0 OH Katie Bruzdzinski on Nov. 6 and 13, 2006. Cole won her most recent award following stellar performances against Rutgers on October 17th (7.0 kills/set; .617 attack %) and Maryland on October 18th (12 kills .611 attack %).
Cole's .418 attack % (all matches) ranks second in the B1G.  She also ranks fourth in the B1G with 4.24 points/set, fifth with 3.57 kills/set,  and 14th with 1.01 blocks/set. 5-6 Jr. libero Tiffany Morales ranks 7th in the B1G with 4.01 digs/set. Morales also ranks 6th on Michigan's all-time digs list, with 1,309 in her career to date.  Thirty more will put her in 5th place (currently occupied by Lexi Zimmerman, Michigan's great setter from 2007 to 2010). 5-11 Sr. setter Lexi Dannemiller now ranks #3 on Michigan's all-time assist list with 4,826. Zimmerman heads the list with 5,903 assists For a comparison of Penn State and Michigan team and individual rankings in the B1G, see the Penn State-Michigan Stat Joust, below.
No Chicken Counting, Please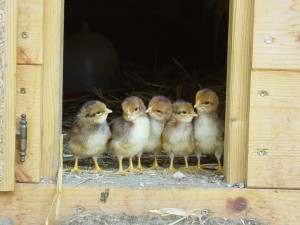 If past were prologue, Michigan's chances in this match would be mighty slim, as Penn State enjoys a 44-3 lead in the series and won both matches between the teams in 2013:  a 3-1 win on Sept. 28, 2013 in Rec Hall over the then #10-ranked Wolverines (a match that followed the stunning (at least to Penn State fans) B1G home opener 3-2 loss to Michigan State), and a 3-1 comeback victory on November 1, 2013 in Ann Arbor (a match in which 6-2 OH Megan Courtney totaled 17 kills (.395 attack %), seven blocks, and nine digs and 5-6 libero Dominique Gonzalez led the team with 18 digs.)  But in sports, what you did yesterday isn't as important as what you do today, so we don't plan on counting chickens just yet.  It should be a great match.
Quote Central
"I prefer not to lose. But, you know, the longer you're in it, it happens." Penn State Head Coach Russ Rose, in an interview with Garrett Ross, Daily Collegian, October 22, 2014.
"Every weekend is a dogfight, but that's what you come to places like this for. That's something that we like, but we know we have some work to do." 5-6 Sr. libero Dominique Gonzalez, in an interview with Garrett Ross, Daily Collegian, October 22, 2014.
"This team has great potential. I know everyone thinks we're super young, and that's true, but I think we can do great things…We're capable of a lot more than what we've been showing." 6-4 RS Jr. Opp/OH/MH Aiyana Whitney, in an interview with Garrett Ross, Daily Collegian, October 22, 2014.
Penn State-Michigan Stat Joust: B
1G

Leaders (All Matches)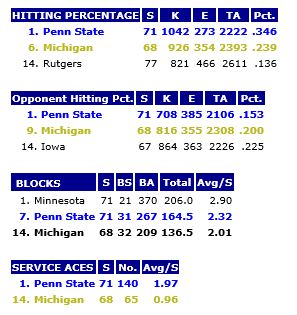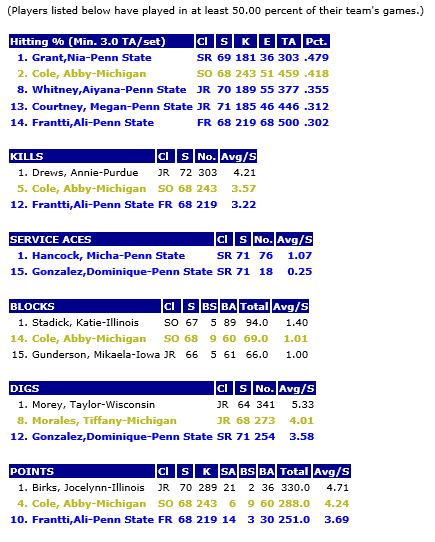 Penn State Stats (B
1G

Matches Only)
Attack Leaders (B
1G

Matches: 10-18-14)

Setting Leaders (B
1G

Matches: 10-18-14)

Serving Leaders (B
1G

Matches: 10-18-14)

Rcpt/Dig Leaders (B
1G

Matches: 10-18-14)

Blocking/Points Leaders (B
1G

Matches: 10-18-14)

________________________________________ Photo Credits