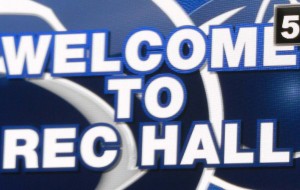 For most Penn State fans, this was a stunning loss.  After all, the Nittany Lions had won something like 93 of the previous 95 Big Ten matches in Rec Hall, and Penn State was ranked #5 in the latest AVCA poll to #15 for the Illini.
So much for past results and poll rankings.  When all was said and done, Illinois walked away with the win and Penn State was left to figure out how it happened.
For perspective, see Coach Rose's quotes below.  He definitely tells it like it is, and certainly is in a position to know.  On to the next.
UNIVERSITY PARK, Pa. – No. 5 Penn State women's volleyball (16-3, 4-2) fell short in comeback effort as No. 15 Illinois (12-5, 4-2) outlasted the Nittany Lions in four sets (24-26, 25-16, 23-25, 22-25) to) Saturday afternoon at Rec Hall.  Four Nittany Lions contributed double-digit kills, led by redshirt junior Aiyana Whitney, who totaled 15 kills to match a career-high mark. Freshman Haleigh Washington posted a career-high 14 kills on 26 errorless swings, hitting .538. Washington also led the blocking unit with seven blocks, including one solo stuff.  Senior Nia Grant and freshman Ali Frantti rounded out the group of double-digit performers with 13 kills each. Frantti notched three aces, seven digs and four blocks, while Grant posted three digs and three blocks. Senior Micha Hancock paced the team to a .310 hitting clip, dishing out 53 assists to go along with eight kills, three aces, eight digs and four blocks.  A trio of Nittany Lions led the defensive effort with double-digit digs. Junior Megan Courtney finished first on the squad with 13 digs, while senior Dominique Gonzalez finished close behind with 12. Senior Lacey Fuller joined the pair with 10 digs.
Quote of the Day:
"I thought we had a great opportunity today, especially when we came out as strong as we did in the first game," head coach Russ Rose said. "We had a great crowd and the band did a terrific job. We had everything going for us, but we didn't play as a team. That rests with me. I have to find a way to get them to play a little bit better together." For the complete release from GoPSUsports.com, Click Here.
The Daily Collegian: Penn State women's volleyball falls to No. 15 Illinois in four sets
Posted: Saturday, October 11, 2014 10:47 pm.  By Garrett Ross | Collegian Staff Writer collegian.psu.edu
In front of a packed Rec Hall, Penn State tried desperately to give the fans the win they came to see.  The Nittany Lion faithful cheered with hope as the starting lineups were announced and the action got underway.  But as the match dragged on, the cheering turned to pleading as a win seemed to slip further and further away with each passing point. Eventually, after all was said and done, the fans — and the Lions — left empty-handed.
The Other Quote of the Day:
"It's a strange game," Penn State coach Russ Rose said. "We scored a lot of points. We blocked better. Surprisingly enough, they just battled a little better than we did."
 www.FightingIllini.com: (You know they're happy when they include video highlights)
University Park, Pa. – The Fighting Illini pulled off an exciting upset this afternoon, taking down defending National Champion No. 5 Penn State, 3-1, in front of a crowd of 3,594 at storied Rec Hall. The Illini erased a 19-8 deficit to win the first set, 26-24, then after dropping the second set, 25-16, the Orange and Blue captured the match in four with 25-23 and 25-22 wins in the final two sets. With the win, the Illini improve to 12-5 (4-2 Big Ten), while the Nittany Lions fall to 16-3 (4-2 Big Ten).

"I was proud of the kids for fighting the way they fought and continuing to punch and punch," said head coach Kevin Hambly. "This is a tough place to win. To come in here and play the way we played, we did a good job. After some big runs by Penn State, in the past I think we would have gone down, and I think we handled it great."

The win marks the Illini's third victory at Rec Hall in program history and the first to come in less than five sets. Illinois last won in University Park on Nov. 11, 2011, and the Nittany Lions had since gone 44-1 at home, including bringing a 19-match home win streak into today's loss. To put into perspective just how rare this feat is, Penn State has won 94 of its last 97 Big Ten home matches, with Illinois now representing two of those three conference losses.
Match Stats (Courtesy of GoPSUsports.com)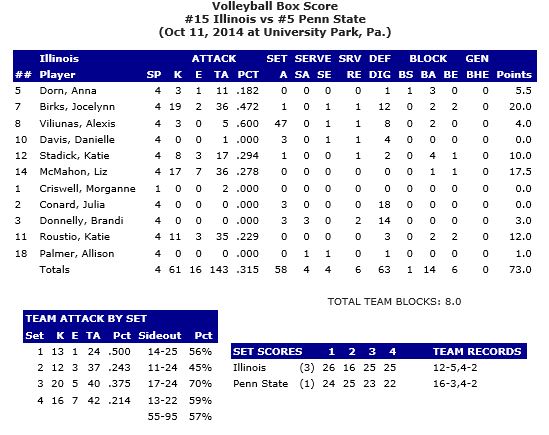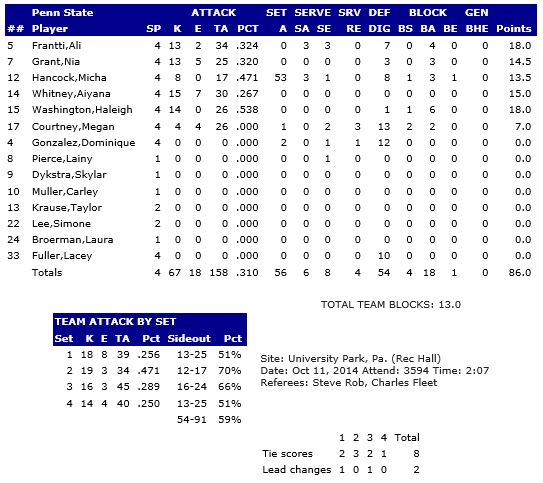 ___________________________________________________
Photo Credits