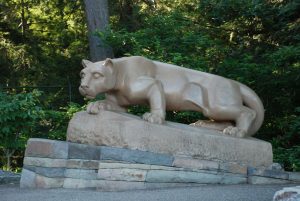 On Saturday, September 16th, Penn State defeated Wake Forest 3-0 (25-16, 25-11, 25-11) and Ohio University 3-0 (25-15, 25-15 25-19).  Below are comments from Coach Rose, Simone Lee and Nia Reed following the Ohio match, followed by match recaps (with match stats) for both matches, both courtesy of GoPSUsports.com.
Post-Ohio Match Quotes
Coach Rose
We played two matches today, and I thought we handled the ball pretty well until this match.  We ran into a tough serve, which certainly caused us some problems.  But we had good control of our net play.  Ohio is a great program with a rich tradition.  Right now they've got a number of players who are out because of injuries, so it wasn't the Ohio team that traditionally wins their conference and is on the cusp of being in the top 25.  That's disappointing for them.  I though Nia [Reed] came in and hit the ball well, and Simone [Lee] had a good match, and Haleigh [Washington] continues to score well.  We'll need to work hard this week — we have Nebraska and Iowa coming up.  I think the players understand the importance of being prepared to play Big Ten play.

The Big Ten teams are going to be way more similar to Stanford [than to Yale, Wake Forest and Ohio] in the physical nature of their net play.  So we'll have to adjust things . . . so our players don't get tripped up by thinking they're playing great because our numbers are good.  We weren't getting those numbers against Stanford or Texas A&M or Colorado.  Those numbers were more reflective of teams that have players at the net who are the same size as our players, or bigger.

Simone Lee (On what was her favorite thing about watching Nia Reed play, and what she thought Nia did especially well against Ohio)
She jumps so high and hits so hard, it's really cool to see the depth we have on the team.  I'm so happy for her.

Nia Reed (on what it was like playing against Ohio and making a big impact, and on feeling more comfortable on the court this season)
I love being on the court, whatever chance I get, whether it's outside, middle or right.  Opportunity is opportunity, so I just go out there and play my hardest.  I'm more comfortable because I practice with these girls every day.
Coach Rose, on Bryanna Weiskircher playing front row:
I thought it was an opportunity to play the 5-1 a little bit, and get Nia some more swings.  It's a little bit easier in the 5-1 for some of the players to get comfortable with the tempo of set, so if Bryanna is setting everybody, they get a little more comfortable with it.  Certainly Haleigh being next to Bryanna is something that's been going on for a couple of years.  We're still trying to tweak the lineup to find out what's going to be best, and that was an opportunity to check it out.
Match Recap: Ohio
(Courtesy of GoPSUsports.com)
UNIVERSITY PARK, Pa. – The No. 2 Penn State volleyball team moved to 10-0 for the 12th time under Head Coach Russ Rose with a 3-0; 25-15, 25-15 25-19, win over Ohio University to wrap up their play in the Penn State Classic at Rec Hall.

Penn State saw senior Simone Lee (Menomonee Falls, Wis.) earn Tournament Most Valuable Player honors, while fellow senior Haleigh Washington (Colorado Springs, Co.) and sophomore Kendall White (Indianapolis, Ind.) were named to the All-Tournament team.
For the complete recap from GoPSUsports.com, Click Here.
Match Stats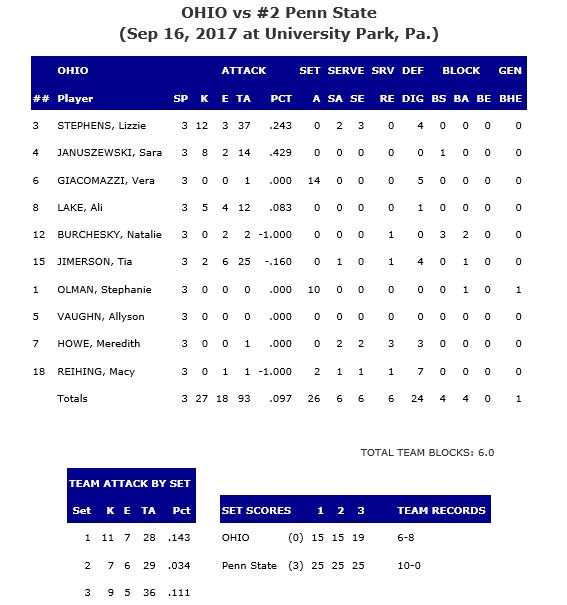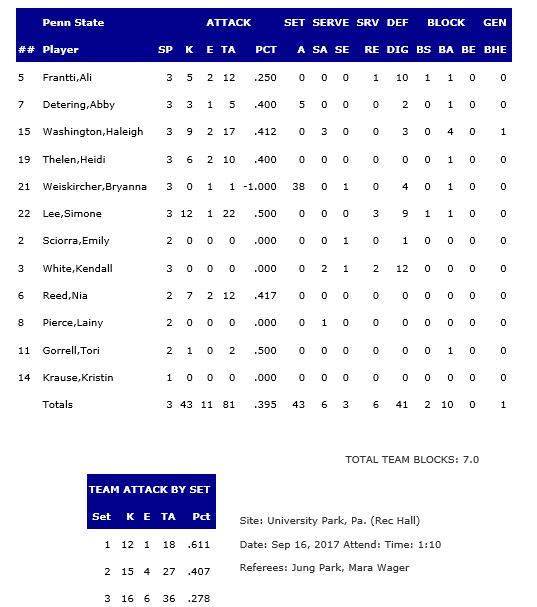 Match Recap: Wake Forest
Courtesy of GoPSUsports.com
UNIVERSITY PARK, Pa. – The No. 2 Penn State volleyball team made quick work of the Wake Forest Demon Deacons on Saturday morning, sweeping the visitors, 3-0; 25-16, 25-11, 25-11.

Haleigh Washington (Colorado Springs, Colo.) continued her strong play, opening the first set with four kills on four attempts, adding four blocks. In the second set, it was her strong serve that was on display, as the middle blocker dished out two aces. She finished the match with eight kills on nine attempts without an error, for a .889 hitting percentage. She also added a match-high seven blocks.
For the complete recap from GoPSUsports.com, Click Here.
Match Stats