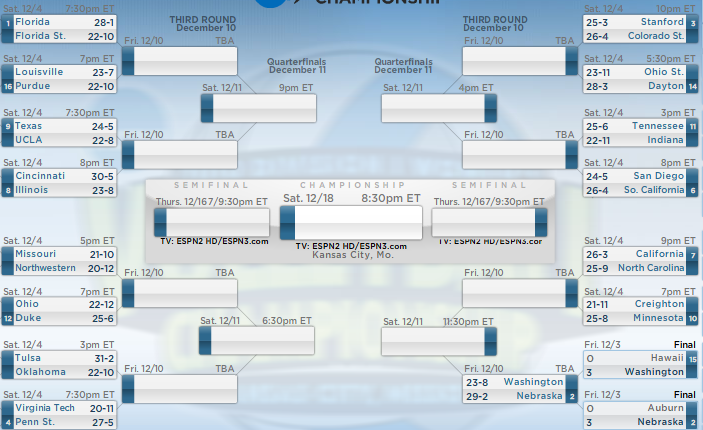 The Match: Penn State  (27-5) vs. Virginia Tech (20-11)              
When & Where: December 4, 2010, 7:30 p.m. ET.; Rec Hall     
Media Coverage: GameTracker; Live Stream: NCAA AllAcess.com                             
Match Snapshot                              
The Penn State Nittany Lions (27-5) took care of business in the 1st Round of the NCAA Tournament, downing the Niagara Purple Eagles (25-9)  in straight sets (25-12, 25-19, 25-15).  You can catch a replay of the match today on the Big Ten Network at 4:30 p.m on Saturday.
The Nittany Lions were led by  6-3 Sr. MH Arielle Wilson (.643 attack %) and Big Ten Player of the Year Blair Brown (each with 9 kills in the match), and 6-1 Fr. OH Deja McClendon (6 kills, .500 attack %).  6-6 Fr. MH Katie Slay played a solid match, with 6 total blocks and 3 kills (.500 attack %).  So. S Kristin Carpenter helped the team to an overall .370 attack % for the match, totaling 33 assists and 8 digs. 
Oh, and Penn State extended its home-match winning streatk to 91 consecutive matchs — a new NCAA record.  The Nittany Lions face off tonight at 7:30 p.m. against Virginia Tech , which downed Delaware, 3-0 in the 1st Round,
Below is Penn State's roster:
2010 Team Roster
Virginia Tech's Women's volleyball team may have been playing in its first-ever NCAA Tournament match, but it didn't show, as the Hokies swept the University of Delaware Blue Hens, 3-0 (25-17, 25-23, 25-18).  Tech ho-humed to a .367 attack % (its best this season), and held Delaware to .204. Virginia Tech's 6-0 Sr. MB, Felicia Willoughby , led the way with a career-bet .786 attack % (11 kills and 5 blocks).
Hokie Head Coach  Chris Riley had this to day:
I'm really proud of this program.  I'm proud of the direction it's gone and where these kids have taken it and I couldn't be more proud of the group for their discipline and what they've given to the program in order to get us to this level.  It was a challenge from day one but this group has taken it on as what their motto is and what their goals are and they've taken full charge of it. So, we're pretty happy and pretty proud of it.
Below is Virginia Tech's 2010 Roster:
| | | | | | | | |
| --- | --- | --- | --- | --- | --- | --- | --- |
| No. | Name | Pos. | Height | Class | Hometown | Club Team | High School/College |
| 1 | Jessica Wellman | L/DS | 5′ 4″ | So. | McKinney, Texas | Premier | McKinney North |
| 2 | Kirsty Blue | MB | 6′ 1″ | Jr. | Geneva, Fla. | Orlando | Oviedo |
| 3 | Allison Munter | S | 5′ 9″ | Fr. | Chesapeake, Va. | Coastal Virginia | Grassfield |
| 4 | Rachel Lindsey | L/DS | 5′ 8″ | Fr. | Summerfield, N.C. | Piedmont | Northwest Guilford |
| 5 | Erin Leaser | S | 5′ 10″ | Jr. | Allentown, Pa. | Philadelphia | Allentown Central Catholic |
| 6 | Laura Misiewicz | L/DS | 5′ 5″ | Fr. | Herndon, Va. | Virginia League | Chantilly |
| 7 | Justine Record | OH | 5′ 8″ | Jr. | Redwood City, Calif. | Vision | Carlmont |
| 8 | Samantha Gostling | OH | 6′ 1″ | Fr. | Charlotte, N.C. | Carolina Juniors | Ardrey Kell |
| 9 | Liz Trinchere | MB | 6′ 0″ | So. | Salem, Va. | Roanoke Juniors | Glenvar |
| 10 | Cara Baarendse | MB | 6′ 1″ | So. | Mason, Ohio | Cincy Classics | William Mason |
| 11 | Amy Wengrenovich | L/DS | 5′ 10″ | Sr. | Lancaster, Pa. | R&B | Hempfield |
| 13 | Jennifer Wiker | OH | 6′ 3″ | r-So. | Charlotte, N.C. | Carolina Juniors | South Mecklenburg |
| 14 | Victoria Hamsher | MB | 6′ 2″ | Fr. | Nazareth, Pa. | Synergy | Nazareth |
| 15 | Felicia Willoughby | MB | 6′ 0″ | Sr. | Pleasanton, Calif. | Golden Bear | Foothill |
| 16 | Kirsten Higareda | L/DS | 5′ 4″ | Jr. | Woodbridge, Va. | Ichiban | Forest Park |
| 17 | Corrie Sanders | L/DS | 5′ 8″ | Fr. | Virginia Beach, Va. | Coastal Virginia | Frank W. Cox |
| 19 | Morgan O'Neill | OH/DS | 5′ 9″ | So. | Atherton, Calif. | Vision | Archbishop Mitty |
Stat Joust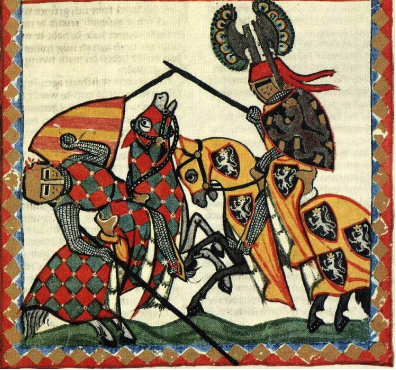 Below are selected NCAA individual and team rankings for Penn State and Virginia Tech as of November 27, 2010: