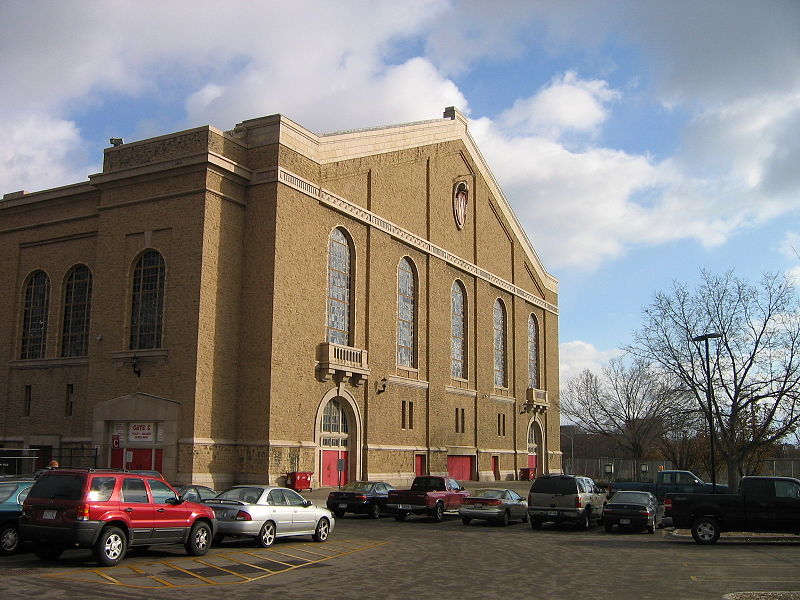 The Match: Penn State vs. Wisconsin
When and Where: Sunday, September 26th at 2:00 p.m. E.T., The Wisconsin Fieldhouse, Madison Wisconsin
Media Coverage: GameTracker and BTN Tape Delay (9-26-10 at 9 p.m. E.T.)
Comments from Wisconsin Head Coach Pete Waite:
Wisconsin's Women's Volleyball Head Coach Pete Waite is happy his Badgers are 11-0 going into matches against  Ohio State (12-1) on Friday and #2-ranked Penn State (10-1) on Sunday, and he's eager to see how his young team performs.
We're starting a number of young players, sometimes four freshmen and a sophomore out there, which is great. Sometimes they don't know any better. They just go out and play, which is wonderful. There's not that added pressure or feel that we're a senior-laden group and we've got to win now. It's like, they don't know any better. They're just going to go out and play the way they know how to play. We like that attitude on the court.
Waite noted that the team has improved offensively, and  that serve receive and serving are both much better than last season – giving special mention to Kim Kuzma , noting that last year her back was hurting her badly, but that she's healthy this season and that has made a big difference. 
Asked whether the loss to Stanford has made Penn State "human," (following 109 consecutive match victories) Waite had this to say:
They're not quite the same team they were. There's no doubt about that. With (Alisha) Glass and (Megan) Hodge leaving, those were two phenomenal players like top-decade teams kind of thing and all-time teams. But they still have two or three All Americans returning, some great players. One of their freshmen is their second leader in kills. They're still very, very good.
We can't argue with any of that Pete.
Stat Joust:
Here's a comparison of the NCAA individual and team rankings of the two teams through 9-20-10: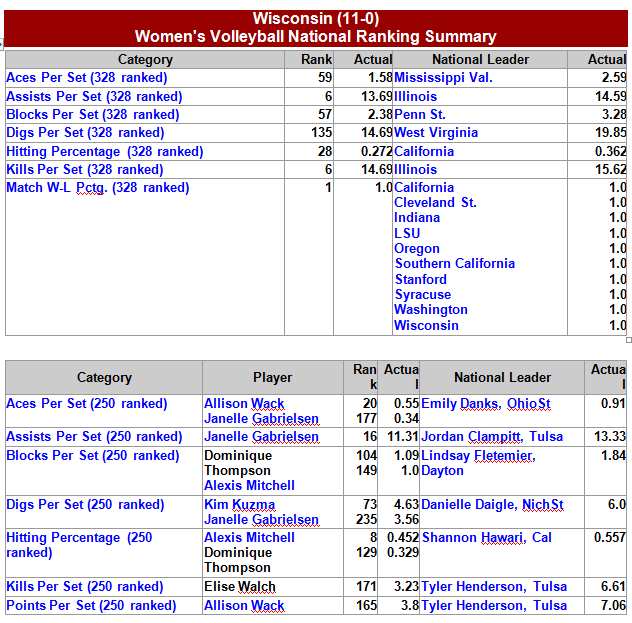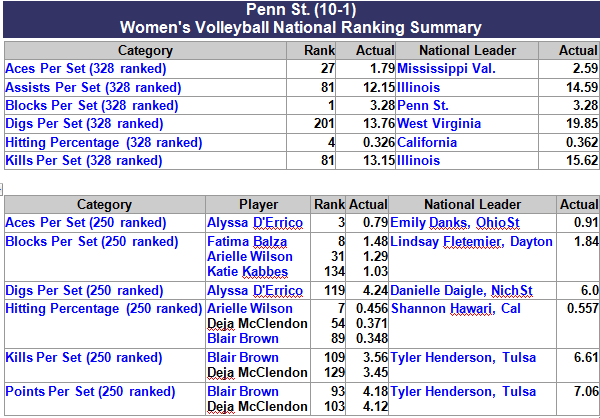 The Penn State Roster 
2010 Team Roster
The Wisconsin Roster