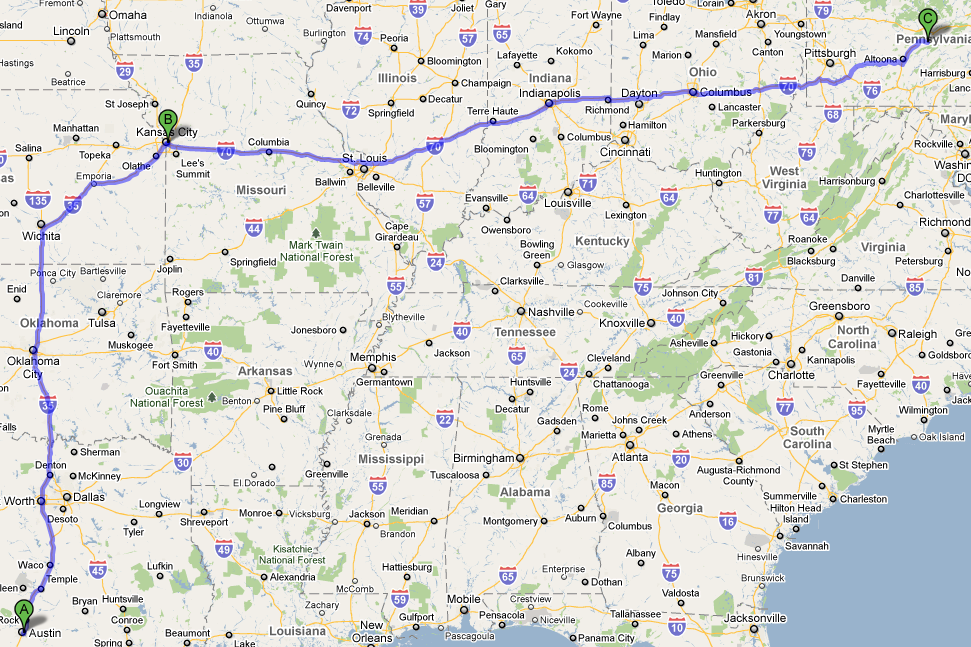 The Match: Penn State  (30-5) vs. Texas (27-5)             
When & Where: December 16, 2010, 7:00 p.m. ET.;  Kansas City Sprint Center    
Media Coverage: TV: ESPN2 HD (live); Streaming Video: ESPN3.com ; Radio: with Dean DeVore, Craig Dyer and Jay Hosack on WRSC-FM 103.1 around the world for free on GoPSUsports.com; GameTracker
Expect the Great!
Penn State will face Texas on Thursday in the first of two  2010 NCAA Women's Volleyball Tournament Semi-Final Matches.  For so many reasons, we think it will be a great match, and we can hardly wait! 
Texas is, after all, the team that came within a whisker of beating Penn State in last year's match-for-the-ages Final! (well, not exactly the same team — Texas lost AVCA 1st Team All-Americans Ashley Engle (RS/S) and Destinee Hooker (OH), along with libero Heather Kisner, from its 2009 squad, and Penn State lost AVCA 1st Team All-Americans 6-3 OH Megan Hodge and 6-0 S Alisha Glass, along with an injured 6-2 OH Darcy Dorton). 
Then there's the obvious "one-and-done" aspect to a Semi-Final match — with the winner moving on to the Finals, and the loser, well, done. 
Who's hot?  Texas has 19 consecutive wins, so they're red hot.  Penn State lost its final match of the regular season to Minnesota, but they've only lost one set in the NCAA Tournament and they're coming off a solid win over #12-seeded Duke, so both teams are playing very well. 
We're obviously rooting for Penn State,  but whichever team you're rooting for, expect great play by your team, and great volleyball all around!  As Jonathan Nelson says in the video below, Expect the Great! (and whether or not you like Gospel music, if this doesn't get you hoppin', you need new batteries!)  
Match Snapshot
Penn State, seeded #4, is the highest remaining seed in the NCAA Tourney.  But as that fact proves, the seedings had very little to do with who won (we're not talking about the make-up of the brackets — we get it, the volleyball world hated them), and #9-seeded Texas (27-5) certainly won't come into this match with any lack of confidence. 
Neither will the Nittany Lions, who are led by a solid core of seniors: 6-5 Opp.  Blair Brown, who leads the team with 4.20 kills/set (.323 attack %), 6-3 MH Arielle Wilson (2.70 kills/set, .425 attack %, 1.15 blocks/set), 5-9 L Alyssa D'Errico, (4.13 digs/set, 0.39 aces/set), 5-1 DS Cathy Quilico (2.09 digs/set), and 6-3 MH Fatima Balza (1.33 blocks/set, 1.19 kills/set, .386 attack %). 
Freshman Deja McClendon has had a pretty fair season herself — Big Ten Freshman of the Year, 3.37 kills/set and a .327 attack %.  But for Penn State Coach Russ Rose, those gaudy offensive numbers aren't the only thing that set McClendon apart this season.  In an interview with Jake Kaplan of Penn State's Daily Collegian after the Duke match, in which McClendon finished with 20 kills and 10 digs, Rose said:
People will look at the box score and see that she had a great hitting night in kills and hitting percentage.  But she received about two-thirds of the serves and she was our best passer and that's probably the thing that I'm most pleased about.
5-6 So. S Kristin Carpenter is another underclassman who has enjoyed a solid season.  She has averaged 11.39 assists per set and helped guide Penn State to a team attack % of .314 (2nd best in the NCAA).  Three other freshman have also played key roles for the Nittany Lions: 6-6 MH Katie Slay (1.52 blocks/set, 1.09 kills/set, .419 attack %), 6-5 OH Ariel Scott, who saw her first playing time in mid-season (2.21 kills/set, .200 attack %, 0.70 blocks/set), and 5-6 DS Ali Longo (.29 aces/set, 1.14 digs/set). 
Texas had a rocky start this season (not unlike Penn State), as they lost five matches early on and suffered several injuries.  But they rallied, led by their own group of seniors: 6-2 OH Juliann Faucette (Big 12 Player of the Year, 3.92 kills/set, .23 aces/set, 20 solo blocks), 6-5 Sr. MB Jennifer Doris (1.78 kills/set, .435 attack % – 2nd in the NCAA), and 6-1 OH Lauren Dickson, a transfer from Virginia who led the Longhorns with 12 digs against Purdue. 
In addition, players like 6-2 Jr. MB Rachael Adams (2.94 kills/set and an NCAA leading .448 attack %) and 6-1 So. Sha' Dare McNeal (2.03 kills/set, .309 attack %, 2.04 digs/set, 0.85 blocks/set) have emerged to play key roles. 5-10 Jr. Michelle Kocher (10.64 assist/set) and 5-11 Fr. Hannah Allison (8.28 assists/set) have both seen significant time at setter.
Texas is a big, physical team, that will give Penn State a very tough match.  According to UCLA Head Coach Mike Sealy, who commented on Texas after his team lost to the Long Horns in the 2nd Round, if the Long Horns have a weakness, it may be ball control:
They are very physical. That will help them greatly. I think at this point in the season you need to exploit other teams' weaknesses and hide your own. I don't mean it in a negative way. I think Texas is very physical, but they are going to need to focus on their ball control if they are going to continue to win.
We'll see.  As we said, we're expecting a great match.
Stat Joust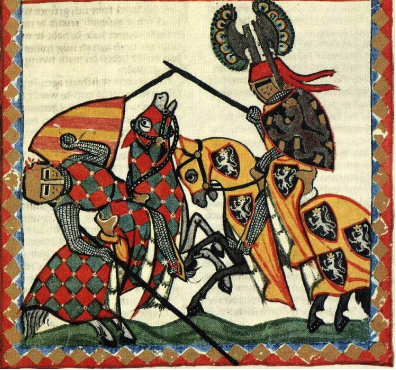 Below are comparisons of the team and individual statistics for Penn State and Texas through December 12th:
Texas vs. Penn State (Team Stats)
| Category | Texas | Penn State |
| --- | --- | --- |
| Attack % | .311 | .314 |
| Kills/Set | 14.33 | 14.23 |
| Attack Errors/Set | 4.31 | 3.93 |
| Assists/Set | 13.45 | 13.09 |
| Service Aces/Set | 1.16 | 1.26 |
| Service Errors/Set | 2.14 | 2.23 |
| Digs/Set | 13.36 | 14.61 |
| Blocks/Set | 2.47 | 3.01 |
| Reception Errors/Set | 0.948 | 0.786 |
Texas - Penn State (Player Stats)
| Category | Player | Team | Statistic |
| --- | --- | --- | --- |
| Attack % | Adams | Texas | .448 |
| Attack % | Doris | Texas | .435 |
| Attack % | Wilson | Penn State | .427 |
| Attack % | McClendon | Penn State | .328 |
| Kills/Set | Brown | Penn State | 4.20 |
| Kills/Set | Faucette | Texas | 3.92 |
| Kills/Set | McClendon | Penn State | 3.37 |
| Kills/Set | Adams | Texas | 2.94 |
| Kills | Brown | Penn State | 491 |
| Kills | Faucette | Texas | 451 |
| Kills | McClendon | Penn State | 391 |
| Kills | Adams | Texas | 335 |
| Assists/Set | Carpenter | Penn State | 11.39 |
| Assists/Set | Kocher | Texas | 10.64 |
| Assists/Set | Allison | Texas | 8.28 |
| Service Aces/Set | D'Errico | Penn State | 0.39 |
| Service Aces/Set | Longo | Penn State | 0.29 |
| Service Aces/Set | Allison | Texas | 0.28 |
| Service Aces/Set | Faucette | Texas | 0.23 |
| Digs/Set | D'Errico | Penn State | 4.13 |
| Digs/Set | Yogi | Texas | 3.40 |
| Digs/Set | Palmer | Texas | 3.06 |
| Digs/Set | Carpenter | Penn State | 2.27 |
| Blocks/Set | Slay | Penn State | 1.52 |
| Blocks/Set | Balza | Penn State | 1.33 |
| Blocks/Set | Adams | Texas | 1.20 |
| Blocks/Set | McNeal | Texas | 0.78 |
| Solo Blocks | Faucette | Texas | 20 |
| Solo Blocks | Adams | Texas | 14 |
| Solo Blocks | Brown | Penn State | 11 |
| Solo Blocks | Wilson | Penn State | 10 |
| Sets Played | 4 tied | Penn State | 117 |
| Sets Played | 2 tied | Texas | 115 |
NCAA Statistical Rankings
Here are the individual and team NCAA rankings in selected statistical categories: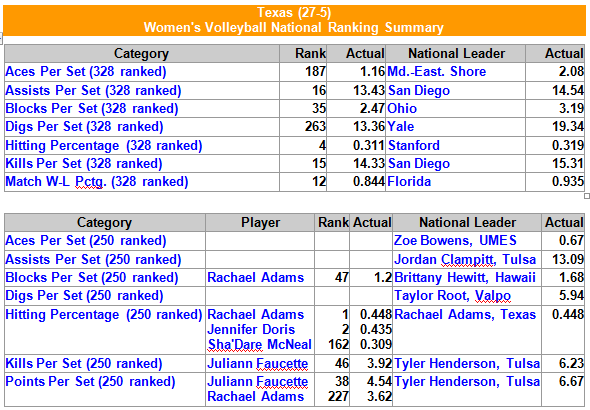 Team Rosters
2010 Team Roster
| | | | | | | | |
| --- | --- | --- | --- | --- | --- | --- | --- |
| NO. |    | NAME | POS |   | HT. | CLASS-EXP. | HOMETOWN (LAST SCHOOL) |
| 5 |   | Rachael Adams | MB |   | 6-2 | Jr.-2L | Cincinnati, Ohio (Mount Notre Dame) |
| 12 |   | Hannah Allison | S |   | 5-11 | Fr.-HS | Siloam Springs, Ark. (Siloam Springs) |
| 13 |   | Cristina Arenas | DS |   | 5-6 | So.-1L | Cypress, Texas (Cy Woods) |
| 24 |   | Ashley Bannister | OH |   | 6-1 | Fr.-HS | Sugar Land, Texas (Travis) |
| 20 |   | Haley Cameron | MB |   | 6-3 | Fr.-HS | La Jolla, Calif. (La Jolla) |
| 10 |   | Lauren Dickson | OH |   | 6-1 | Sr.-GR | Austin, Texas (Virginia) |
| 8 |   | Jennifer Doris | MB |   | 6-5 | Sr.-3L | Houston, Texas (Cypress Falls) |
| 1 |   | Juliann Faucette | OH |   | 6-2 | Sr.-3L | San Diego, Calif. (Westview) |
| 4 |   | Michelle Kocher | S |   | 5-10 | Jr.-2L | Wheaton, Ill. (St. Francis) |
| 14 |   | Sha'Dare McNeal | UTIL |   | 6-1 | So.-1L | San Diego, Calif. (Fallbrook) |
| 22 |   | Julie Olschwanger | L/DS |   | 5-7 | Fr.-HS | Richardson, Texas (Pearce) |
| 16 |   | Sarah Palmer | L |   | 5-10 | Fr.-HS | Kailua, Hawaii (Hawaii Baptist Academy) |
| 18 |   | Amber Roberson | OH |   | 6-2 | Jr.-2L | San Antonio, Texas (Wagner) |
| 23 |   | Bailey Webster | OH |   | 6-3 | So.-1L | Baltimore, Md. (St. Paul's School for Girls) |
| 15 |   | Sydney Yogi | L |   | 5-2 | Jr.-2L | Honolulu, Hawaii (Punahou) |