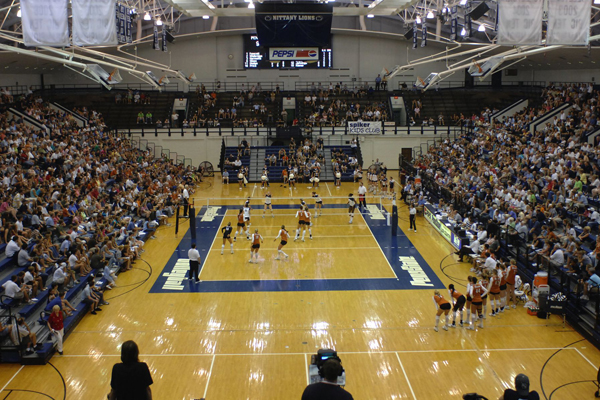 What: Penn State vs. Seton Hall:
Where: Rec Hall, University Park
When: Friday, 7:00 pm, September 3, 2010
Media Coverage: GameTracker
About Penn State
Penn State comes into the match 3-0, following three victories in the Carolina Classic. The Nittany Lions have posted two victories against Seton Hall (both sweeps — (30-18, 30-18, 30-14 in 2002 and 30-20, 30-17, 30-20 in 2005).
2010 Team Roster
About Seton Hall
The Seton Hall Pirates are 1-2, with a win over William & Mary, and losses to Winthrop and Wisconsin (don't have a stroke if you visit the Seton Hall website and see the news headline "Wisconsin Drops Volleyball" — it's an unfortunate truncation of the complete headline about the Pirates' loss to the Badgers).
Senior Sarah Osmun, is the seventh player in Seton Hall history to reach the 1,000-kill mark (she has 1210 career kills), and needs only 169 kills to break the all-time Seton Hall career record.
Sophomore Morgan DeVries was named to the All-Tournament Team at last weekend's Tribe Invitational.  In the Pirates' only win of the weekend, DeVries recorded a 14-kill performace in a win over William & Mary, with a .591 attack percentage for the match. DeVries posted nine kills in the loss to Winthrop and five more in the loss to Wisconsin.
Freshman Alyssa Warren began her career as the starting libero, avering  5.15 digs per set.
Here's the Seton Hall Roster: