(click images for more info)
Quote of the Day

"I'm learning patience, but I also have two kids who are 4 and 2 [years old] so the patience thing I'm definitely getting better at no matter what."  Maryland Head Coach Steve Aird, in an interview with Michael Errigo of umsports.com.
Two weeks ago, Maryland Head Coach Steve Aird brought his young Terrapin squad to Rec Hall to face the Penn State Nittany Lions.  Penn State won in straight sets (25-11, 25-18, 25-15), led by 6-3 Fr. MH Haleigh Washington (10 kills, .769 attack %), 6-4 RS Jr. Opp/RS Aiyana Whitney (10 kills, .500 attack % ), and 6-1 Fr. OH Ali Frantti (13 kills, .259 attack %). After that match, Penn State Head Coach Russ Rose complimented Maryland in an interview with GoPSUsports.com:
Maryland tested us in number of areas. I thought a couple of the girls played really well under the pressure of those tests and a couple of the girls were a little subpar in their performance.  Anytime you can have a great crowd and good energy in the building and the young kids play well, you should feel pleased about that.
Penn State now is ranked #4 in the AVCA poll, with a 27-3 record (15-2 in the B1G), while Maryland sits at 9-19 overall (2-15 in the B1G).
The match will be streamed live on BTN2Go/BTN Plus — a subscription service. Click on the icon at right for more info: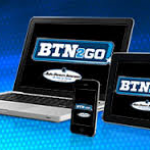 Stat Joust
Here's the latest stat joust, comparing team and individual statistics (B1G matches only) for Penn State, Wisconsin (because it's riding high in first place in the ), and Penn State's next opponent — Maryland.
B
1G

Team Stats (B

1G

Matches Only)
The biggest difference we see with looking only at the B

1G

matches is that Penn State is leading the B

1G

in blocking, whereas looking at all matches, it ranks 5th in the B

1G

Maryland is a decent blocking team
Maryland is a good serving team (or at least, they have a good average of service aces/set)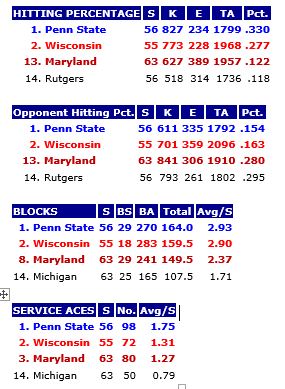 B
1G

Individual Stats (B

1G

Matches Only)
Penn State and Wisconsin are dominating the individual hitting statistics. All we can say is Carlini. Actually, we can also say Haleigh (Washington and Nelson) and Aiyana (Whitney), Nia (Grant) and Dominique and Courtney (Thompson and Thomas, respectively).
Aiyana Whitney is having a terrific B

1G

season — 4th in attack %, 10th in kills, and 10th in points. All the more impressive given that she is only one-third of Penn State's Three-Headed Monster.
It's very nice to have Micha Hancock on your team.
Nia Grant too.
Ali Frantti too.
Dom Gonzalez too.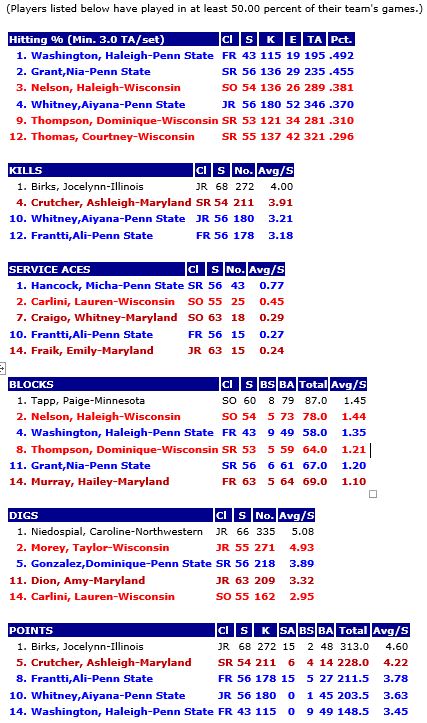 __________________________________
Photo Credits
Terrapins. By 

Pelf

at

en.wikipedia

.  This work has been released into the

public domain

by its author, Pelf at the English Wikipedia project. This applies worldwide. In case this is not legally possible:

Pelf

grants anyone the right to use this work for any purpose, without any conditions, unless such conditions are required by law.