Iowa State
The Penn State Women's Volleyball team leaves home for the first time this season, as the Nittany Lions travel to Ames Iowa to take on the Iowa State Cyclones on Friday night at 7:30 p.m. ET, and the LSU Tigers on Saturday afternoon at 3:00 p.m.  Below are some Iowa State stats and information on its head coach, Christy Johnson-Lynch.  We'll have a post up tomorrow on Louisiana State.
Iowa State to Date
(Courtesy of Cyclones.com)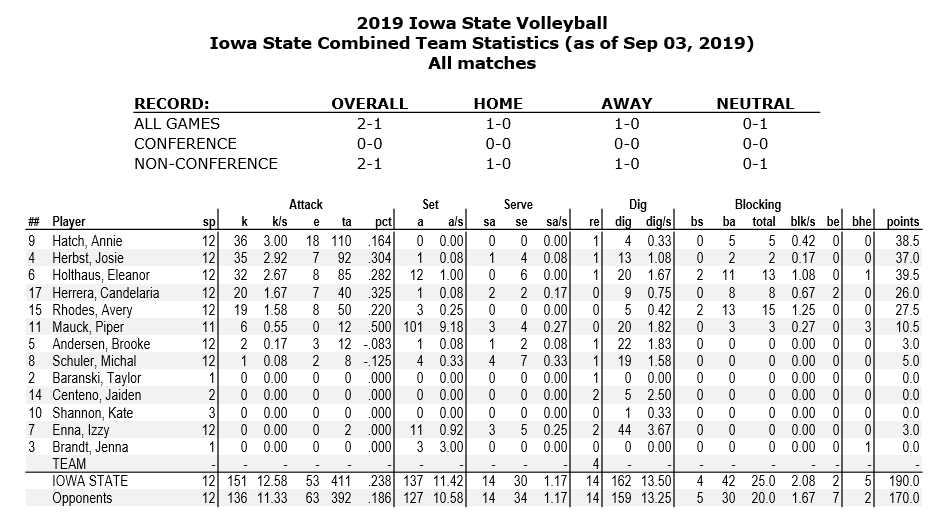 Iowa State – Last Match

AMES, Iowa – Iowa State (2-1) won its home opening match of the season with a 3-0 (25-19, 25-18, 25-19) sweep over South Dakota
AMES, Iowa – Iowa State (2-1) won its home opening match of the season with a 3-0 (25-19, 25-18, 25-19) sweep over South Dakota (3-1) Tuesday night at Hilton Coliseum.
Iowa State was led on the attack by a tandem of 5-10 Sr. OH Josie Herbst and 6-1 Fr. OH Annie Hatch who each had 13 kills apiece, with Herbst posting hers at a .500 hitting percentage.  6-1 So. RS Eleanor Holthaus notched 10 kills and eight digs. The back-row was led by 6-1 Jr. Setter Piper Mauck's nine digs to go with 35 assists. Mauck set the Cyclones to a .305 hitting clip on the evening.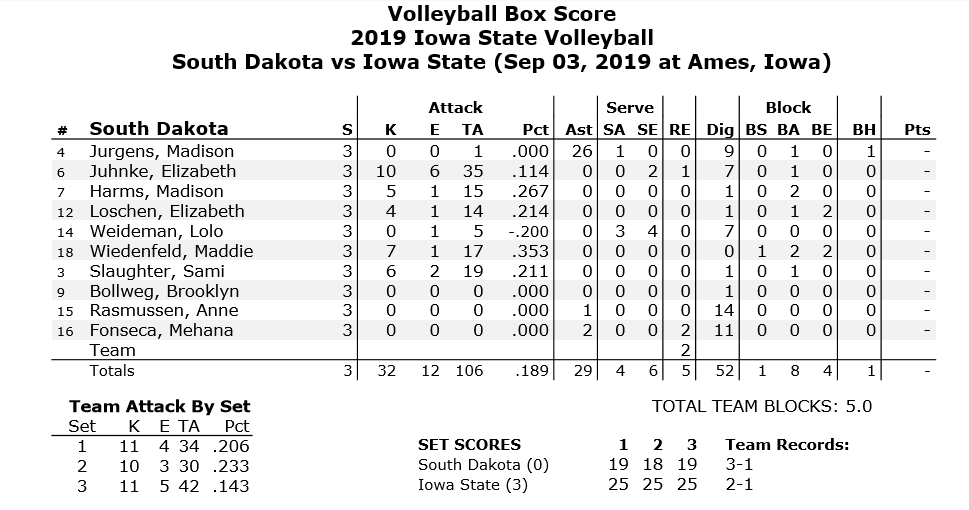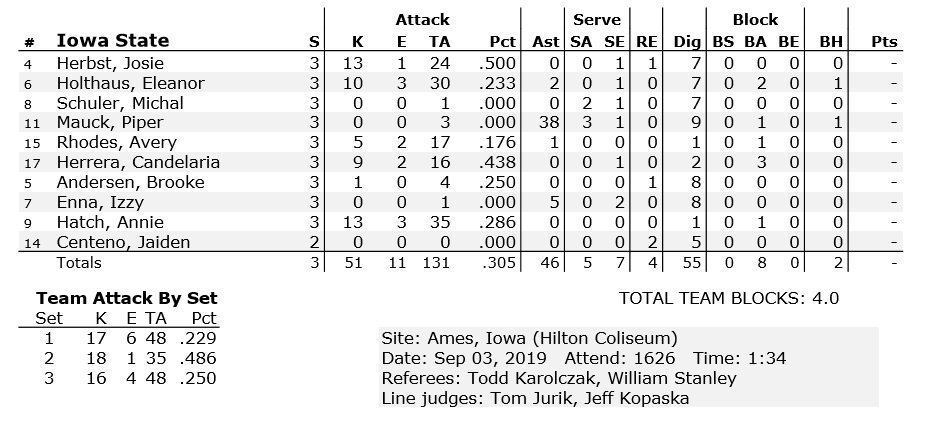 About Christy Johnson-Lynch – Iowa State Head Coach
Awards and Honors
AVCA Board of Directors (2015-18) … AVCA President (2016-17) …
2010 Iowa State University Impact Award…
2009 Asics/Volleyball Magazine National Coach of the Year…
2009 Big 12 Coach of the Year…2009 AVCA Central Region Coach of the Year
Bio
Christy Johnson-Lynch enters her 15th year as head coach at Iowa State having rewritten the history of the Cyclone volleyball program. The program she inherited on Dec. 17, 2004 is unrecognizable compared to today's situation.
There are many ways to define Johnson-Lynch's tenure at Iowa State. There is the winning. She enters her 15th season at Iowa State with a 289-143 record in her career. The Cyclones have made it to the NCAA Championships in 12 of her 14 seasons at the helm. She has guided the Cyclones to the NCAA Regional Semifinals three times and to the Regional Final on two occasions in 2008 and 2011.
Johnson-Lynch's 161-87 record against Big 12 opponents is incredible in many contexts. In ISU's nine Big 12 seasons before her arrival, ISU had only picked up 13 conference wins compared to 167 losses. The Cyclones had anchored the Big 12 standings in seven of those nine campaigns. In 2009, alone, Iowa State won a program-record 17 Big 12 matches en route to a school record 27 victories on the season.
In '09, Johnson-Lynch was named Big 12 Coach of the Year.
Iowa State has won 20 matches in a season eight times under Johnson-Lynch, a feat only accomplished three times in the 15 years before Johnson-Lynch joined the Cyclones. To go with the 2009 Cyclones' 27 wins, the 2011 Cyclones earned 25 wins and the school's highest NCAA Championship seeding ever at No. 4.
The Iowa State program has produced a line of talented players in Johnson-Lynch's tenure. The Cyclones have had 13 student-athletes earn AVCA All-America honors under Johnson-Lynch. The Iowa State program had never had an All-American prior to Johnson-Lynch's arrival.