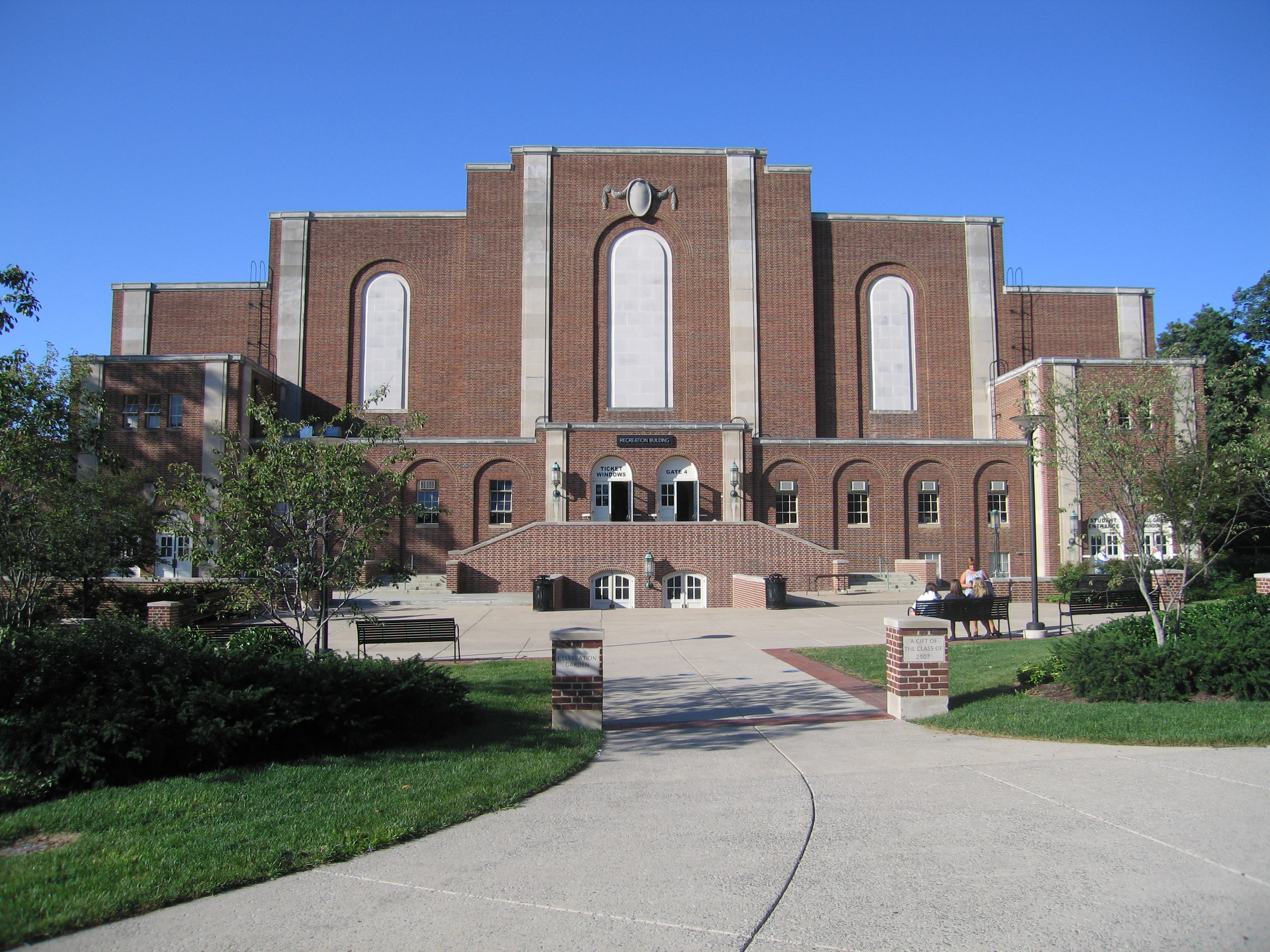 The Match: Penn State (17-4; 7-3 Big Ten) vs. Indiana (17-5, 5-5 Big Ten)
Where and When: University Park, PA, Rec Hall, October 29th at 6:30 p.m. E.T.
Media Coverage: Game Tracker; Streamed live on the BigTenNetwork.com, and re-aired on the Big Ten Network Monday, Nov. 1 at 2 pm.  You also can log on to IUHoosiers.com for a free, live broadcast of the match.
Match Snapshot:
If the Nittany Lions think Indiana's victory over Penn State was a fluke, they should think again.  Not only did the Hoosiers knock off the Nittany Lions when they met in Bloomington, IN, they have won five of their last six matches and are one of five Big Ten teams that are tied for  fourth place in the conference.  That's alot of teams tied for fourth place.   Two more big victories for Indiana came this past past weekend, when Indiana swept then-No. 13 Michigan and also swept Michigan State.  The victory over Michigan was Indiana's first since 2006.   6-3 Sr. MB Ashley Benson was named the Big Ten's Defenisve Player of the Week for the second consecutive week.   
Benson has 569 career blocks and will be looking for more on Friday.  She also has a .333 career hitting percentage, and 1,316 career kills.  5-2 Jr. L Caitlin Cox needs only 119 more digs to move into second place on Indiana's all-time list.  6-3 Jr. S Mary Chaudoin's 2,158 career assists place her 7th on Indiana's all-time list, and 6-1 Sr. MB Taylor Wittmer's 353 career blocks place her 8th all-time.
For Penn State, which is coming off a solid 3-0 sweep of the Northwestern Wildcats last Saturday, 6-5 Sr. Opp. Blair Brown is averaging a team-best 3.73 kills/set, followed by 6-1 Fr. OH Deja McClendon at 3.52 kills/set and 6-3 Sr. MH Arielle Wilson at 2.79 kills/set.  So. S.  Kristin Carpenter averages 10.68 assists/set, 5-9 Sr. L Alyssa D'Errico leads the team with 3.94 digs/set Wilson is tops on the team with  1.24 blocks/set followed by 6-3 Sr. MH Fatima Balza (1.24 blocks/set) and 6-6 Fr. OH Katie Slay (1.39 blocks/set).
Here's Penn State Assistant Coach Dennis Hohenshelt, courtesy of gopsusports.com, giving his thoughts on the match (and Saturday's match with Purdue):
Rosters and Stats
Here are the Rosters for the Nittany Lions and the Hoosiers, followed by NCAA statistical rankings of the two teams and their players:
Penn State
Updated as of 8-24-2010
Number
Name
Position
Year/
Class
Height
HS
(Club)
State/
Nation
1
Scott,
Ariel

Opp/OH
1/Fr.
6-4
Immaculate Heart Academy
(Team Complete
Athlete)
NJ
2
Kabbes,
Katie

OH
3/Jr.
6-5
Cardinal Gibbons
(Triangle Volleyball)

NC
3
Balza,
Fatima

MH
4/Sr.
6-3
Liceo Caracas
VE
4
Ullrich,
Jessica

DS
4/Sr.
5-8
Wheaton North
(1st Alliance)
IL
5
Carpenter,
Kristin

S/DS
2/So.
5-6
Hanover
(Richmond Volleyball Club)
VA
6
Martin,
Maddie

OH
1/Fr.
6-2
H.B. Plant
(Tampa Bay
Juniors)
FL
7
Wilson,
Arielle

MH
4/Sr.
6-3
Proviso East
(1st Alliance)
IL
8
Denney,
Erica

MH
1/Fr.
6-5
Grandview
(Front Range
Volleyball Club)
CO
9
Brown,
Blair

Opp
4/Sr. (RS)
6-5
Loudoun Valley
(Renaissance)
VA
10
Racibarskas,
Marika

S
2/So.
6-0
Chatham
(Team Complete
Athlete)
NJ
11
Dorton,
Darcy

OH
2/So.
6-2
Delta
(Munciana)
IN
12
D'Errico,
Alyssa

L/DS
4/Sr.
5-9
Byron-Bergen
(VolleyFx Magic)
NY
13
Shifflett ,
Megan

DS/S
3/Jr.
5-6
Langley
VA Elite
VA
14
Quilico,
Cathy

L/DS
4/Sr.
5-1
Westlake
(Gene's Team)
CA
15
Harding,
Maggie

DS
1/Fr.
5-6
State College
Area
PA
16
Slay,
Katie

MH
1/Fr.
6-6
Raleigh
(Triangle Volleyball
Club)
NC
18
McClendon,
Deja

OH
1/Fr.
6-1
Dupont Manual Magnet
(KIVA)
KY
19
Pabst,
Krosby

DS
1/Fr.
5-7
Woodrow
Wilson
(Mizuno Long Beach)
CA
22
Moydell,
Mikinzie

S
1/Fr.
6-0
Chaparral
(Front Range Volleyball Club)
CO
23
Longo,
Ali

DS
1/Fr.
5-6
Chatfield
(Juggernaut Volleyball)
CO
Indiana  
| | | | | | | | | |
| --- | --- | --- | --- | --- | --- | --- | --- | --- |
| No. | | Name | Pos. |   | Yr. | | Ht. | Hometown/High School |
| 10 |   | Benson, Ashley | Middle Blocker |   | SR |   | 6-3 | Bloomington, Ind./North H.S. |
| 8 |   | Chaudoin, Mary | Setter |   | JR |   | 6-3 | Peachtree City, Ga./Starrs Mill |
| 1 |   | Cox, Caitlin | Libero |   | JR |   | 5-2 | Springport, Ind./New Castle Chrysler |
| 13 |   | Enterline, Lindsay | Outside Hitter |   | RS SO |   | 6-0 | Monroeville, Ind./Heritage |
| 5 |   | Granado, Whitney | Setter |   | SO |   | 5-9 | Riverside, Calif./Woodcrest Christian |
| 12 |   | Hansen, Caitlin | Defensive Specialist |   | FR |   | 5-4 | Indianapolis, Ind./Roncalli |
| 2 |   | Haverly, Jordan | Outside Hitter |   | SO |   | 6-1 | Cherry Valley, Ill./Rockford Keith Country Day |
| 15 |   | Henderson, Jade | Outside Hitter |   | FR |   | 5-10 | Cincinnati, Ohio/Ursuline Academy |
| 7 |   | Hicks, Melanie | Defensive Specialist |   | FR |   | 5-7 | Louisville, Ky./Assumption |
| 11 |   | Marschall, Kelci | Right-side Hitter |   | SO |   | 6-2 | New London, Ohio/Wooster |
| 16 |   | Matula, Laura | Defensive Specialist |   | SO |   | 5-6 | Munster, Ind./Munster |
| 3 |   | Obeime, Ivie | Outside Hitter |   | SO |   | 5-9 | Carmel, Ind./Brebeuf Jesuit Preparatory |
| 20 |   | Thrower, Samantha | Middle Blocker |   | SO |   | 6-2 | Sycamore, Ill./Sycamore |
| 9 |   | Wittmer, Taylor | Middle Blocker/Right-side |   | SR |   | 6-1 | Loogootee, Ind./Loogootee |