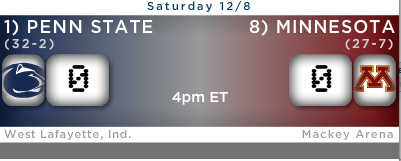 About the Lions-Gophers Re-Rematch
Minnesota Nearly Beat Penn State Last Time Out
There's alot of chatter on the internet about the fact that this afternoon's match between Penn State and Minnesota will be the third time the two teams have met this season.
We admit, in the absence of any data to the contrary, the argument that it's very difficult to beat a team three times in one season makes alot of sense.  But it may not be quite as daunting a task as conventional wisdom suggests.  More on that later.
One thing to keep in mind is that the Golden Gophers, who knocked off Purdue last night, 3-1 (23-25, 26-24, 25-23, 25-21),  are a very good team, regardless of whether it's the first match or the third match a team is playing against them.  Minnesota will definitely give Penn State all they can handle.  Maybe more.
In their last meeting — a 3-1 Penn State win in Rec Hall on Novermber 2nd — the Gophers had a slightly better attack % (.207) than the Nittany Lions (.205) and outblocked them 16-9.   The statistical differences?  Penn State had 11 service aces to Minnesota's 5 and 72 digs to the Gopher's 49.
But that was then and this is now.  In that match, Minnesota's 6-1 Fr. OH Daly Santana had 7 kills (.200 attack %) and 8 digs.  Last night against Purdue, Santana  had a team-high 16 kills and 14 digs.  Talk about improvement!
And Santana has plenty of help.  Against Purdue, 6-2 Sr. RS Katherine Harms had 15 kills and 10 digs, 6-0 Jr. OH Ashley Wittman had 14 kills and 12 digs, and 6-3 Jr. MB Tori Dixon had 11 kills and a team-high five blocks.
This is a very tough team, and Penn State will [Cliche alert!] need to bring its "A-Game."  And some real determination.
Will Third Time Out be the Charm for Gophers?
So, about that "it's very difficult to beat a team three times in the same season" thing.  Here's something on that point from a January 3, 2010 article in bleacherreport.com:
All week, you will hear the self-proclaimed experts tell you it is difficult to beat a team three times in one season.

They will sit in their fancy studios and use that logic to explain why the Eagles are going to beat Dallas next weekend.

Clearly, these pundits of prognostication do not have access to the Internet. If they did, they could do some research and realize that since the NFL merger in 1970, the team that won the previous two meetings against its divisional rival has a 12-7 record.
Read the complete article at thebleacherreport.com.
Two points.
Point 1: that's a 70.5% success rate — obviously lower than the 100% success rate in the first two matches.  However, a 70.5% winning percentage is very good in the NFL.
Point 2: NCAA women's volleyball is not the NFL.  Well, you've got us on Point 2.
Minnesota Post-Purdue Match Interviews
Stat Joust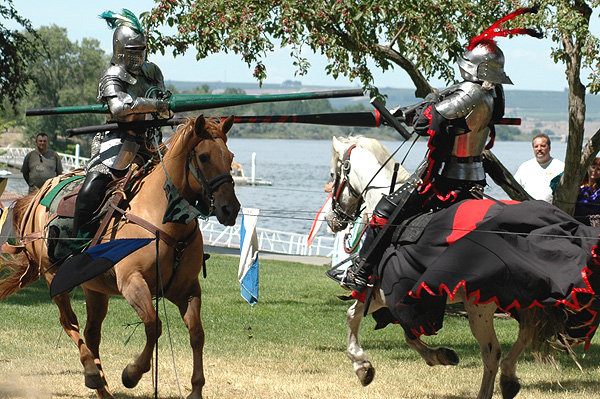 (Statistics through 12-7-12)
Minnesota Category Leaders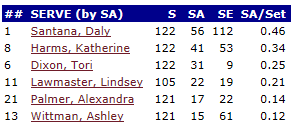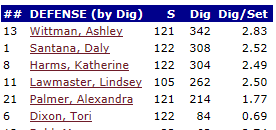 Penn State Category Leaders
Attack Leaders - 2012
Set/Serve Leaders - 2012
Recept/Dig Leaders - 2012
Blocking and Points Leaders - 2012
Minnesota 2012 Roster
| | | | | | | | | |
| --- | --- | --- | --- | --- | --- | --- | --- | --- |
| No. | | Name | Pos. | | Ht. | | Yr. | Hometown (Last School) |
| 12 | | Bohl,   Morgan | Outside Hitter | | 6-0 | | SO | Centennial, Colo. (Eaglecrest HS) |
| 6 | | Dixon,   Tori | Middle Blocker | | 6-3 | | JR | Burnsville, Minn. (Burnsville HS) |
| 8 | | Harms,   Katherine | Opp Hitter | | 6-2 | | SR | Albertville, Minn. (St. Michael-Albertville HS) |
| 2 | | Hauer,   Karlie | Outside Hitter | | 5-11 | | FR | Andover, Minn. (Andover HS) |
| 4 | | Haugen,   Brianna | Outside Hitter/Middle Blocker | | 6-1 | | SR | Minneapolis, Minn. (Southwest HS) |
| 9 | | Israel,   Karyn | Setter | | 6-0 | | FR | Huntington Beach. Calif. (Edison HS) |
| 3 | | Knudsen,   Dana | Middle Blocker | | 6-3 | | SR | Sacramento, Calif. (Santa Clara) |
| 11 | | Lawmaster,   Lindsey | DS/Libero | | 5-5 | | FR | Los Alamitos, Calif. (Los Alamitos HS) |
| 15 | | Lindstedt,   Kara | Outside Hitter | | 5-8 | | JR | Shoreview, Minn. (UW-Green Bay) |
| 21 | | Palmer,   Alexandra | Setter | | 5-7 | | JR | Laguna Beach, Calif. (Santa Clara) |
| 1 | | Santana,   Daly | Outside Hitter | | 6-1 | | FR | Corozal, Puerto Rico (Bayamon Military Academy) |
| 7 | | Tabberson,   Mia | Setter | | 6-2 | | SR | Muncie, Ind. (Burris HS) |
| 5 | | White,   Kalysta | DS/Libero | | 5-5 | | FR | Laguna Beach, Calif. (Laguna Beach) |
| 13 | | Wittman,   Ashley | Outside Hitter | | 6-0 | | JR | Shakopee, Minn. (Shakopee HS) |
Penn State 2012 Roster
2012 Team Roster (Updated)
| Number | Name | Position | Eligibility | Height | Hometown | State/Nation |
| --- | --- | --- | --- | --- | --- | --- |
| 1 | Scott, Ariel | Opp/MH | Jr. | 6-4 | Ridgewood | New Jersey |
| 2 | Caraway, Lara | DS/L | Fr. | 5-4 | Evans City | Pennsylvania |
| 3 | Pierce, Kendall | DS/L | Fr. | 5-6 | Eden | New York |
| 4 | Gonzalez, Dominique | DS/L | So. | 5-6 | San Antonio | Texas |
| 5 | Carpenter, Kristin | DS/L/S | Sr. | 5-6 | Mechanicsville | Virginia |
| 6 | Martin, Maddie | OH | Jr. | 6-2 | Tampa | Florida |
| 7 | Grant, Nia | MH/OH | So. | 6-2 | Warren | Ohio |
| 8 | Denny, Erica | MH | So. (RS) | 6-5 | Centennial | Colorado |
| 9 | Prieto Cerame, Paulina | OH/Opp/MH | Fr. | 6-2 | Miami | Florida |
| 10 | Racibarskas, Marika | S | Sr. | 6-0 | Chatham | New Jersey |
| 12 | Hancock, Micha | S | So. | 5-11 | Edmond | Oklahoma |
| 14 | Whitney, Aiyana | OH/Opp/MH | So. | 6-5 | Ridgewood | New Jersey |
| 15 | Harding, Maggie | DS | So. (RS) | 5-6 | State College | Pennsylvania |
| 16 | Slay, Katie | MH | Jr. | 6-6 | Raleigh | North Carolina |
| 17 | Courtney, Megan | OH/S | Fr. | 6-2 | Dayton | Ohio |
| 18 | McClendon, Deja | OH | Jr. | 6-1 | Louisville | Kentucky |
| 33 | Fuller, Lacey | DS/L | So. | 5-6 | San Diego | California |