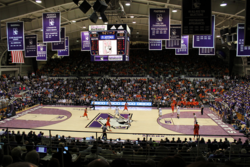 #3-ranked Penn State (15-1, 4-1 in the B1G) travels to Northwestern for a match tonight against the 10-6 (2-3 in the B1G) Wildcats.  The Nittany Lions defeated #13-ranked Illinois (11-5, 2-3 in the B1G) Friday night 3-1, while Northwestern fell to Ohio State in straight sets.
Date
(Time)

Opp.
Site

Media
10-10-15
(8:00 p.m. ET)
Evanston,
IL

No TV




For Penn State, 6-2 Sr. OH Megan Courtney once again was the heart and soul of the team, with 18 kills and a team-high 19 digs — her fourth consecutive and eighth double-double of the season.  She also contributed six total blocks, three of which were solo (one of her trademarks during an extraordinary career at Penn State).  Other key contributors on offense for Penn State were 6-4 RS Sr. MB Aiyana Whitney (16 kills, .319 attack %), 6-3 So. MB Haleigh Washington (11 kills, a team-high 7 blocks) and 6-2 So. OH Ali Frantti (10 kills, 5 digs).
5-6 Fr. libero Keeton Holcomb totaled 13 digs, followed closely by 5-5 Sr. Kendall Pierce, who registered a career-high 10 digs.  6-0 RS Fr. setter Bryanna Weiskircher directed the Nittany Lions to a .289 attack %, adding 14 digs and registering her fourth consecutive and fifth double-double of the season.
Against the Buckeyes, Jr. OH  Maddie Slater totaled 13 kills, and talented So. setter Taylor Tashima registered 33 assists, but it was not enough against a powerful Ohio State (15-2, 3-1) squad.
After the match, Northwestern head coach Keylor Chan said:
They're a top-ten team. We need to work on the little things. Those little errors here and there cost us some close sets. That's the difference between winning against elite teams and not.
Here's a video recap from Northwestern:

Stat Joust: Penn State vs. Northwestern
(All matches)
| Hitting Percentage | S | K | E | TA | Pct. |
| --- | --- | --- | --- | --- | --- |
| Penn State | 53 | 721 | 206 | 1713 | .301 |
| Purdue | 54 | 773 | 255 | 1793 | .289 |
| Nebraska | 56 | 792 | 263 | 1991 | .266 |
| Minnesota | 55 | 753 | 254 | 1880 | .265 |
| Wisconsin | 53 | 743 | 264 | 1864 | .257 |
| Iowa | 64 | 881 | 322 | 2187 | .256 |
| Illinois | 56 | 789 | 290 | 1977 | .252 |
| Ohio State | 65 | 915 | 349 | 2304 | .246 |
| Michigan State | 58 | 831 | 325 | 2066 | .245 |
| Northwestern | 52 | 713 | 281 | 1880 | .230 |
| Michigan | 59 | 796 | 305 | 2152 | .228 |
| Maryland | 68 | 843 | 366 | 2261 | .211 |
| Indiana | 67 | 890 | 416 | 2258 | .210 |
| Rutgers | 59 | 698 | 333 | 2045 | .178 |
| Opp. Hitting Pct. | S | K | E | TA | Pct. |
| --- | --- | --- | --- | --- | --- |
| Penn State | 53 | 589 | 349 | 1814 | .132 |
| Purdue | 54 | 597 | 332 | 1847 | .143 |
| Ohio State | 65 | 698 | 370 | 2224 | .147 |
| Minnesota | 55 | 645 | 335 | 1911 | .162 |
| Wisconsin | 53 | 630 | 323 | 1880 | .163 |
| Illinois | 56 | 659 | 324 | 1961 | .171 |
| Nebraska | 56 | 657 | 309 | 2011 | .173 |
| Michigan | 59 | 746 | 358 | 2159 | .180 |
| Northwestern | 52 | 621 | 284 | 1819 | .185 |
| Michigan State | 58 | 678 | 306 | 1954 | .190 |
| Indiana | 67 | 711 | 313 | 2031 | .196 |
| Iowa | 64 | 797 | 332 | 2173 | .214 |
| Maryland | 68 | 847 | 353 | 2149 | .230 |
| Rutgers | 59 | 822 | 258 | 2044 | .276 |
| Blocks | S | BS | BA | Total | Avg./S |
| --- | --- | --- | --- | --- | --- |
| Penn State | 53 | 44 | 242 | 165.0 | 3.11 |
| Minnesota | 55 | 31 | 251 | 156.5 | 2.85 |
| Wisconsin | 53 | 16 | 257 | 144.5 | 2.73 |
| Illinois | 56 | 30 | 229 | 144.5 | 2.58 |
| Ohio State | 65 | 48 | 228 | 162.0 | 2.49 |
| Nebraska | 56 | 23 | 232 | 139.0 | 2.48 |
| Michigan State | 58 | 29 | 227 | 142.5 | 2.46 |
| Purdue | 54 | 37 | 188 | 131.0 | 2.43 |
| Maryland | 68 | 43 | 223 | 154.5 | 2.27 |
| Northwestern | 52 | 39 | 149 | 113.5 | 2.18 |
| Michigan | 59 | 32 | 190 | 127.0 | 2.15 |
| Iowa | 64 | 30 | 186 | 123.0 | 1.92 |
| Indiana | 67 | 26 | 201 | 126.5 | 1.89 |
| Rutgers | 59 | 16 | 186 | 109.0 | 1.85 |
| Blocks by Opponents | S | BS | BA | Total | Avg./S |
| --- | --- | --- | --- | --- | --- |
| Penn State | 53 | 10 | 145 | 82.5 | 1.56 |
| Purdue | 54 | 7 | 157 | 85.5 | 1.58 |
| Nebraska | 56 | 26 | 145 | 98.5 | 1.76 |
| Minnesota | 55 | 41 | 130 | 106.0 | 1.93 |
| Ohio State | 65 | 30 | 216 | 138.0 | 2.12 |
| Michigan State | 58 | 33 | 181 | 123.5 | 2.13 |
| Michigan | 59 | 34 | 185 | 126.5 | 2.14 |
| Rutgers | 59 | 26 | 200 | 126.0 | 2.14 |
| Maryland | 68 | 34 | 227 | 147.5 | 2.17 |
| Northwestern | 52 | 18 | 193 | 114.5 | 2.20 |
| Wisconsin | 53 | 30 | 178 | 119.0 | 2.25 |
| Illinois | 56 | 27 | 200 | 127.0 | 2.27 |
| Indiana | 67 | 18 | 272 | 154.0 | 2.30 |
| Iowa | 64 | 30 | 257 | 158.5 | 2.48 |
| Service Aces | S | No. | Avg./S |
| --- | --- | --- | --- |
| Maryland | 68 | 105 | 1.54 |
| Indiana | 67 | 100 | 1.49 |
| Purdue | 54 | 75 | 1.39 |
| Minnesota | 55 | 70 | 1.27 |
| Iowa | 64 | 80 | 1.25 |
| Penn State | 53 | 64 | 1.21 |
| Northwestern | 52 | 61 | 1.17 |
| Ohio State | 65 | 71 | 1.09 |
| Michigan State | 58 | 62 | 1.07 |
| Rutgers | 59 | 60 | 1.02 |
| Nebraska | 56 | 52 | 0.93 |
| Wisconsin | 53 | 43 | 0.81 |
| Illinois | 56 | 42 | 0.75 |
| Michigan | 59 | 41 | 0.69 |
| Service Aces by Opponents | S | No. | Avg./S |
| --- | --- | --- | --- |
| Illinois | 56 | 31 | 0.55 |
| Nebraska | 56 | 41 | 0.73 |
| Minnesota | 55 | 41 | 0.75 |
| Wisconsin | 53 | 41 | 0.77 |
| Indiana | 67 | 55 | 0.82 |
| Penn State | 53 | 44 | 0.83 |
| Maryland | 68 | 58 | 0.85 |
| Michigan | 59 | 51 | 0.86 |
| Ohio State | 65 | 57 | 0.88 |
| Michigan State | 58 | 53 | 0.91 |
| Iowa | 64 | 60 | 0.94 |
| Northwestern | 52 | 55 | 1.06 |
| Purdue | 54 | 64 | 1.19 |
| Rutgers | 59 | 84 | 1.42 |
| Hitting Percentage | S | K | E | TA | Pct. |
| --- | --- | --- | --- | --- | --- |
| Haleigh Washington, Penn State | 53 | 146 | 26 | 261 | 0.460 |
| Faye Adelaja, Purdue | 43 | 100 | 20 | 180 | 0.444 |
| Maddie Slater, Northwestern | 52 | 117 | 26 | 223 | 0.408 |
| Abby Cole, Michigan | 56 | 166 | 32 | 342 | 0.392 |
| Danielle Cuttino, Purdue | 54 | 111 | 28 | 215 | 0.386 |
| Paige Tapp, Minnesota | 55 | 143 | 32 | 288 | 0.385 |
| Taylor Sandbothe, Ohio State | 65 | 197 | 41 | 409 | 0.381 |
| Jazzmine McDonald, Indiana | 38 | 73 | 18 | 145 | 0.379 |
| Haleigh Nelson, Wisconsin | 53 | 131 | 28 | 273 | 0.377 |
| Mikaela Gunderson, Iowa | 64 | 138 | 26 | 304 | 0.368 |
| Katie Stadick, Illinois | 54 | 159 | 40 | 330 | 0.361 |
| Aiyana Whitney, Penn State | 53 | 166 | 46 | 358 | 0.335 |
| Tionna Williams, Wisconsin | 49 | 102 | 30 | 230 | 0.313 |
| Gabrielle Hazen, Northwestern | 42 | 86 | 29 | 183 | 0.311 |
| Allyssah Fitterer, Michigan State | 54 | 139 | 45 | 310 | 0.303 |
| Service Aces | S | No. | Avg./S |
| --- | --- | --- | --- |
| Abbie Kraus, Northwestern | 52 | 21 | 0.40 |
| Brooke Peters, Purdue | 53 | 20 | 0.38 |
| Holly Toliver, Michigan State | 38 | 14 | 0.37 |
| Bryanna Weiskircher, Penn State | 53 | 17 | 0.32 |
| Taylor Lebo, Indiana | 62 | 19 | 0.31 |
| Megan Tallman, Indiana | 55 | 17 | 0.31 |
| Abby Bentz, Maryland | 64 | 19 | 0.30 |
| Haleigh Washington, Penn State | 53 | 16 | 0.30 |
| Amy Dion, Maryland | 68 | 20 | 0.29 |
| Annika Albrecht, Nebraska | 56 | 16 | 0.29 |
| Daly Santana, Minnesota | 55 | 16 | 0.29 |
| Makayla Lundin, Indiana | 21 | 6 | 0.29 |
| Amanda Neill, Purdue | 54 | 15 | 0.28 |
| Rachel Minarick, Michigan State | 57 | 15 | 0.26 |
| Haleigh Nelson, Wisconsin | 53 | 14 | 0.26 |
| Molly Lohman, Minnesota | 50 | 13 | 0.26 |
| Blocks | S | BS | BA | Total | Avg./S |
| --- | --- | --- | --- | --- | --- |
| Haleigh Washington, Penn State | 53 | 13 | 68 | 81 | 1.53 |
| Amber Rolfzen, Nebraska | 42 | 4 | 59 | 63 | 1.50 |
| Paige Tapp, Minnesota | 55 | 11 | 68 | 79 | 1.44 |
| Tionna Williams, Wisconsin | 49 | 4 | 60 | 64 | 1.31 |
| Danielle Cuttino, Purdue | 54 | 14 | 55 | 69 | 1.28 |
| Abby Cole, Michigan | 56 | 17 | 53 | 70 | 1.25 |
| Haleigh Nelson, Wisconsin | 53 | 6 | 59 | 65 | 1.23 |
| Gabrielle Hazen, Northwestern | 42 | 8 | 42 | 50 | 1.19 |
| Heidi Thelen, Penn State | 42 | 6 | 44 | 50 | 1.19 |
| Katie Stadick, Illinois | 54 | 5 | 58 | 63 | 1.17 |
| Megan Tompkins, Michigan State | 51 | 5 | 54 | 59 | 1.16 |
| Taylor Sandbothe, Ohio State | 65 | 17 | 58 | 75 | 1.15 |
| Ali Bastianelli, Illinois | 55 | 8 | 54 | 62 | 1.13 |
| Molly Lohman, Minnesota | 50 | 7 | 48 | 55 | 1.10 |
| Alyssa Garvelink, Michigan State | 58 | 11 | 51 | 62 | 1.07 |