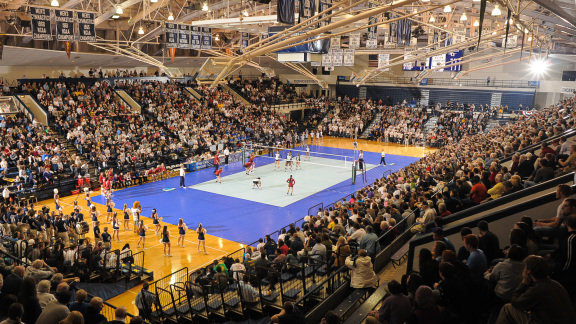 Scott, Hancock and McClendon Lead Lions
It was hot in Rec Hall last night (maybe not as hot as last season's match against USC, but hot!)  At the end of the evening, the Penn State women's volleyball team (4-0) had defeated #9-ranked Stanford, 3-2 (25-13, 25-27, 25-23, 23-25, 15-13) in front of a mostly-packed house (announced attendance of 5,000 fans, though the crowd seemed to thin out by the end of the evening — weight loss?).
We'll have more on the match on Sunday evening or Monday morning, but the short of it is Penn State looks to have better cohesion (communication?  teamwork?) than last season, and fights hard for most every point.
Oh, and those Stanford freshmen?  At to our inexpert eyes, as good as advertised.  Very, very impressive.
This is a match that either team could have one, but Penn State turned out to be the one that did.  Congrats to both teams on a terrific evening of volleyball.
For the evening, 6-4 Jr. Opp/MH Ariel Scott totaled 26 kills, followed by 6-1 Jr. OH Deja McClendon with 16 and 6-6 Jr. MH Katie Slay with 10. 5-11 So. S Micha Hancock registered 53 assists and a career-high 23 digs (and three service aces). 5-6 S. L/DS Dominique Gonzalez had 22 digs, McClendon 11 digs and 5-6 So. DS Lacey Fuller 10. Slay was tops on the team with six blocks, with McClendon, Hancock and 6-2 So. MH Nia Grant each totaling four.
Match Stats