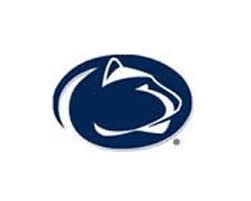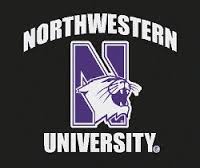 We'd love to see some statistics on whether Senior nights (or days) result in better performances by the home team.  Regardless of the answer, and regardless of the reason, Wednesday night's match between Northwestern  (16-14, 6-13 IN THE B1G) and Penn State (29-3, 17-2 in the B1G) was Senior Night for the Wildcats, and they came ooooh so close to winning two of the three sets . . . but didn't, as the Nittany Lions won all three sets (25-20, 25-23, 25-23) at Welsh-Ryan Arena.  Penn State has now won its last 13 consecutive matches since that very disappointing loss to Illinois, and during that stretch have won 38 consecutive sets.
6-2 Jr. OH Megan Courtney continued her run of outstanding performances, with 9 kills (.412 attack %) and 11 digs (tops on the team). 6-1 Fr. OH Ali Frantti registered 8 kills (.211 attack %), 6-2 Sr. MH Nia Grant totaled 7 kills (with 7 blocks — including 2 solo), 6-4 RS Jr. Opp/RS  Aiyana Whitney put down 6 kills (with 3 blocks) and 6-3 Fr. MH Haleigh Washington finished with 5 kills (and 6 blocks). 6-1 Fr. OH Simone Lee had her most productive match since Wisconsin, ringing up four kills and a solo block in the third set (.500 attack%) and injecting some much-needed energy and offense to help the Nittany Lions finish off the match. 5-6 Sr. libero Dominique Gonzalez registered 10 digs and, as always, was a steadying presence throughout, while 5-11 Sr. setter Micha Hancock totaled 5 service aces, 7 digs and 3 blocks.
This was the last home match for Northwestern seniors Yewande Akanbi, Maggie Burnham, Katie Dutchman (two solo blocks), Monica McGreal (a service ace) and Savannah Paffen (five kills).  After the match, Northwestern head coach Keylor Chan had this to say:
"I'm so proud of how this group fought tonight.  They left it all on the floor and fought for every single point. We tip our caps to Penn State for coming out on top, but I think our effort was evident throughout the match."
Does Senior Night improve a team's performance?  We'll get another data point this Saturday, when Penn State takes on Nebraska at Rec Hall.
Match Stats (Courtesy of GoPSUsports.com)