[Updated 2-26-17]
Jenna Hampton, 5-6 Libero (2018) Verbals to Penn State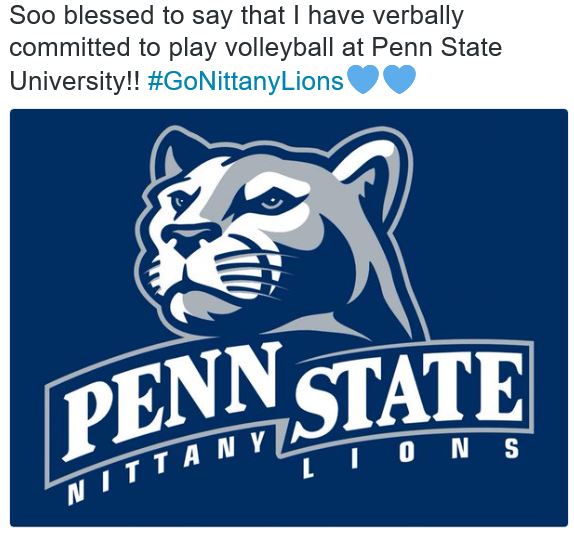 On August 6th, Jenna Hampton, a 5-6 libero from Tampa, Florida (Tampa Bay Volleyball Academy, 15C; Berkeley Prepatory High School ) announced via Twitter her verbal commitment to  join the Penn State Women's Volleyball team starting in the 2018 season.  Welcome Jenna!
Jenna and her team had great success in 2014 and 2015.  In 2014, TBVA's 14 team won the AAU Nationals (courtesy of the TBVA website):
TBVA's 14 girls and coaches, Raquel Ferreira and Paula Roca, began the season with a goal of winning a National Championship. They worked extremely hard and maintained a 64-3 regular season record, winning the Big South and Disney Qualifiers, finishing second at Colorado Crossroads and third at Mizuno Northern Lights. They faced tough preliminary competition at the AAU Nationals in Orlando, winning four 3 set matches. In the final against an outstanding KIVA team, TBVA rebounded from an early first set loss to win with final scores of 16-25, 25-11, 15-9. Jenna Hampton, libero for TBVA was voted MVP and Lindsey Pliapol and JaJa Perkins were selected for the All Tourney team.
They repeated in 2015: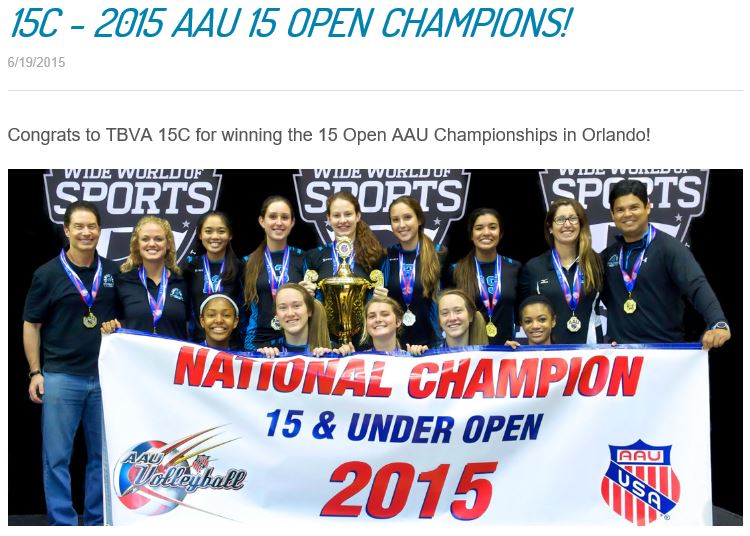 Videos
Tampa Bay Volleyball Academy 15C Highlights (Courtesy of

Eugene Tichenor

 )
(for complete stats from MaxPreps, Click Here)