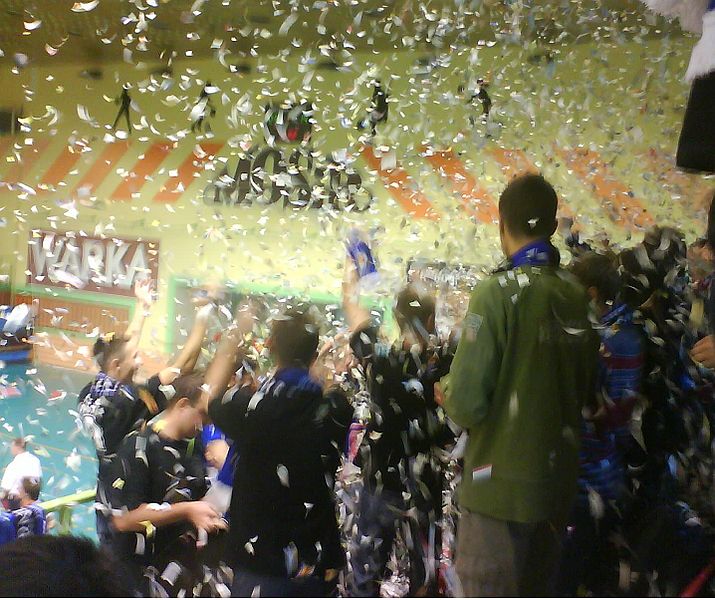 Here's Part II of our Fanalysis for the Rockvale Outlets/AVCA College Volleyball Showcase, this time with RaymondLuxuryYacht ("RLY"), a Penn State fan.  You also can scroll down to the end of the Fanalysis for a quick look at the three visiting teams (in alphabetical order) — including USC's probable starters. 
DigNittany: We imagine there are a few things – the performance of specific players, the way the offense and defense respond to different challenges – that you're going to be looking for from Penn State that will give you a sense of how they are positioned to start the season. Give us three things you'll be focusing on in assessing the Nittany Lions.
RLY: Passing, Defense, Middle Hitting, in that order.
1) Passing – Although Penn State lost two first-team All-Americans in Arielle Wilson and Blair Brown, I think the most telling losses were Alyssa D'Errico (Nummy), and Cathy Quilico (Widget).  Nummy and Widget were mainstays in the backcourt, playing mostly in the long shadows of the numerous All-American players Penn State has since graduated.  But their defensive prowess created many of the offensive opportunities for those players.  That backcourt is now wide open – and is there a defensive general that can fill Nummy's shoes to be found among their replacements?  Regardless of PSU's size and power at the net, without that consistent passing, the outside hitters could get quite the workout.  Fortunately Penn State looks to be relatively deep at that position.
2) Defense – Similar story.  Penn State is known for playing courageous defense that is often overshadowed by their offensive onslaught. Nummy and Widget were fearless in the back court.  Kristin Carpenter did a great job from her position, but when she digs, she can't set.  Who will step up as the defensive "floor mops" this year?  And, how clean can they keep their side of the court?
3) Middle Hitting – Arielle "Air" Wilson was the latest incarnation of Penn State's quick sliding middles, taking over fairly seamlessly for Christa Harmotto. Now that Ari is gone, will there be a middle to jump into her spot, or will Penn State be running a slower play set offense, while relying on fast tempo sets to the outside? And keep point number one in mind – will there be reliable enough passing to mount an effective middle attack?
DigNittany: Anything about USC and/or Oregon that gives you confidence (or the willies)?
RLY: Oregon is young, but so is Penn State. Both teams return their setter and their best outside hitter. Oregon will be playing one of the biggest matches in program history, but PSU returns a number of starters that won a National Championship, and is playing at home. My vote goes to the confidence and experience that those returning National Championship players bring to the gym, regardless of a new line-up.
USC: As solid, experienced, and mature a team as there is in the nation (my pick as preseason #1), even with the loss of Falyn Fonoimoana at outside hitter. I must assume that Mick Haley saw that coming, and was already prepared for Falyn's departure. It's still a big setback, but USC returns three senior All-Americans. Kendall Bateman at setter, with a good connection to Lauren Williams at middle, and a reliable outlet to Alex "The Planet" Jupiter is enough to keep Penn State's hands full.  If PSU can't put pressure on USC's passing, it will be a short match (and a long night) for PSU.
DigNittany: So what are your predictions:
RLY: PSU takes Oregon in 4, dropping a game due to first match jitters and early season miscues.
I think Minnesota-Oregon is a toss up, since Minnesota lost so much, especially with the graduation of Lauren Gibbemeyer, who put such a spirited hurting on PSU on her senior night back in Minnesota last year.   If Minnesota keeps it close, I hope it ends up feeling like a home crowd for the Gophers, and that the Gophers come out with a win.
USC brings too much for Minnesota to handle, especially this early in the season (USC in 3).
My short answer for PSU-USC: It pains me to say it, but I think that USC wins in 4 or 5.  Too much strength and experience for PSU to overcome this early in the season.
My long answer for the PSU-USC match: I think that Mick Haley and USC will come to Rec Hall with a somewhat different agenda than the one Russ Rose brings.
This is a huge match for USC – beat the four-time defending National Champions on Penn State's home turf, where PSU hasn't lost in over five years and 96 matches.  With the exception of Fonoimoana, USC returns their entire starting team – their line-up is fairly well established, they bring in a rather complete team.  They are coming to State College to WIN this match.  If there is ever a time to beat Penn State at home, this is the time.
On the other hand, Russ most likely has some specific lessons in mind for his team, as well as some much needed "research" to conduct for himself.  Although I don't think he's willing to throw away a match, I think he's more interested in finding out early how well the individual players, and various line-ups will hold up to the pressure and pounding that a top-notch team like USC can deliver, than he is in simply adding to the home streak.  In fact, I'm certain that he's not all that concerned with defending that streak, but rather is looking forward through the entire season to building the best NCAA tournament-ready team that he can.
The Oregon and USC matches are the first in a long line of early season teaching and learning opportunities.  The PSU players will gain some valuable metrics from those matches (along with the Nike Big 4, and the first Nebraska match), and Russ will be able to use all of those matches as examples for how much longer, harder, and smarter the team is going to have to work to be "all that they can be."
Russ realizes that losing a match can be more instructive and motivational than winning one.  Case in point: the loss at Minnesota in the last Big 10 match of the season last year.  I credit that loss with Penn State winning the National Championship.  It couldn't have been better timed – it was a gift to Russ in that it provided additional motivation and many "teachable moments" just before the NCAA tournament began.
I think the schedule this year – playing the crucible of Oregon, USC, Stanford, Texas/Florida, and Nebraska all within the first month – really allows Russ to forge the team into championship caliber.
DigNittany: Thanks so much for taking the time (and it does take time!) to share your thoughts with us.  Go Penn State!
A Quick Look at the Visitors
Here's a quick look at the three visiting teams (in alphabetical order).
Minnesota
Other than what (R)uffda just told us in a previous post (here's the link) we don't know much about the University of Minnesota volleyball program. The Golden Gophers are led by interim Head Coach Laura Bush, captains Hailey Cowles (5-10 Sr. OH) and Mia Tabberson (6-2 Jr. S), and returning players like Jessica Granquist (5-8 Sr. L), Tori Dixon (6-3 So. MB), and Ashley Wittman (6-0 So. OH). Minnesota was ranked #12 in the AVCA Top 25 2011 preseason poll, and Dixon and Wittman were named to the 17 member preseason 2011 All-Big Ten team.
However, we've included two videos below, featuring interviews with Coach Bush, Hailey Cowles, Mia Tabberson, and Jessica Granquist, all of whom do know something about the team:
Minnesota Roster
| | | | | | |
| --- | --- | --- | --- | --- | --- |
| | Name | | Ht. | Yr. | Hometown (Last School) |
| 12 | Bohl, Morgan | Outside Hitter | 6-0 | FR | Centennial, Colo. (Eaglecrest HS) |
| 3 | Cowles, Hailey | Outside Hitter | 5-10 | RS SR | Eden Prairie, Minn. (Eden Prairie HS) |
| 18 | Daugaard, Juliane | Middle Blocker | 6-2 | FR | Middelfart, Denmark (Birkerod Gymnasium) |
| 6 | Dixon, Tori | Middle Blocker | 6-3 | SO | Burnsville, Minn. (Burnsville HS) |
| 11 | Filho, Ariana | Middle Blocker | 6-2 | SR | Monument, Colo. (Lewis-Palmer HS) |
| 2 | Granquist, Jessica | Libero | 5-8 | SR | Blaine, Minn. (Blaine HS) |
| 8 | Harms, Katherine | Outside Hitter | 6-2 | JR | Albertville, Minn. (St. Michael-Albertville HS) |
| 4 | Haugen, Brianna | Outside Hitter/Middle Blocker | 6-1 | JR | Minneapolis, Minn. (Southwest HS) |
| 5 | McNeil, Kellie | Setter | 5-11 | FR | Lakeville, Minn. (Lakeville North HS) |
| 1 | Menden, Jess | Defensive Specialist | 5-8 | SR | Shakopee, Minn. (Shakopee HS) |
| 16 | Roberts, Caitlin | Defensive Specialist | 5-5 | FR | Woodbury, Minn. (Woodbury) |
| 10 | Sooter, Steffi | Libero/Defensive Specialist | 5-9 | SO | Santa Cruz, Calif. (Aptos HS) |
| 7 | Tabberson, Mia | Setter | 6-2 | JR | Muncie, Ind. (Burris HS) |
| 13 | Wittman, Ashley | Outside Hitter | 6-0 | SO | Shakopee, Minn. (Shakopee HS) |
Oregon
Once again, we admit our ignorance — we don't know much about the Oregon Ducks, either. (Our crack team of researchers and statisticians weren't much help — something about beautiful weather and "get a life.") We do know that the 2011 team was picked for sixth place in a preseason poll of the Pac-12 Conference's women's volleyball coaches, and #27 in the AVCA Top 25 2011 preseason poll.
We also know that the 2011 Ducks swept an alumni all-star squad (that, according to an Oregon press release, included "All Americans, All-Pac-10 honorees and starters from the past decade"). So we know that Penn State and Minnesota will need to play better than those Duck All-Stars to have a chance.
In the "New Ducks" vs. "Old Ducks" match, 6-3 redshirt Jr. OH Alaina Bergsma led the 2011 Ducks in kills (15, with a .273 attack percentage), aces (2) and points (17), and was second in digs with seven. 6-2 Jr. OH Lauren Gross and 6-2 So. MB Ariana Williams both totaled nine kills, with Williams hitting (.533) and leading the team in blocks with four. 5-9 So. S Lauren Plum led the offense, totaling 41 assists, and 5-2 Jr. L Haley Jacob recorded eight digs.
For those of you who are looking for a bit more information on Oregon, here's a video interview with Oregon Head Coach Jim Moore (who does know something about the team) from July 2011:
Oregon Roster
| | | | | | |
| --- | --- | --- | --- | --- | --- |
| | | | | | Hometown (Prev School) |
| 16 | Ashen, Shellsy | S | 5-10 | Fr. | Laguna Niguel, Calif. (Dana Hills) |
| 2 | Bergsma, Alaina | OH | 6-3 | RJr. | Chandler, Ariz. (Valley Christian) |
| 1 | Bookout Gonzalez, Natalie | DS | 5-1 | Fr. | Riverside, Calif. (Eleanor Roosevelt) |
| 6 | Brenner, Liz | OH | 6-1 | Fr. | Portland, Ore. (Jesuit ) |
| 8 | Buckendahl, Chloe | OH | 6-0 | Fr. | Vista, Calif. (Rancho Buena Vista) |
| 12 | Fischer, Katherine | OH | 5-10 | Jr. | Los Altos, Calif. (Homestead) |
| 15 | Gross, Lauren | OH | 6-2 | Jr. | Orange, Calif. (El Modena) |
| 9 | Jacob, Haley | L | 5-2 | Jr. | League City, Texas (Clear Creek) |
| 3 | Kawasaki, Kellie | L | 5-5 | Jr. | West Linn, Ore. (West Linn) |
| 17 | Krstojevic, Milica | MB | 6-3 | Jr. | Gacko, Bosnia (Florida State College) (HSC Pero Slijepcevic Gacko) |
| 10 | Paffen, Savannah | MB | 6-2 | Fr. | Mountain View, Calif. (St. Francis) |
| 4 | Plum, Lauren | S | 5-9 | So. | Poway, Calif. (Poway) |
| 5 | Wheeler, Jaklyn | OH | 6-0 | So. | Red Bluff, Calif. (Red Bluff) |
| 7 | Williams, Ariana | MB | 6-2 | So. | Riverside, Calif. (Poly) |
USC
Even without Falyn Fonoimoana, the USC women's volleyball team is formidable. After posting a 29-5 record in 2010 (losing to Cal in the NCAA semifinals), it was ranked No. 2 in the AVCA (American Volleyball Coaches Association) 2011 preseason poll. And many observers think that ranking is too low. USC returns three senior All-Americans in 6-3 OH Alex Jupiter (All-Planet?), 5-11 S Kendall Bateman and 6-4 MB Lauren Williams. That's senior leadership writ large — something Penn State has thrived on in recent years (but is missing for 2011).
USC's Probable Starters, as posted on USC's website:
 No.         Name                                    Yr.          Pos.         Ht.          kps          pct.         dps          bps          pps
3             Natalie Hagglund  So.          L             5-9          —           —            3.98        —            —
5             Kirby Burnham                     So.          OH         6-2          1.03         .213        1.03        0.08        1.17
7             Alex Jupiter                          Sr.           OH         6-3          4.40         .299        2.51        0.64        5.17
8             Lauren Williams                    Sr.           MB         6-4          2.40         .417        0.25        0.97        3.01
12           Kendall Bateman                  Sr.           S             5-11        0.28         .275        12.34 aps
14           Hannah Schraer                    Fr.           MB         6-3                                         Freshman
22           Katie Fuller                           Jr.            OH         6-2          1.86         .232        1.15        0.52        2.31
*stats from 2010 season
More on USC 
For more on USC, below is an interview with USC Head Coach Mick Haley from August 15th:
And here's an interview with USC Assistant Coach Tim Nollan from August 11th:
USC Roster
| | | | | | | | | | |
| --- | --- | --- | --- | --- | --- | --- | --- | --- | --- |
| No. |   | NAME |   | Height | Position |   | Year | Hometown | High School |
| 12 |   | Kendall Bateman |   | 5-11 | Setter |   | SR | Manhattan Beach, Calif. | Mira Costa |
| 5 |   | Kirby Burnham |   | 6-2 | Outside Hitter/Opposite |   | SO | Newport Beach, Calif. | Newport Harbor |
| 4 |   | Hayley Crone |   | 5-9 | Setter |   | FR | Temecula, Calif. | Great Oak |
| 11 |   | Eve Ettinger |   | 6-2 | Middle Blocker |   | FR | Santa Barbara, Calif. | Santa Barbara |
| 22 |   | Katie Fuller |   | 6-2 | Outside Hitter/Opposite |   | JR | Olivenhain, Calif. | La Costa Canyon |
| 3 |   | Natalie Hagglund |   | 5-9 | Libero |   | SO | Encinitas, Calif. | La Costa Canyon |
| 9 |   | Sam Hirschmann |   | 5-10 | Outside Hitter |   | SO | Manhattan Beach, Calif. | Marymount |
| 7 |   | Alex Jupiter |   | 6-3 | Outside Hitter |   | SR | Paris, France | Redondo Union |
| 1 |   | Alexis Olgard |   | 6-5 | Middle Blocker |   | SO | Spokane, Wash. | Mead |
| 2 |   | Bria Russ |   | 5-9 | Outside Hitter |   | FR | Long Beach, Calif. | Poly |
| 14 |   | Hannah Schraer |   | 6-3 | Middle Blocker |   | FR | Arcadia, Calif. | Mayfield |
| 10 |   | Sara Shaw |   | 6-2 | Outside Hitter/Opposite |   | SO | Austin, Texas | Westlake |
| 6 |   | Natasa Siljkovic |   | 6-3 | Middle Blocker |   | JR | Uzice, Serbia | School of Economy |
| 8 |   | Lauren Williams |   | 6-4 | Middle Blocker |   | SR | Houston, Texas | Stratford |
| 15 |   | Erin Yoder |   | 5-8 | Defensive Specialist |   | JR | San Clemente, Calif. | San Clemente |
| 20 |   | Emily Young |   | 6-2 | Setter/Opposite |   | FR | Schaumburg, Ill. | Schaumburg |