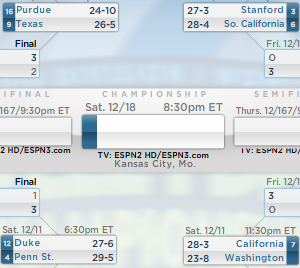 The Match: Duke (27-6)  vs. Penn State  (29-5)             
When & Where: December 11, 2010, 6:30 p.m. ET.; Rec Hall     
Media Coverage: GameTracker; TV: ESPNU HD (live)                            
Match Snapshot
In honor of the regional bracket that can't get no respect, we present Rodney Dangerfield:
Duke is one of those "no respect" teams.  When the Blue Devils were awarded the #12 seed, the blogosphere lit up with "How did Duke Get the 12th Seed?"  No respect. 
Well, guess what, after its  3-1 victory over Missouri (25-19, 21-25, 25-19, 25-22) in the NCAA Regional Semifinals, Duke is one win away from the Final Four.  
The ACC Champion Blue Devils take on #4 seed Penn State tonight in a match that may not have the high-drama of some of the other Regional Finals, but that we think will be a good one.  
Duke head coach Jolene Nagel had this to say about her team after its win over Missouri:
All along I've said this was a special team – and not because of where we are right now – but because of how they've come to work every single day in practice. They have a focus now that I haven't always seen for all the players on the team, and I think that's helping them be able to continue to get better as the season goes along. I'm very happy for them that they were able to execute the way they wanted to and stay with the game plan to get this win.
The Blue Devils are led by ACC Player of the Year 6-2 Jr. S Kellie Catanach (55 assists against Missouri), 6-3 Jr. MB Amanda Robertson (15 kills, .321 attack % against Missouri), and 6-1 Jr. MB/OH Sophia Dunworth (15 kills, .184 attack % against Missouri).  6-5 So. MB Christiana Gray (13 kills, .524 attack % against Missouri) and 6-1 Sr. MB Becci Burling (12 kills, .435 attack % against Missouri) are other key players for Duke.  
Defensively, the Blue Devils have averaged 2.1 blocks/set compared to 3.0 for the Nittany Lions.  Against Missouri, solid blocking by Catanach and Gray, who each totaled 5 blocks, helped Duke limit Missouri to a .199 attack %.  Four Blue Devils registered at double digit digs, led by libero Ali McCurdy (19 digs) and 6-0 Sr. DS/L Claire Smalzer (16 digs).
Even if the volleyball world isn't giving the Blue Devils much respect, Penn State certainly is.  In a video interview (see below), Penn State Assistant Coach Kaleena Davidson had this to say about Duke:
Duke is a little bit similar to Virginia Tech in that they run a quick offense.  They like to run some double quicks, they have hitters that can hit in different zones off of one foot.   They're a good passing team.
Davidson also discusses keys to the Oklahoma match, but her comments apply equally to the match against Duke:
We're going to have to serve and pass at a higher level than we did against Virginia Tech and be able to run our offense. . . . We have to play a smart game and be ready for them to play a hard, physical match.
After last night's match, Russ Rose spoke briefly with Amy Hughes of NCAA.com about the upcoming match with Duke:
I would like us to serve a little tougher [against Duke]. . . . We played them last year at Duke and it was a very tough match with a big crowd.
It should be a big crowd again, only this time the Nittany Lions will have the home court advantage.  We think they'll win this match, but we think the Blue Devils deserve plenty of respect.  Here are highlights of the Duke-Missouri match, courtesy of goduke.com:

And here's Duke's post-Missouri Press Conference, courtesy of goduke.com:

Penn State defeated Oklahoma (23-11) — another of the "no respect" teams — 3-0 (25-23, 25-23, 25-15) last evening in front of nearly 3,400 enthusiastic fans in Rec Hall.  The first two sets were as close as they look in the box score, as Penn State couldn't pull away from the tough and scrappy Sooners. 
With Penn State trailing 21-19 in the first set, Penn State Head Coach Russ Rose went for a change of pace, as he inserted 6-4 Jr. OH Katie Kabbes.  The move worked: Kabbes came up with two big kills, a block, and an assist, as the Nittany Lions rallied to take 6 of the next 8 points and win the set. 
In a post-match interview with Ryan Loy in Penn State's Daily Collegian, Rose said:
We were fortunate we were able to get Katie Kabbes to come in and kind of settle us down a little bit.
Katie Kabbes has taken plenty of criticism from fans this season, so we want to repeat that sentiment: the Nittany Lions were fortunate that Katie Kabbes came and and settled them down.  Thanks Katie!
The match might have been billed as Senior Night, as 6-5 Sr. Opp Blair Brown tied her career high of 24 kills (.583 attack %) to lead the Nittany Lions, 6-3 Sr. MH Arielle Wilson totaled 9 kills (.571 attack %) and led the team with four blocks, 5-9 Sr.  L Alyssa D'Errico registered a match-high 15 digs, and 5-1 Sr. DS Cathy Quilico tied for second on the team with 8 digs.  5-6 So. S Kristin Carpenter  guided Penn State to a blistering .429 attack %, totaling 45 assists and 8 digs (adding 3 kills on 4 attempts with no errors).  The Nittany Lions held Oklahoma to a .217 attack %. 
Here are stats from the match, courtesy of GoPSUSports.com: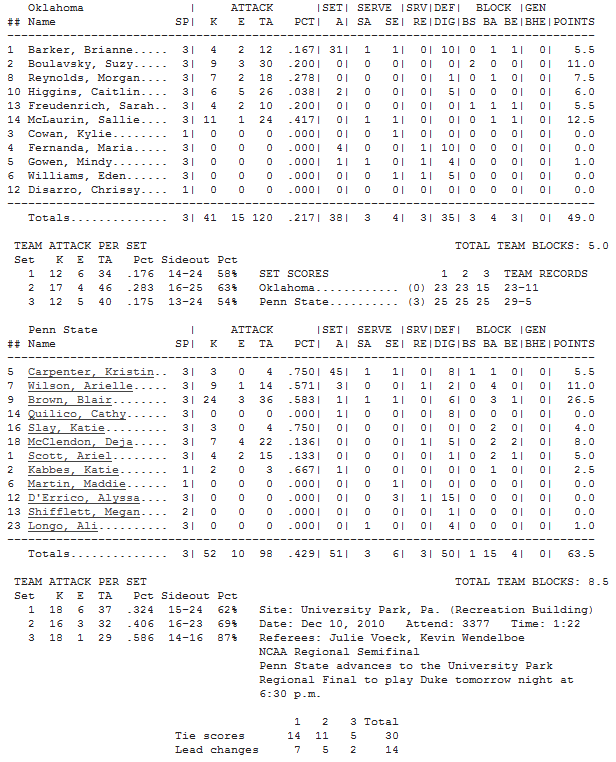 For those of you who may have missed it, here's a video interview with Penn State Assistant Coach Kaleena Davidson, courtesy of GoPSUSPorts.com, with comments about Duke starting at the 2 min. 22 sec. mark:
Stat Joust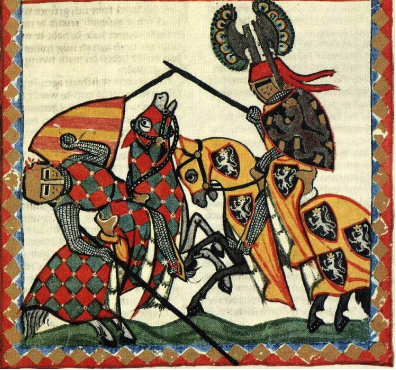 Below are comparisons of Duke's and Penn State's team and individual statistics through December 10th:
Duke vs. Penn State (Team Stats)
| Category | Duke | Penn State |
| --- | --- | --- |
| Points/Set | 17.4 | 18.4 |
| Attack % | .250 | .316 |
| Attack Errors/Set | 5.0 | 3.9 |
| Kills/Set | 14.2 | 14.2 |
| Assists/Set | 13.2 | 13.1 |
| Service Aces/Set | 1.1 | 1.3 |
| Service Errors/Set | 1.4 | 2.2 |
| Digs/Set | 17.0 | 14.5 |
| Blocks/Set | 2.1 | 3.0 |
| Reception % | .947 | .954 |
| Reception Errors/Set | 1.0 | 0.8 |
| Ball Handling Errors/Set | 0.2 | 0.3 |
Duke - Penn State (Player Stats)
| Category | Player | Team | Statistic |
| --- | --- | --- | --- |
| Points | Brown | Penn State | 545.5 |
| Points | Burling | Duke | 466.5 |
| Points/Set | Brown | Penn State | 4.8 |
| Points/Set | Burling | Duke | 3.8 |
| Attack % | Wilson | Penn State | .427 |
| Attack % | Gray | Duke | .397 |
| Kills/Set | Brown | Penn State | 4.2 |
| Kills/Set | 2 tied | Duke | 3.0 |
| Kills | Brown | Penn State | 475 |
| Kills | Burling | Duke | 371 |
| Assists/Set | Carpenter | Penn State | 11.4 |
| Assists/Set | Catanach | Duke | 11.3 |
| Service Aces/Set | D'Errico | Penn State | 0.4 |
| Service Aces/Set | 3 tied | Duke | 0.2 |
| Digs/Set | McCurdy | Duke | 4.9 |
| Digs/Set | D'Errico | Penn State | 4.1 |
| Blocks/Set | Slay | Penn State | 1.5 |
| Blocks/Set | Gray | Duke | 1.0 |
| Solo Blocks | Burling | Duke | 22 |
| Solo Blocks | Wilson | Penn State | 10 |
| Sets Played | 3 tied | Duke | 123 |
| Sets Played | 4 tied | Penn State | 113 |
Team Rosters
Duke
| | | | | | |
| --- | --- | --- | --- | --- | --- |
| | | | | | Hometown (Prev School) |
| 2   | Becci Burling | MB | 6-1 | Sr. | Monument, Colo.  (Lewis-Palmer) |
| 4   | Claire Smalzer | DS/L | 6-0 | Sr. | Palos Heights, Ill.  (Marist) |
| 5   | Ali McCurdy | DS/L | 5-7 | Fr. | Tampa, Fla.  (Plant) |
| 6   | Megan Hendrickson | OH | 6-0 | So. | Jenison, Mich.  (Jenison) |
| 8   | Chelsea Cook | MB | 6-2 | Fr. | Overland Park, Kan.  (Blue Valley North) |
| 9   | Amanda Robertson | MB | 6-3 | Jr. | Roxboro, N.C.  (Person) |
| 10   | Kellie Catanach | S | 6-2 | Jr. | Tampa, Fla.  (Plant) |
| 11   | Christiana Gray | MB | 6-5 | So. | Carmel, Ind.  (Cathedral) |
| 12   | Kayla Kirk | OH | 6-0 | Jr. | Katy, Texas  (Coppell) |
| 13   | Sophia Dunworth | MB/OH | 6-1 | Jr. | Pleasanton, Calif.  (Amador Valley) |
| 14   | Alex Sall | S | 5-9 | Sr. | St. Louis, Mo.  (Parkway Central ) |
| 15   | Nailah Waterfield | DS/L | 5-3 | So. | Long Beach, Calif.  (Long Beach Poly) |
Penn State
2010 Team Roster
Number
Name
Position
Year/
Class
Height
HS
(Club)
State/
Nation
1
Scott,
Ariel

Opp/OH
1/Fr.
6-4
Immaculate Heart Academy
(Team Complete
Athlete)
NJ
2
Kabbes,
Katie

OH
3/Jr.
6-5
Cardinal Gibbons
(Triangle Volleyball)

NC
3
Balza,
Fatima

MH
4/Sr.
6-3
Liceo Caracas
VE
4
Ullrich,
Jessica

DS
4/Sr.
5-8
Wheaton North
(1st Alliance)
IL
5
Carpenter,
Kristin

S/DS
2/So.
5-6
Hanover
(Richmond Volleyball Club)
VA
6
Martin,
Maddie

OH
1/Fr.
6-2
H.B. Plant
(Tampa Bay
Juniors)
FL
7
Wilson,
Arielle

MH
4/Sr.
6-3
Proviso East
(1st Alliance)
IL
8
Denney,
Erica

MH
1/Fr.
6-5
Grandview
(Front Range
Volleyball Club)
CO
9
Brown,
Blair

Opp
4/Sr. (RS)
6-5
Loudoun Valley
(Renaissance)
VA
10
Racibarskas,
Marika

S
2/So.
6-0
Chatham
(Team Complete
Athlete)
NJ
11
Dorton,
Darcy

OH
2/So.
6-2
Delta
(Munciana)
IN
12
D'Errico,
Alyssa

L/DS
4/Sr.
5-9
Byron-Bergen
(VolleyFx Magic)
NY
13
Shifflett ,
Megan

DS/S
3/Jr.
5-6
Langley
VA Elite
VA
14
Quilico,
Cathy

L/DS
4/Sr.
5-1
Westlake
(Gene's Team)
CA
15
Harding,
Maggie

DS
1/Fr.
5-6
State College
Area
PA
16
Slay,
Katie

MH
1/Fr.
6-6
Raleigh
(Triangle Volleyball
Club)
NC
18
McClendon,
Deja

OH
1/Fr.
6-1
Dupont Manual Magnet
(KIVA)
KY
19
Pabst,
Krosby

DS
1/Fr.
5-7
Woodrow
Wilson
(Mizuno Long Beach)
CA
22
Moydell,
Mikinzie

S
1/Fr.
6-0
Chaparral
(Front Range Volleyball Club)
CO
23
Longo,
Ali

DS
1/Fr.
5-6
Chatfield
(Juggernaut Volleyball)
CO