The Penn State women's volleyball team returned to campus June 29 and is beginning to hold voluntary workouts following a quarantine for its student-athletes and COVID-19 testing.
During her recent press conference, Penn State athletic director Sandy Barbour announced that 102 student-athletes had been tested for the coronavirus during its initial phase of testing. None tested positive. Barbour said the university will release testing results every two weeks moving forward.
The Nittany Lions boast one of the nation's best setters in returning All-American Gabby Blossom, who dazzled fans with her shoestring saves and off-axis assists as a sophomore. Here's how each Big Ten program is situated at setter heading into the 2020 season.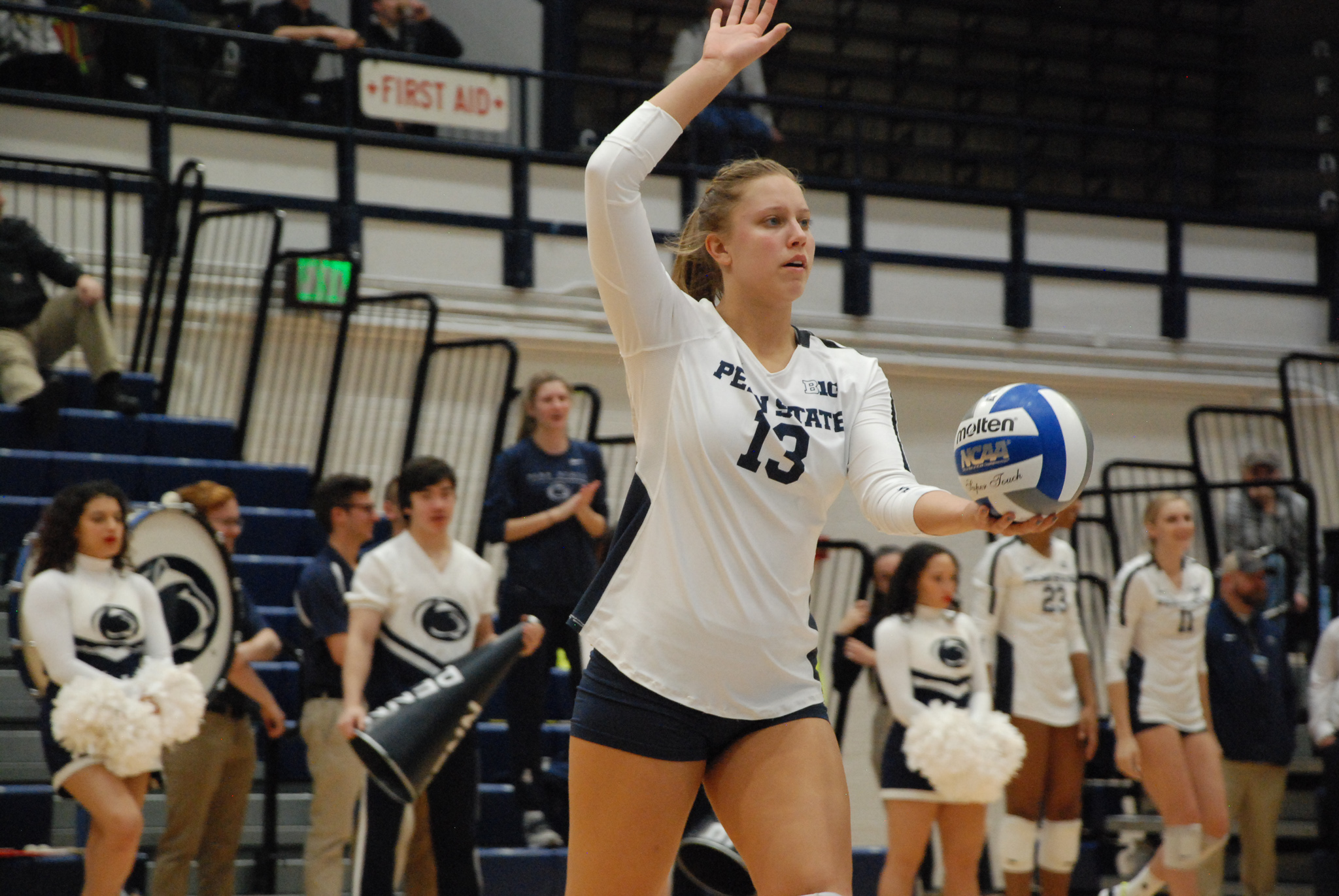 Penn State
Blossom finished her first season as a starter with 1,332 assists — the most by a Penn State setter since Micha Hancock's 1,475 in 2014. She was named second-team All-Big Ten and a third-team AVCA All-American after making an impact all over the court for the Nittany Lions in 2019. Blossom finished second on the team behind Kendall White with 273 digs and had 11 double-doubles as a sophomore. The St. Louis, Missouri, native has no shortage of options offensively with returning All-Americans Kaitlyn Hord, Jonni Parker, and Serena Gray leading the way. The Nittany Lions also have sophomore setter Emily Oerther on the roster.
Wisconsin
Sydney Hilley edged out Blossom and Nebraska's Nicklin Hames for Big Ten Setter of the Year following an outstanding junior season in Madison. Hilley finished with 1,396 assists after leading her team to the national championship match against Stanford, which prevailed in straight sets for its record ninth title. Hilley had 78 assists in a 3-1 win over Minnesota on November 14 in Minneapolis. The high school teammate of rising Penn State sophomore Lauren Clark at Champlin Park was named a first-team All-American alongside Hord and Stanford's Jenna Gray.
Nebraska
Hames joined Hilley as a first-team All-Big Ten selection and earned AVCA All-American honorable mention after posting 2,690 assists the past two seasons. Hames and a handful of other Cornhuskers also play beach volleyball during the spring season, as Nebraska is the only Big Ten program to support a beach volleyball team like many West Coast and southern schools. Hames has plenty of offensive firepower returning in Lexi Sun, Lauren Stivrins, Jazz Sweet, and Madi Kubik — making Nebraska one of the top contenders for the Big Ten title in 2020.
Minnesota
Bayley McMenimen spent the first part of her redshirt freshman season learning from senior Kylie Miller before eventually switching to a 6-2 system where they both saw the court. Miller finished her final season with 694 assists, while McMenimen added 491. The Golden Gophers also have rising sophomore and Varazdin, Croatia, native Tamara Dolonga, who tallied 102 assists in her first season on campus. It will be interesting to see whether head coach Hugh McCutcheon goes with a 5-1 system or 6-2 with McMenimen and Dolonga.
Purdue
Hayley Bush has spent the past two seasons as Purdue's starting setter after redshirting as a freshman in 2017. The redshirt junior from Union, Kentucky, has 2,727 career assists heading into the 2020 season and can rely on a handful of returning difference-makers for the Boilermakers. Caitlyn Newton, Grace Cleveland, and Emma Ellis, who finished first, second, and fourth, respectively, in kills last season, will all be back in West Lafayette.
Michigan
The Wolverines need to replace a four-year starter in MacKenzi Welsh, who finished her Michigan career with 5,223 assists. Maddie Dowd had 13 assists in four appearances as a freshman in 2019, but Michigan also added a freshman from Berlin, Germany, in Jenni Liu, who will compete with Dowd for the starting job. The Wolverines signed one of the nation's top prospects in Livonia, Michigan, outside hitter Jess Mruzik, who was named the 2019 National Gatorade Player of the Year and figures to be a prominent part of Michigan's offense this fall.
Illinois
Diana Brown led the Fighting Illini with 1,295 assists in her first season as a starter last fall. Illinois must replace star outside hitter Jacqueline Quade, who led the team with 497 kills in 2019, but rising senior Megan Cooney has 926 kills so far during her career in and could certainly step into the primary attacker role for Illinois. Brown hails from Columbus, Ohio, and was named Big Ten Co-Freshman of the Week on October 7. Brown paced Illinois with 14 double-doubles.
Ohio State
The Buckeyes ran a 6-2 system in 2019 with Becca Mauer and Mac Podraza, who finished with 658 and 537 assists, respectively. Mauer checks in at 5-foot-9 and will be a senior this fall, while Podraza is a sophomore who offers more height at 6-foot-2. Podraza, who hails from Sunbury, Ohio, also added 72 digs, 71 kills, and 53 blocks as a freshman. Jen Flynn Oldenburg, a four-year standout for the Buckeyes, returned to her alma mater this offseason on January 17, 2020 as the sixth head coach in program history. Perhaps a new coaching philosophy will see Ohio State switch back to a 5-1 system this fall.
Michigan State
After leading the Spartans with 852 assists in Michigan State's 6-2 system as a freshman in 2018, Elena Shkylar didn't have as many opportunities to show what she could do alongside University of Oklahoma graduate transfer Audrey Alford last fall. Alford led the Spartans with 480 assists, while Shkylar added 394 and senior Maggie Midgette recorded 177 in a more balanced offense. The only other setter on Michigan State's roster in 2020 is freshman Celia Cullen from Brighton, Michigan, who stands 6-foot-1 just like Shkylar.
Northwestern
The Wildcats mainly relied on Stanford graduate transfer Payton Chang, who led the team with 901 assists last fall, but fellow Californian Kiara McNulty also made an impact for Northwestern as a sophomore. Although she didn't have as many assists as she did in 2018 when the Wildcats ran a more balanced 6-2 system, McNulty still managed about one assist per set less than Chang. Northwestern signed 6-foot-3 setter Alexa Rousseau from Bloomfield Hills, Michigan, as part of its 2020 recruiting class. Whoever is setting for the Wildcats will love distributing the ball to star sophomore outside hitter Temi Thomas-Ailara, who led the team with 398 kills in 2019.
Maryland
Like many other Big Ten teams, the Terrapins preferred an extremely balanced 6-2 system in 2019 with senior Samantha Snyder and junior Nicole Alford, who tallied 482 and 464 assists, respectively. Now a senior, Alford will take the reins as Maryland's most experienced setter, but the Terrapins also have senior Chloe Prejean, who had 120 assists in 2019, and freshman Sydney Dowler from Cary, North Carolina. Maryland lost middle blocker Katie Myers, who finished second on the team with 273 kills last season, to Minnesota as a graduate transfer this offseason. The redshirt junior has two years of eligibility remaining.
Iowa
Brie Orr led the Hawkeyes with 783 assists last season while running a 6-2 offense alongside 6-foot-5 standout Courtney Buzzerio, who is listed as an outside hitter on Iowa's 2020 roster. Iowa signed freshman setter Bailey Ortega from Davenport, Iowa, but Orr turned in 1,200-plus assist seasons her first two years on campus when Iowa ran a 5-1 and is the overwhelming favorite to be Iowa's primary setter this fall. It seems like the Hawkeyes will be returning to what worked best for Orr in the past, which could see the program take a step forward this fall after going 10-21 in 2019.
Indiana
Freshman Emily Fitzner and senior Victoria Brisack helped the Hoosiers run a 6-2 system last fall, but the team struggled to a 3-17 mark in Big Ten play. Fitzner, who hails from San Diego, California, finished the season atop the stat sheet with 738 assists and is Indiana's most experienced setter heading into the 2020 season. Back in January, the Hoosiers welcomed Dayton transfer Brooke Westbeld, who will be a fifth-year senior this fall. She had 19 double-doubles and five triple-doubles for the Flyers in 2018. Head coach Steve Aird also signed freshman setter Olivia Panepinto from Crown Point, Indiana. Perhaps Aird will go with Fitzner and Westbeld in a 6-2 or select one of them to run a 5-1.
Rutgers
Inna Balyko, who hails from Gubkinsky, Russia, has been Rutgers' starting setter the past two seasons and will retain that position as a junior this fall. Balyko's 1,948 assists currently rank seventh all-time in program history for the Scarlet Knights midway through her collegiate career. She tied Gabby Blossom with 11 double-doubles this past season and helped Rutgers beat Towson and Princeton in four sets apiece at the Rutgers Invitational. The Nittany Lions faced both of those teams in the opening weekend of the NCAA tournament before reaching the Elite Eight and eventually bowing out against Stanford.