Mike Krause to Give Presentation on Volleyball Strategies

When: Saturday, September 5, 2015, 1:00 p.m.
Where: South Gym of Rec. Hall
Mike Krause, the Parkland High School Girls Volleyball Head Coach, will be at South Gym of Rec Hall on Saturday, September 5th, at 1:00 p.m. to give a presentation on volleyball strategies.  The event is open to the public.
We think this will be a terrific opportunity for fans (like us) who love the sport, but who may not have the playing or coaching background to fully appreciate all of the nuances of the sport.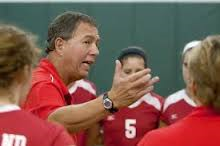 For those of you who aren't familiar with Mike Krause, he is the Parkland High School Girls Volleyball Head Coach, and, during his more than 30 years of coaching experience, has served as head coach of Muhlenberg College, Lehigh University and Kutztown University, and has coached middle and high school teams and both boys and girls.  He coached Parkland to the 2014 and 2011 PIAA State Championship, and to the PIAA Silver Medal in 2012, when he was named the Pennsylvania Coach of the Year by the National Federation of High School Sports.  Mike Krause is a member of the Pennsylvania Volleyball Coaches Hall of Fame.  And yes, his daughter, Taylor Krause, is a member of the Penn State University Women's Volleyball Team.
The session will cover:
Rotational alignment
Explanation of the roles of the positions of the players offensively
Explanation of the roles of the defensive players
The guidelines of the Libero position
Defensive strategies
Offensive strategies
Serve reception positioning