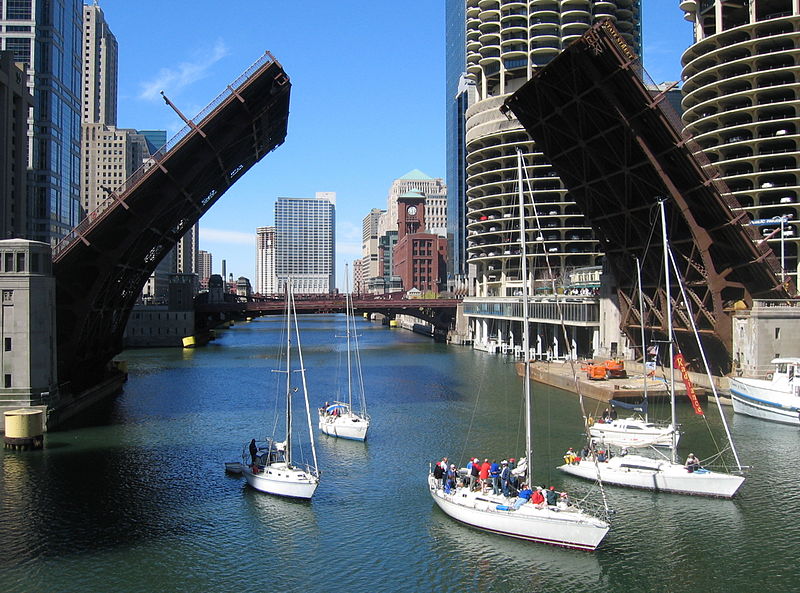 Will Chicago be Classic for Penn State?
Penn State travels to Chicago this weekend for the Chicago Classic Volleyball Tournament (which we've also seen listed as the Mother McAuley Tournament).  On Saturday, the Nittany Lions will take on the DePaul Blue Demons at 11:00 a.m. ET, followed by a match against Oregon State at 8:00 p.m. ET. 
On Sunday, Penn State will face the University of Illinois (Chicago), which is coached by former Penn State All-American Katie Schumacher-Cawley.
Here's what Penn State Head Coach Russ Rose had to say about the tournament:
DigNittany: At the Nike Big Four Classic luncheon, Florida Head Coach Mary Wise gave a shout-out to you for getting Florida, Stanford, Texas and Penn State to make the four-year commitment to the Nike Big Four Volleyball Classic (something like "It was all Russ Rose"). 
What can you tell us about the Chicago Classic, and how Penn State came to be involved? 
Coach Rose: We have played in this event or similar format five or six times in the past and enjoy going to Chicago.  This year allows me the chance to see Chicagoans coaching at the three other schools.  Katie Schumacher is a Mother MccAuley grad and the event organizer is a former player at the University of Pacific for the Oregon State coach. 
DigNittany: In addition to Penn State, the tournament features DePaul, the University of Illinois (Chicago), and Oregon State.  Anything you can tell us about these three teams? 
Coach Rose: I don't know much about any of the teams and have spent more time trying to figure out our team strengths and needs. 
DigNittany: One of your goals for the pre-conference schedule appears to be to improve teamwork and team communication.  How would you rate progress to date on those fronts? 
Coach Rose:  There's been progress, and with half of the staff being new, it is also a time to get better at what we have to do.
Below are snapshots of each of DePaul (whose head coach, Nadia Edwards, also played for Coach Rose), Oregon State, and UIC:
DePaul
2012 Record: 3-3
Head Coach Nadia Edwards was a four-year letter winner for Coach Russ Rose at Penn State, graduating in 2001. During her career, Penn State won four Big Ten championships and was in the NCAA Final Four three consecutive years.
DePaul, which was ranked 13th out of the 14 Big East teams in this season's coaches' preseason poll (it was picked last in 2011), welcomed five freshman and two transfers to the 2012 team. 
The newcomers are 6-2 Fr. MB Abbie Fleener, 5-7 Fr. DS/L  Tyler Graham, 5-9 Fr. DS/S Aubree Hord, 6-0 Fr. OH Callie Huebener, 6-2 Fr. MB Randi Leath, 5-10 So. OH/S Laura Witt (a transfer from UT-San Antonio), and 5-10 Jr. OH Vesela Zapryanova (a transfer from Auburn).
Of these players, Zapryanova has been a top performer, registering a career-high 20 kills in DePaul's 3-2 win over UT Martin.   Huebener also had a big match against UT-Martin, totaling 19 kills and 15 digs.  5-11 Jr. DS/L  Allyson Rooks added 16 digs, followed by Graham with 13.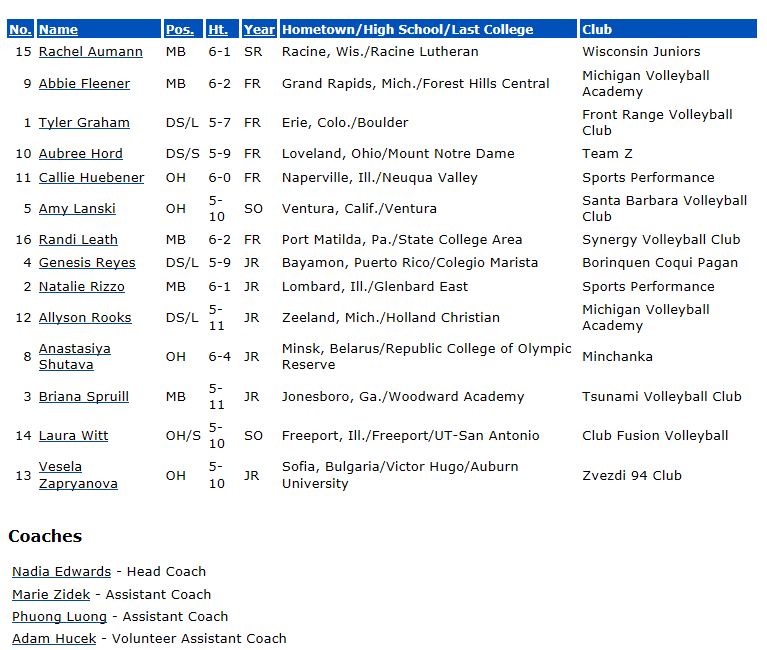 Oregon State
2012 Record: 4-2  
Oregon head coach Taras Liskevych welcomed six newcomers to the team this season, including 6-3 Fr. OH Sara Almen, 6-3 Fr. OH Katelyn Driscoll, and 6-0 RS So. OH Alina Sopizhuk (a transfer, who has experience with the Ukranian National Team.)
Among the returning players are 6-1 Sr. OH Camille Saxton, 6-1 So. OH/MB Arica Nassar (who was named to the All-Pac-12 Freshman Team in 2011), 5-11 Sr. OH/MB Ashley Eneliko, and 5-5 Jr. L/DS Becky Defoe.
Here's a video season preview with Coach Liskevych: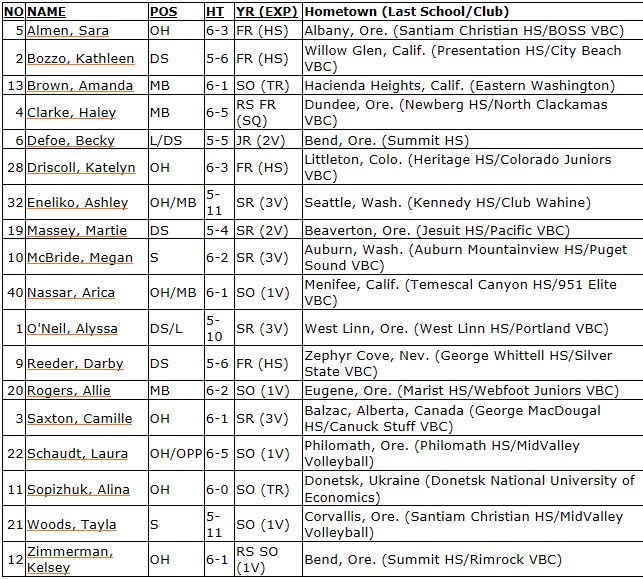 University of Illinois (Chicago)
2012 Record: 3-4 
UIC was voted #4 in the 2012 Horizon League preseason poll, returning every player from the 2011 team, and adding two new players.
Among the returning players are 6-1 Sr. OH Kelsey Safranek (2nd Team All Horizon League in 2011) and 6-2 So. MH Sara Sternard (2011 Horizon League All-Newcomer team).  Safranek's 466 kills  led the league in 2011. 
Below is an interview with Coach Schumacher-Cawley following the Northern Illinois match: