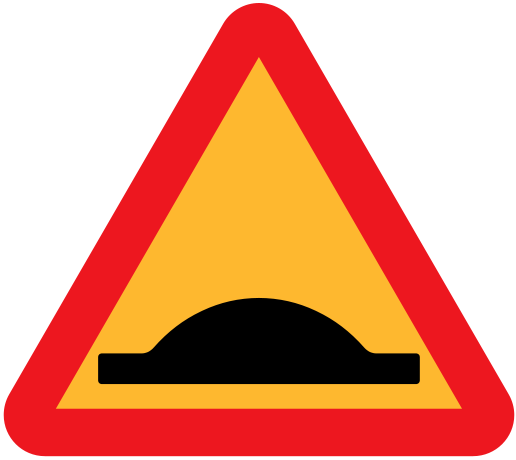 Penn State Coach Russ Rose  said there would be bumps in the road, and Saturday night, in a 3-0 sweep (28-26, 25-12, 25-18) Stanford proved him right.  Oh, and they ended the Nittany Lion's 109 match win streak in the process.  Which was fitting, given that Stanford was the last team to defeat Penn State (September 15, 2007).  Between that loss and the one tonight, the Penn State Women's Volleyball team lost only 19 sets, and was ranked #1 in every AVCA Poll from October 29, 2007 until, well, the next one.  The #1 in that poll will be Stanford, and deservedly so. 
We aren't going to pretend we're not disappointed.  We're fans — we'd like the Nittany Lions to win every match and would be thrilled if they did.  But the last time we checked, there aren't any all-time undefeated programs in NCAA women's volleyball history.  Penn State was going to lose eventually.  Maybe it would have been better if the loss had come in a match for the ages, one that had gone to five sets, all won by 2 points.  But we doubt it.  Like a rose, a loss is a loss is a loss.     
Looking ahead, we like this team alot.  We like its talent and we like its potential. We think it's going to be an interesting and exciting season.  For the Penn State players and coaches, it's back to practice next week, working to get better, to play hard, and to play as a team. 
Get to Rec Hall Next Weekend!
For Penn State fans, think about getting to Rec Hall next Friday at 7:00 p.m. ET, to welcome the Nittany Lions home when they face off against George Washington, and on Saturday morning, at 10:00 am, when they take on Princeton.  And on Saturday evening, for their match against St. Johns.  OK, pick two of the three.   
Then, at each match that you are able to attend, stand up and and give these Nittany Lions (and the ones that preceded them) a resounding thankyou for an unbelievable run and so many, many fantastic memories. Then, cheer your lungs out as they move on to the rest of this season.   Let's make Rec Hall look something like this:
The Match by the Numbers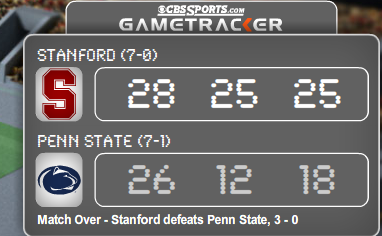 Senior Opp. Blair Brown (11 kills, .258 hitting %, 5 digs) put in a solid performance for the Nittany Lions.  Sr.  MH Arielle Wilson  had 5 kills .267 hitting, but was less effective than usual (credit Stanford for that) and was held to only 2 blocks.  Freshman OH  Deja McClendon had her worst outing of the season (statistically speaking).  Again, Stanford's defense had alot to do with that. 
Coach Rose  substituted extensively, with Fr. MH Katie Slay getting the start, but sharing time with Sr. MH  Fatima Balza, and So. Setter Kristin Carpenter splitting time with Fr. Setter Mikinzie Moydell.  Among the other non-regulars to see action were Fr. DS Ali Longo, Fr. MH Ariel Scott, and Fr. OH Maddie Martin, Fr. DS Maggie Harding, So. DS Megan Shifflett, and So. Setter Marika Racibarskas.
Here are the final stats for Penn State, courtesy of gopsusports: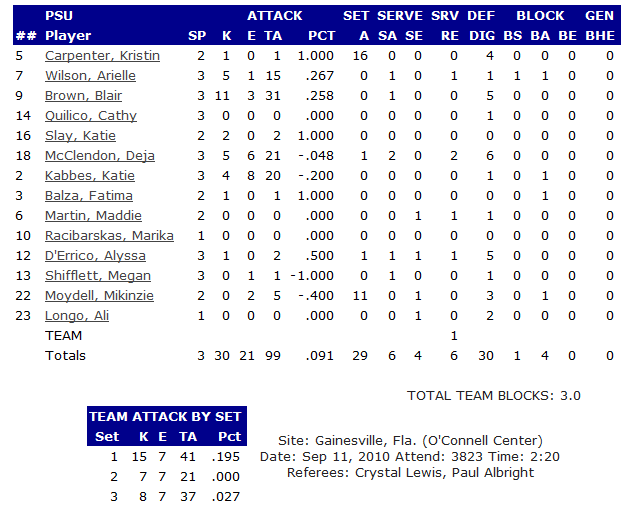 For Stanford, Sr. S/OH Cassidy Lichtman and Sr.OH Alix Klineman  were every bit as good as their advance billing; they dominated the match.  Sr. Libero Gabi Ailes and Fr. MB Carly Wopat were among several Stanford players that also turned in solid performances. 
Here are the final stats for Stanford, courtesy of gopsusports: