Match Recap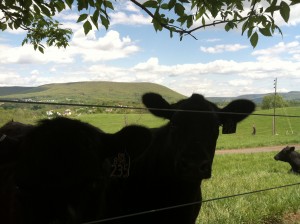 It may have been the only time in the history of Penn State Women's Volleyball that the head coach of an opposing team received a standing ovation in Rec Hall.  But the match that followed the Rec Hall crowd's rousing welcome for former Penn State great Blair Lipsitz (Brown) showed that this season's Nittany Lions are decidedly a work in progress.  As Penn State Head Coach Russ Rose said of the Nittany Lions 3-0 win over Buffalo (25-18, 25-12, 25-16) in his post-match statement: "I didn't think it was a very crisp match."

Buffalo may have been overmatched, but they definitely weren't intimidated.  With 5-8 Fr.  Wilma Rivera (8 assists, 4 digs) starting at setter, Penn State opened the match with a 7-4 run in the first set, but Buffalo answered by taking nine of the next 15 points, for a 13-13 tie.  The Nittany Lions then went on a 5-1 streak to lead 18-14, and finished off the set winning seven of the final 11 points to win 25-18.

6-0 RS Fr. Bryanna Weiskircher (18 assists, 3 digs, 2 kills and an ace), who played in the first set, started the second and third sets.  The second set was all Penn State, as the Nittany Lions led 13-5 and 20-9 before closing out the set 25-12.  The third set was a much tighter affair, as the teams were tied at 7-7 when 5-6 Jr. DS  Taylor Krause served up an ace that sparked a 5-1 Penn State run to give the Nittany Lions a 13-12 lead.  With Penn State up 18-13, Buffalo called timeout, and took the next point.  The Nittany Lions answered with a 7-2 run to take the set 25-16 and the match 3-0.
6-4 RS Sr. RS/Opp Aiyana Whitney posted a match-high 11 kills (.400 attack %), with 3 blocks, with 6-2 Sr. OH Megan Courtney totaling 8 kills, 4 digs and 4 blocks. 6-3 So. MB Haleigh Washington registered 7 kills (.700 attack %), 5 blocks and the first service ace in her Penn State career. The Nittany Lions hit .301 as a team, with 12 blocks, and held Buffalo to -.069 hitting, with 3 blocks (see complete stats below).


6-3 So. MB Heidi Thelen made her first collegiate start, totaling 7 blocks to lead the team.  5-6 Fr. Keeton Holcomb also made her college debut (replacing 5-5 Sr. Kendall Pierce, who started the match, for the second and third sets) and led the team with 10 digs as the libero.
Post-Match Quotes
Coach Rose
I thought Bryanna [Weiskircher] looked a little more comfortable out there [than Rivera], but that's not surprising, it's Wilma's first match, playing in front of a big crowd, with the band, but that's why you play matches like that at home first, because you really don't know the unknowns.
I thought Keeton [Holcomb] came in and did a nice job passing in the last two games.

Bryanna and Haleigh [Washington] are our best two servers. . . .Haleigh had one ace and two errors  That's an accepted ratio in the sport  of volleyball, but [her two errors] were hit for distance so she's got to work on that.
Aiyana Whitney — on adjusting to different setters
Of course there is a difference — everyone has a different touch on the ball. It was mostly about trying to stay consistent in what we were trying to do and let them [Weiskircher and Rivera] work their way into the match.
Haleigh Washington — on adjusting to different setters
Each setter has a different kind of game. Each setter has a different way that they play. When anyone comes on the court there's a different dynamic, but you still have to play the game, you still have to do what you need to take care of. So Bryanna comes out — it's still volleyball, still pass that hit. Wilma comes out — still volleyball, still pass that hit.

[On her off-season preparation for the 2025 season].  I focused a lot on my mental game.  I really wanted to have a good strong [volleyball] IQ so that this year the seniors . . . could focus on the freshmen and the other new players on the court.  I tried to get my IQ up so I could see the block, I could see where I needed to attack.  And my serve, which we're still working on.
Match Stats (courtesy of GoPSUsports.com)