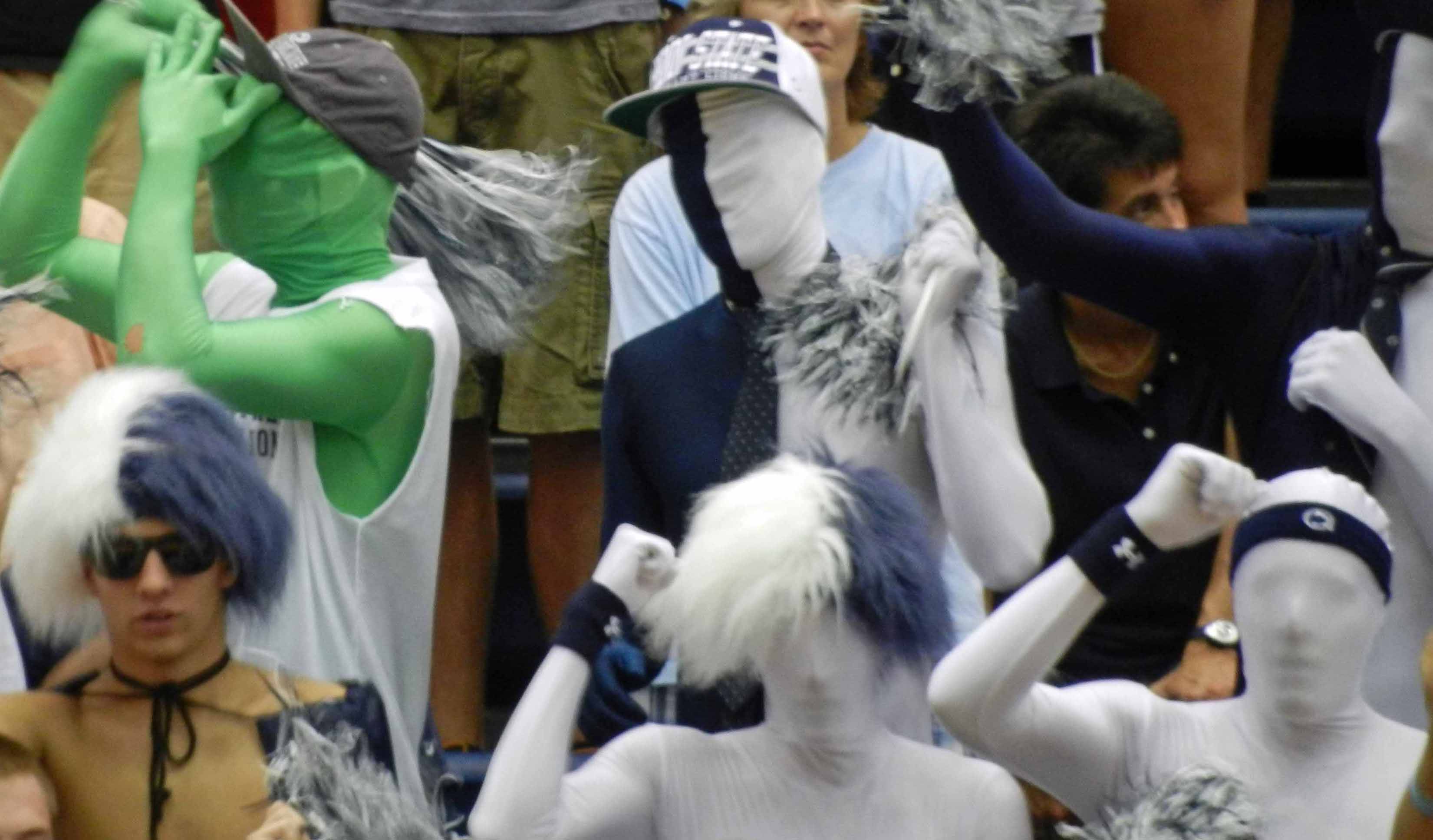 These fans can't wait for the Penn State Women's Volleyball Blue-White Weekend Intrasquad Match (well, maybe Green Guy can, but there's one in every crowd)
What: Penn State Women's Volleyball Blue-White Match
When: April 21, 2012 at 4:30 p.m.
Where: Rec Hall

For a taste of why we think Penn State Women's Volleyball is The Greatest Show in Blue and White, check out this video from Penn State's 3-1 win over Nebraska at Rec Hall on October 29, 2011
Blue-White II
Every April, the Penn State Blue-White football game gives fans a chance to see how the football team is shaping up for the coming season. The Blue-White Game has proven to be immensely popular, drawing a record crowd of 76,500 (yes, as in 26,500 more than 50,000) in 2009, and 55,000 in 2010 even though the afternoon was cloudy and cool.
This year, there's even more reason for Penn State fans to be excited. After the football game, fans can take the short walk to Rec Hall and watch the Penn State Women's Volleyball team — which won NCAA Championships in 2007, 2008, 2009 and 2010, and finished ranked 9th nationally last season — play it's own Blue-White intrasquad scrimmage — Blue White II, so to speak.
"We're excited about adding this match to what already has been an exceptional Spring for the team" says Penn State assistant coach Steve Aird.
"We usually have a Spring tournament of some kind, so this year we decided to tie it in with the Blue-White weekend.  This will give our fans and boosters, as well as new fans who may not have seen us play, a chance to see the team play in front of what we hope will be a big crowd."
For the Women's Volleyball Blue-White match, the 14-member squad (see the Roster below) will be split into two teams, and will play for about 1 1/2 hours.  The Women's Volleyball Booster Club will hold  a reception, with light refreshments, after the match.
"We think this will be a really fun event," says Aird, who will be overseeing the match.  "It's a great opportunity for our fans to see the team in action, and it gives the players a chance to compete for the first time since last December.  It's a heck of a long time between seasons, so this will be nice for everyone."
2012 Blue-White Scrimmage Roster (Unofficial)
| Number | Name | Position | Eligibility | Height | Hometown | State/Nation |
| --- | --- | --- | --- | --- | --- | --- |
| 1 | Scott, Ariel | Opp/MH | Jr. | 6-4 | Ridgewood | New Jersey |
| 4 | Gonzalez, Dominique | DS/L | So. | 5-6 | San Antonio | Texas |
| 5 | Carpenter, Kristin | DS/L/S | Sr. | 5-6 | Mechanicsville | Virginia |
| 6 | Martin, Maddie | OH | Jr. | 6-2 | Tampa | Florida |
| 7 | Grant, Nia | OH | So. | 6-2 | Warren | Ohio |
| 8 | Denny, Erica | MH | So. (RS) | 6-5 | Centennial | Colorado |
| 10 | Racibarskas, Marika | S | Sr. | 6-0 | Chatham | New Jersey |
| 12 | Hancock, Micha | S | So. | 5-11 | Edmond | Oklahoma |
| 14 | Whitney, Aiyana | OH | So. | 6-5 | Ridgewood | New Jersey |
| 15 | Harding, Maggie | DS | So. (RS) | 5-6 | State College | Pennsylvania |
| 16 | Slay, Katie | MH | Jr. | 6-6 | Raleigh | North Carolina |
| 18 | McClendon, Deja | OH | Jr. | 6-1 | Louisville | Kentucky |
| 33 | Fuller, Lacey | DS/L | So. | 5-6 | San Diego | California |
| tbd | Prieto Cerame, Paulina | OH/MH | Fr. | 6-2 | Miami | Florida |