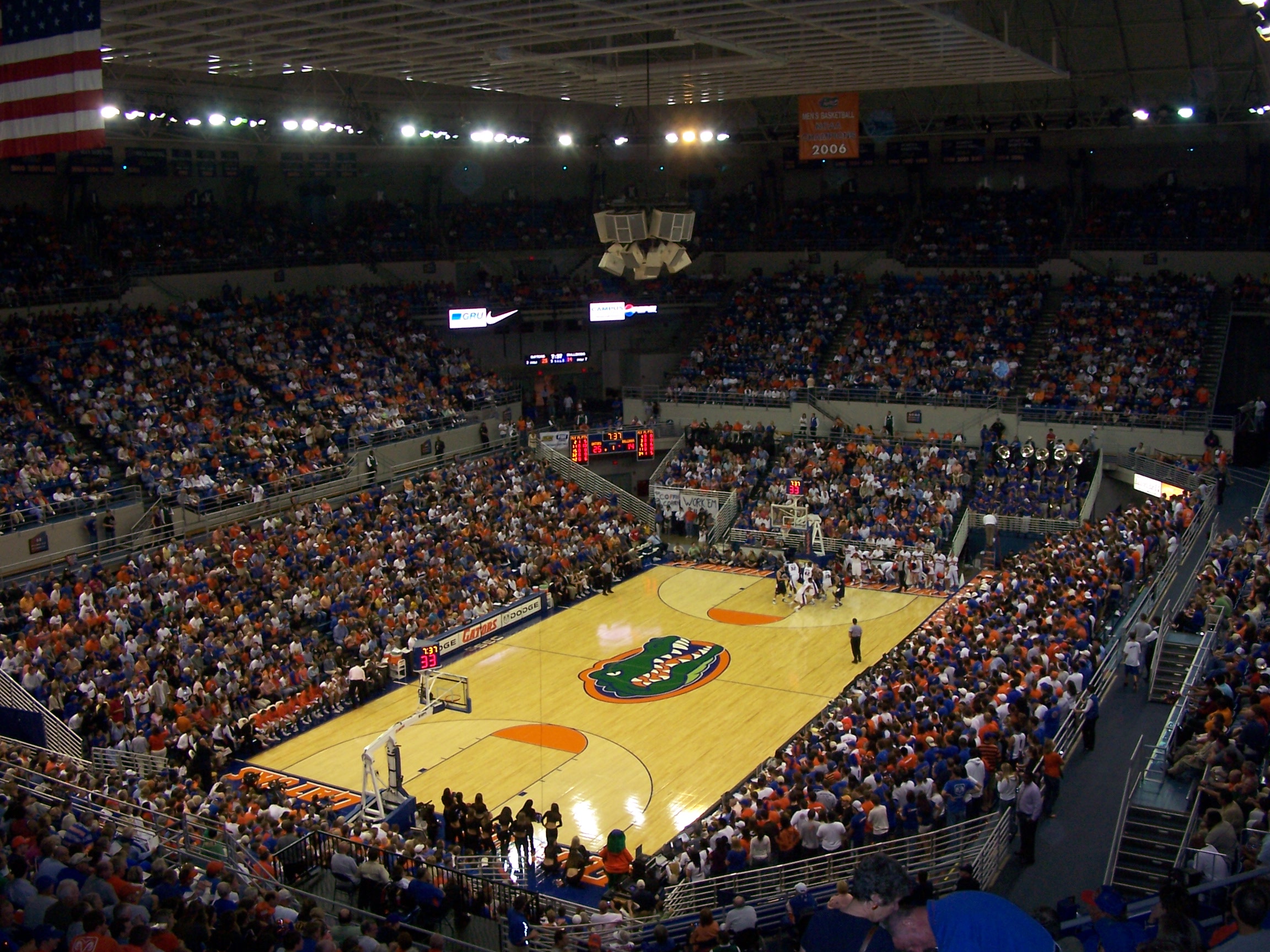 We don't want to get ahead of ourselves — one victory doesn't turn this Nittany Lion Women's Volleyball team into a clone of the team that defeated Florida 3-0 last December in the NCAA Sweet Sixteen, but Friday night, in front of 6,000+ cheering (for Florida) fans, the young Penn State squad won an impressive 3-1 victory over the Gators (20-25, 25-21, 25-14, 25-23).  In doing so, they answered at least some of the questions that have been floating around (well, at least until tomorrow, when they face off against what looks to be an exceptionally talented Stanford squad). 
In a way this was backwards from the prime narrative of the past few days. Even GameTracker got confused: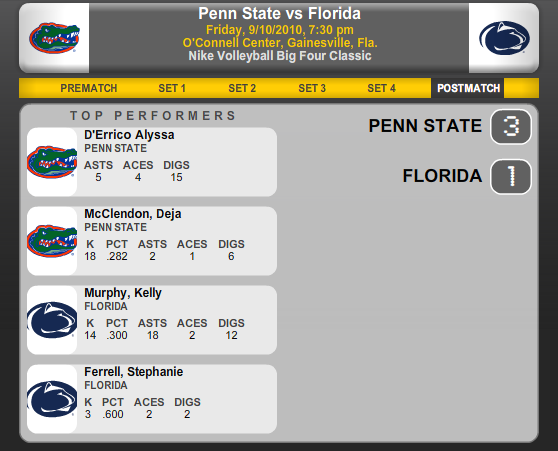 Ah, but who's quibbling about Gator vs. Nittany Lion icons.  Senior Libero Alyssa D'Errico (four very timely aces, 15 digs), Fr. OH Deja McClendon  (a match-high 18 kills on .282 hitting), Sr. Opp. Blair Brown  (16 kills on .298 hitting, with a match (and career) high 21 digs), Sr. MH Arielle Wilson (11 kills, .429 hitting %, 9 blocks), So. Setter  Kristin Carpenter (41 assists in leading Penn State to a .293 hitting % for the night), Jr. OH Katie Kabbes (8 kills and 6 blocks), Sr. DS Cathy Quilico (6 digs), and Sr. MH Fatima Balza all had big moments as Penn State secured the win in a hostile environment (hey, 6,ooo Florida fans doing the Chomp every time the Gators score qualifies as a hostile environment), against a big time opponent (Florida is ranked #4 in the most recent AVCA Poll) on an evening when the Nittany Lions easily could have packed it in without many people  (the Penn State Coaches and players notably excepted) looking askance.  In addition to McClendon, several freshman played: DS Ali Longo and MH Katie Slay (who got a big kill) saw action in three sets, while MH Ariel Scott, and OH Maddie Martin each played in one set (both chipped in a dig). 
It had to be gratifying — it certainly was for Penn State fans.  And at least until Saturday morning's practice, when Coach Rose undoubtedly will have several "teachable moments" for the team, it must have been for the players, too.  We know, there will be bumps on the road ahead.  Stanford, Saturday evening, certainly could be one of them.  But for now.  For a short bit.  Enjoy. 
Here are Penn State's final stats, courtesy of gopsusports.com: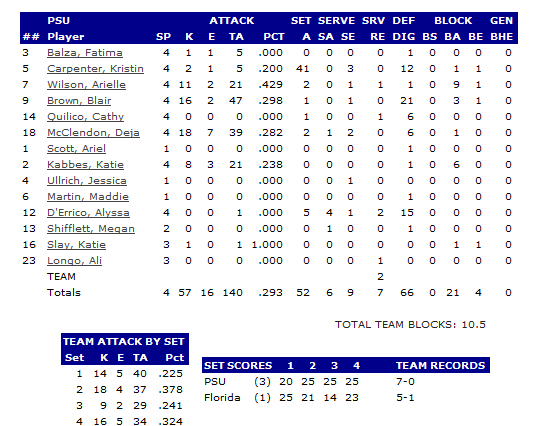 Here are Florida's stats, courtesy of gopsusports.com: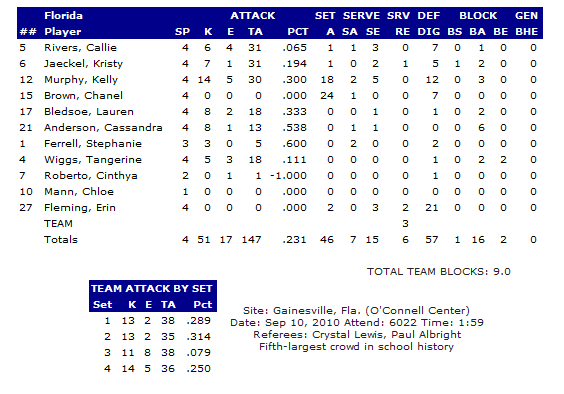 For a recap of the match from gopsusports, Click Here.
For the GameTracker recap and stats from the match, Live Stats: Click Here.