Photo by DAVID ILIFF. License: CC-BY-SA 3.0
Games on!
The 2012 Olympics kick off today, with the #1-ranked U.S. Women's Indoor Volleyball team opening at 3:00 p.m. EST against #13-ranked Republic of Korea.  We don't know much about the Korean team, other than that, according to their official bios on the 2012 Olympic website, among the hobbies of 5-11 WS/RS Yoo-Mi Han and 6-1 WS/RS Song-Yi Han is "eating Korean food."  We're assuming that among Koreans, that hobby is pretty widespread. ( To be fair, we also assume that "eating Korean food" may be a loose translation of something like an American athlete saying their favorite food is "pizza.")
Food aside, even without any "inside" scoop on this match, you have to like the odds of #1 versus #13.  We'll be watching Megan Hodge and Christa Harmotto (shown below) and the entire U.S. Team, and will have a post-match writeup later today or early tomorrow.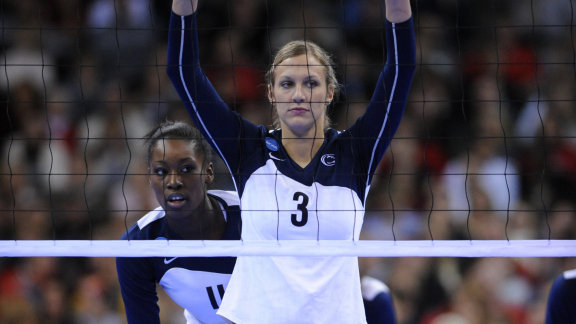 Photo courtesy of GoPSUsports.com
In the meantime, below are the rosters for both the U.S. and Korean teams, the full schedule for the U.S. team, and the rankings, as of January 4, 2012, for all of the teams competing for the 2012 Olympic  Women's Indoor Volleyball gold medal.
2012 U.S. Women's Olympic Volleyball Team
#
Name
Position
Height
Hometown
State
Birth
Year
College
Conf.
2
Scott-Arruda, Danielle
MB
6-2
Baton Rouge
LA
1972
LBSU
Big West
3
Haneef-Park, Tayyiba
Opp
6-7
Laguna Hills
CA
1979
LBSU
Big West
4
Berg, Lindsey
S
5-8
Honolulu
HI
1980
Minnesota
B1G
5
Miyashiro, Tamari
L
5-7
Kaneohe
HI
1987
Washington
Pac 12
6
Davis, Nicole
L
5-4
Stockton
CA
1982
USC
Pac 12
10
Larson, Jordan
OH
6-2
Hooper
NE
1986
Nebraska
B1G
11
Hodge, Megan
OH
6-3
Durham
NC
1988
Penn State
B1G
13
Harmotto, Christa
MB
6-2
Hopewell
PA
1986
Penn State
B1G
15
Tom, Logan
OH
6-1
Salt Lake City
UT
1981
Stanford
Pac 12
16
Akinradewo, Foluke
MB
6-3
Plantation
FL
1987
Stanford
Pac 12
17
Thompson, Courtney
S
5-8
Kent
WA
1984
Washington
Pac 12
19
Hooker, Destinee
Opp
6-4
San Antonio
TX
1987
Texas
Big 12
2012 Olympics Women's Volleyball - Korea
Date
Time
Opponent
Rank
Saturday
July 28th
3:00 p.m.
EST
Korea
13
Monday
July 30th
11:45 a.m.
EST
Brazil
2
Wednesday
August 1st
3:00 p.m.
EST
China
5
Friday
August 3rd
3:00 p.m.
EST
Serbia
6
Sunday
August 5th
3:00 p.m.
EST
Turkey
11
Tuesday
August 7th
tbd
Quarterfinals
Thursday
August 9th
tbd
Semifinals
Saturday
August 11th
1:30 p.m.
EST
Finals
FIVB Women's Ranking - (as of January 4, 2012)
Rank
Team
Points
2008 Olympic
Games
1
USA
245.00
2
2
Brazil
217.50
1
3
Japan
197.25
5
4
Italy
190.75
5
5
China
169.00
3
6
Serbia
145.00
5
7
Russia
131.25
5
9
Dominican Rep.
72.75
na
11
Turkey
64.25
na
13
Republic of
Korea
56.25
na
16
Algeria
47.25
11
69
Great Britain
5.50
na