Photo by DAVID ILIFF. License: CC-BY-SA 3.0
Golden Opportunity
No United States Women's Olympic Indoor Volleyball team has ever won the Gold Medal.
This is not your mother's United States Women's Olympic Indoor Volleyball team.
Yesterday, the #1-ranked United States women defeated the surprisingly tough, not-surprisingly resiliant Korean squad 3-1 (25-19, 25-17, 20-25, 25-21) at Earls Court.
The United States was led by Destinee Hooker's 21 points, and the crowd could be heard chanting  her name in appreciation.  (We are tempted to ask whether this could be a "Team of Destinee," but that would be wrong, for sure.)
Other scoring leaders for the United States were Jordan Larson (16 points), Foluke Akinradewo (15 points), and former Penn State great Christa Harmotto (10 points).  The commentators noted several times how much Christa has improved over the  past year — particularly with her blocking.  (The United States outblocked Korea 15-1).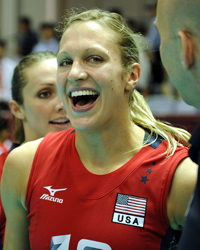 Christa Harmotto – Photo courtesy of GoPSUsports.com
Korea was led by scoring machine Kim Yeon-koung, who totaled 29 points, helping her team rally to take the third set 25-20 after trailing early, 8-4.  She had no quit in her, nor did any of her teammates.
Up Next – Brazil
Up next — #2-ranked Brazil (Monday at 11:45 a.m. EST), which won a hard-fought 5-set match against Turkey, 25-18, 23-25, 25-19, 25-27, 15-12.  Brazil features players like 6-2 OS Sheila Castro, 6-0 WS Paula Pequeno, 6-1 WS Jaqueline Carvalho, 6-4 MB Fabiana Claudino and 6-4 MB Thaisa Menezes.
We'll post complete rosters and a brief match-preview later today or early tomorrow.
Go USA!
Scoring - United States vs. Korea
| # | Name | Position | Height | Srv | Spk | Blk | Pts |
| --- | --- | --- | --- | --- | --- | --- | --- |
| 2 | Scott-Arruda, Danielle | MB | 6-2 | 0 | 0 | 0 | 0 |
| 3 | Haneef-Park, Tayyiba | Opp | 6-7 | 0 | 1 | 2 | 3 |
| 4 | Berg, Lindsey | S | 5-8 | 0 | 1 | 0 | 1 |
| 5 | Miyashiro, Tamari | L | 5-7 | 0 | 0 | 0 | 0 |
| 6 | Davis, Nicole | L | 5-4 | 0 | 0 | 0 | 0 |
| 10 | Larson, Jordan | OH | 6-2 | 1 | 14 | 1 | 16 |
| 11 | Hodge, Megan | OH | 6-3 | 0 | 0 | 0 | 0 |
| 13 | Harmotto, Christa | MB | 6-2 | 1 | 6 | 3 | 10 |
| 15 | Tom, Logan | OH | 6-1 | 0 | 8 | 1 | 9 |
| 16 | Akinradewo, Foluke | MB | 6-3 | 0 | 9 | 6 | 15 |
| 17 | Thompson, Courtney | S | 5-8 | 0 | 0 | 0 | 0 |
| 19 | Hooker, Destinee | Opp | 6-4 | 0 | 19 | 2 | 21 |
Scoring - Korea