Nebraska-Penn State: Close but no cigar
On Friday night, November 4, 2016, Penn State played what Head Coach Russ Rose called a "pretty inspiring" first set against the #1-ranked Nebraska Cornhuskers, winning by a score of 25-22, but dropped the next two sets 17-25, 23-25, before winning set 4 25-23.  Alas, to the dismay of the team, the staff, and the 5564 fans in Rec Hall (OK, some of those were all-red Husker fans, whom, it is interesting to note, were not exiled to the worst seats in the house, as Nebraska has been known to do to the parents of visiting team players), the Huskers took set 5 11-15.
Nebraska held Penn State to .166 hitting, with 6-1 Jr. OH Simone Lee leading the team with 23 kills, and Haleigh Washington posting 13-kills.  6-2 RS Fr. MB Tori Gorrell registered a team-high seven blocks with 9 kills.  True freshman libero Kendall White set a new personal best with 32 digs (9 more than her previous high).  Nice stats, but at the end of the day, Penn State was close, but no cigar, as Nebraska took the match 3-2.
Match Stats
Courtesy of GoPSUsports.com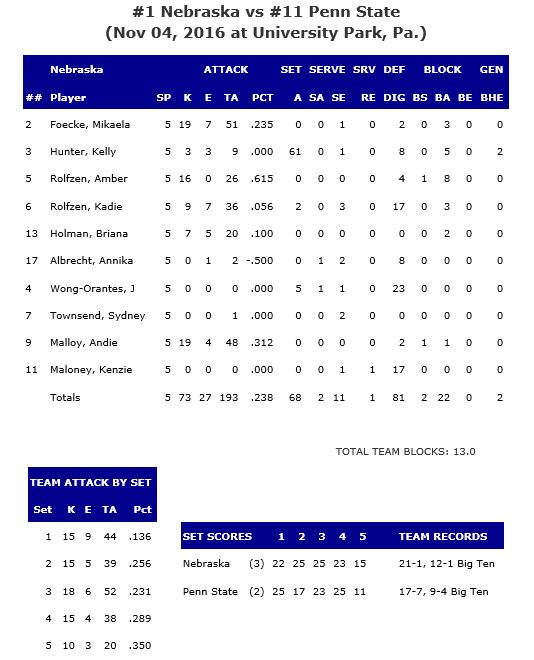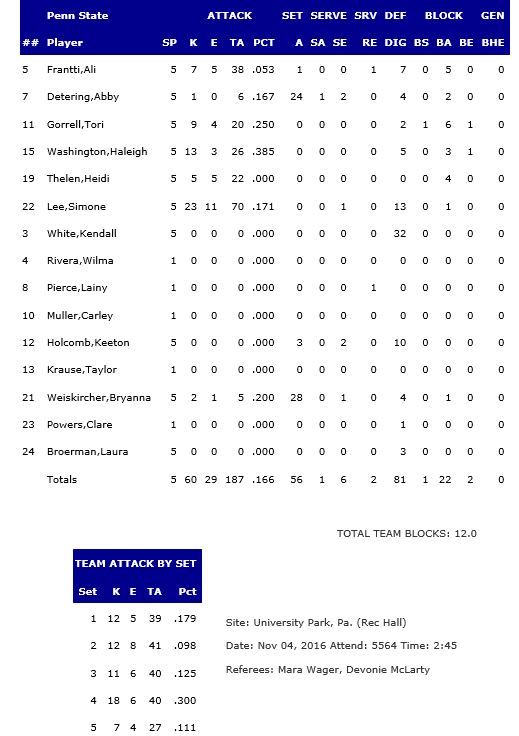 What a Difference a Day Makes: Lions Hammer Hawkeyes 3-0
The Penn State Women's Volleyball team (18-7, 10-4 B1G) had lost four straight matches.  The most since 1982.  No matter that three of them were at the hands of the #1, #2, and #3-ranked AVCA teams, the was a streak that everyone on the team wanted to end.  And end it they did,  in resounding fashion, with a 3-0 win (25-11, 25-16, 25-17) over the up-and-coming Iowa Hawkeyes (18-8, 8-6 Big Ten).
The Nittany Lions rang up a 14 to 3 advantage in blocking, with 6-3 Jr. MB Haleigh Washington leading the way with 10 blocks, followed by 6-0 So. setter Bryanna Weiskircher's 6 blocks (tying her career best).   Penn State held the Hawkeyes to .030 team hitting.  Penn State's attack was led by 6-1 Jr. OH Simone Lee, 6-1 Jr. OH Ali Frantti, and Washington, each of whom recorded kills.
That long whistling sound you hear is a large number of Penn State fans letting out a collective sigh of relief.
Match Stats
Courtesy of GoPSUsports.com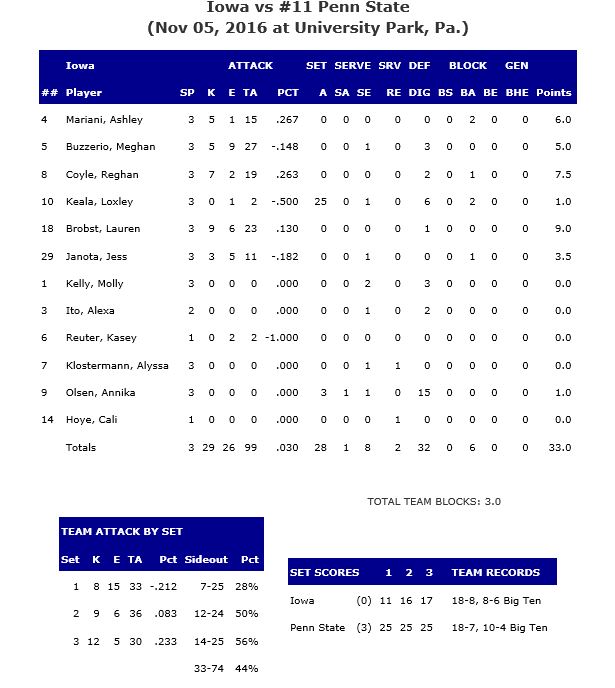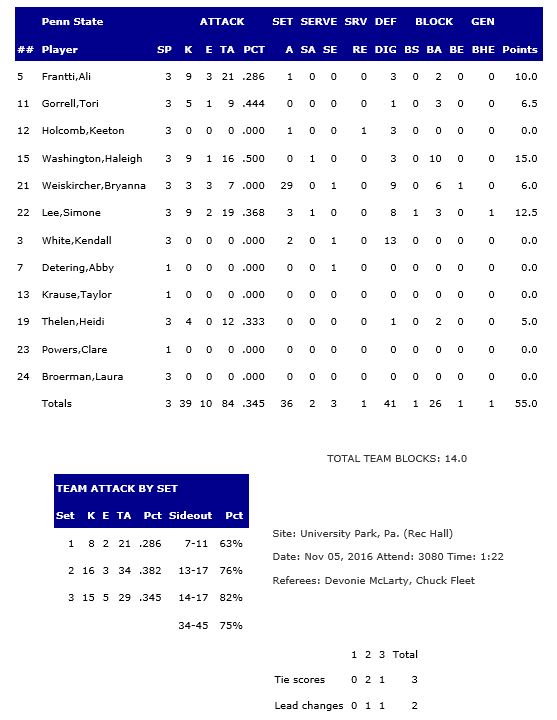 Credits