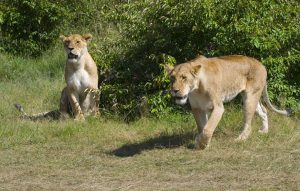 The same Penn State women's volleyball team (20-9, 12-6 Big Ten) that struggled on Wednesday in a loss to the Nebraska in Lincoln, left Rec Hall last night with a 3-0 win over the Purdue Boilermakers (17-12, 7-11 Big Ten), 25-17, 25-21, 25-19.  Even with the students out on break (thus, no Volleyball Band and no cheerleaders and no Wrecking Crew), 3,560 fans came to Rec Hall to cheer the team on.
They had alot to cheer about.  The Nittany Lions hit .386 as a team, while limiting the Boilermakers to .230 hitting.  6-1 Jr. OH Ali Frantti had perhaps her best all-around match of the season, with 14 kills (.583 hitting %) and 8 digs (second on the team).  6-1 Jr. OH Simone Lee tied Frantti for the team lead in kills, with 14, adding 5 digs of her own.  6-2 RS Fr. MB Tori Gorrell had a monster match, with 11 errorless kills (.733 hitting %) and a match-high 5 blocks.  6-2 Jr. RS/Opp Heidi Thelen registered 3 kills and 4 blocks.  6-0 Jr. setter Abby Detering posted 41 assists and 3 kills.
In the back row, Fr. libero Kendall White dialed in another solid performance, with a match-high 12 digs (one, a spectacular one-armed effort).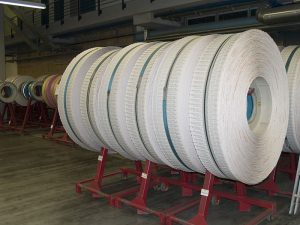 Post-Match Presser
Opening Statement by Coach Rose
Any time you get a win in the Big Ten you feel satisfied with the results, especially coming off of how we played in Nebraska a couple of nights ago.  Purdue came into this match playing better the second half of the Big Ten season than we did.  We're appreciative of the big crowd that came out tonight, with the students being out of town.  That was a great reception for the players.  I'm really pleased with how Tori [Gorrell] and Ali [Frantti] played.  Ali's been struggling a little bit.  I thought she passed great, hit really well, and was second on the team in digs.  It was a really good team effort and we're happy about the results.
Question to Coach Rose: How do you think Abby [Detering] did tonight?
I thought Abby was OK.  If the team hit .386, you have to think the setter did a nice job.  I thought we passed really well — Ali especially, since she was receiving a majority of the serves.  We need Abby to be aggressive offensively.  She took alot of attempts, but she didn't really score as much as I'd like.  But I thought she was OK.
Question to Ali Frantti on the key to being so efficient on offense
Like Coach said, I think it always comes down to the serve-pass game, so it's really focusing on getting good passing, so Abby can have a three-hitter offense.
Question to Tori Gorrell: You seemed to have a great connection tonight with Abby, and seemed to be very pleased with several of her sets.  Tell us about that.
We started connecting late in the third set against Nebraska.  So after our last couple of practices, we were trying to get in the gym together and work on a few things.  At the beginning of the year, we hadn't really run many three-balls, and alot of pushes, so we started working on that more.  It's really expanded the game for me and Abby.  It's great to connect with her on different sets, rather than just the one-ball.
Question to Ali Frantti: Does that open some things up for you Ali?
Whatever the team needs from me . . . . I take pride in passing, but tonight I was able to connect with Abby really well, so I was really happy with that.  It was fun, for sure.  But whatever I can do for the team.
Question for Coach Rose: The team has clearly played better at home than on the road.  That's probably not unusual.  With this team, has it been a question of confidence, or connectedness, or something else?
I think it's all those things.  I think everybody plays better at home.  I thought at one point [early in the season] we started with a three-match losing streak, and then we had a 15-match winning streak.  I thought we were playing really well during that stretch, and some of those matches were on the road.  I thought we played really well against Purdue and Indiana, which are two tough places to play.  But you get that Murderers Row stretch of Minnesota, Wisconsin and Nebraska — you could be the 4th-best team in the country and lose all three.  The travel beat us up a bit, and it's good to be home.  We'll be home next week.  Hopefully, we can practice and rest a little bit, and try and get a little better, and be ready for Northwestern and Illinois.  And then hope for something in the NCAA Tournament.  The RPI — it's such a bizarre thing.  I never worried about the RPI until we lost 9 matches in a season, and then I had to worry about the RPI.  We were 22 in RPI, then we played the top three teams in the country and it went down to 30 or 28. . . . If you're good enough to get in the tournament, then that's what you'll be able to demonstrate at that time.
Question to Ali Frantti: Alisha Glass and Christa [Harmotto] Dietzen came in and spoke to the team.  What did that mean to you?
They're just icons of the program.  They're giving us their experience, their Olympic experience.  It's just really cool to hear your alumni speak, and I think alot of us took it to heart, because we have to play for something bigger than ourselves, for the former players.  So that's what it's all about — that's what Penn State's about.
Coach Rose on former players coming back:
We have four alums here this weekend: we have Mishka Levy and Robyn Goukas, and Dom Gonzalez, and Lara Caraway from out of town.  We always have some of the [former players] that are still here.  I always think it's great when those guys come back as well.
Video Jukebox
Alisha Glass Video: On Fan Support
Christa Dietzen Video: On Her Family
Match Stats
Courtesy of GoPSUsports.com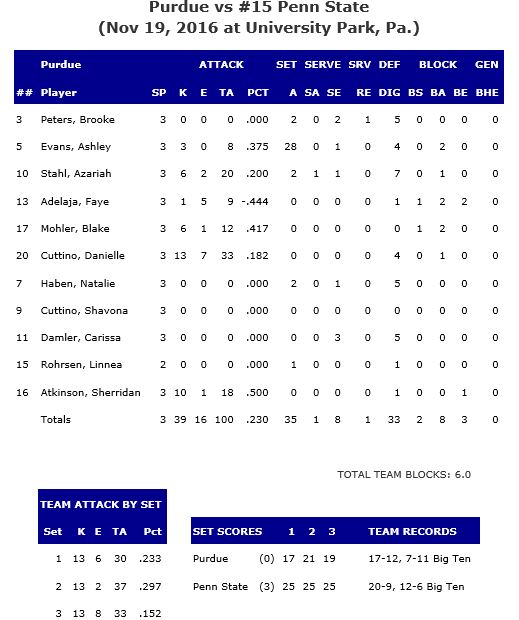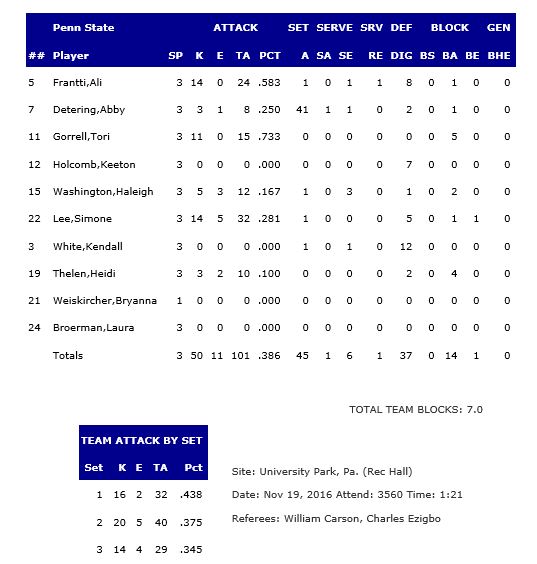 Credits
Druckhaus Freie Presse Chemnitz newspaper, by Mathis Baryt from Chemnitz, Sachs, Deutschland.  This file is licensed under the Creative Commons Attribution 2.0 Generic license.
Panthera leo females, Masai Mara, Kenya, by Paul Mannix.  This file is licensed under the Creative Commons Attribution-Share Alike 2.0 Generic license.
Lions, near Govenors Camp, in the Massai Mara, Kenya, by Rick Marin (personal photograph taken himself).  This work has been released into the public domain by its author, Rick Marin. This applies worldwide. In some countries, this may not be legally possible; if so, Rick Marin grants anyone the right to use this work for any purpose, without any conditions, unless such conditions are required by law.