Updated 3-26-2019
Tweets and Accolades
On January 8, 2019 we posted that Anjelina Starck, a 6-2 setter/RS from Bishop Gorman High School in Las Vegas, Nevada, has verbally committed to the 2021 class of Penn State University.  Below is a post by the Vegas Aces Volleyball Club about Anjelina's verbal commitment :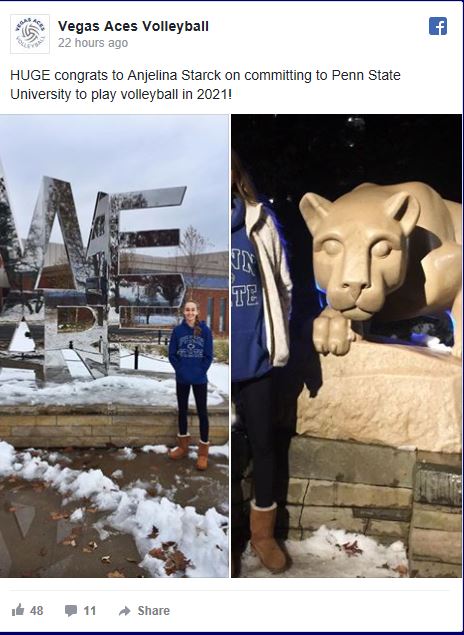 Anjelina's commitment came on the heels of her impressive 2018 sophomore campaign, in which she was instrumental in Bishop Gorman winning the Nevada State title and a #45 national ranking.  She led the state with a .477 hitting % (with 259 kills on 474 attacks), led her team with 108 service aces, was second on the team with 75 blocks, was fourth with 225 digs, and totaled 745 assists.  In the Nevada Class 4A State title match, Anjelina came through with 10 kills and 24 assists.
For her efforts, Anjelina was named to PrepVolleyball.com's 2018 All America Team, was honored as the PrepVolleyball.com Nevada Player of the Year, and is among the 35 finalists for PrepVolleyball.com's National Sophomore of the Year award (one of 10 setters in the group of finalists).
Anjelina's club team — Vegas Aces 16 UA — has been ranked #47 in the 16s Division Pre-Season National Rankings.
Personal
Anjelina comes from a volleyball family.  Her dad, Doug Starck, was the first male athlete from Nebraska to earn a volleyball scholarship (to Ball State in Muncie, IN).  Doug is also her club coach.  Her mom, Errica, grew up in Las Vegas and attended Bonanza High School, where she helped lead Bonanza to a State Championship in Volleyball and was named the Nevada State MVP. Errica was #4 on the list of Volleyball Monthly's top 50 recruits and was a 1st Team High School All-American. Errica was a four-year starter at the University of Texas for coach Mick Haley, where she was named Southwest Conference Newcomer of the Year, All-Southwest Conference 1st Team, AVCA/CVCA South All Region Team, NCAA All-Regional All-Tournament Team, All-American Honors, and Team MVP. She still holds the record at Texas for career blocks (with 531) and is in the top 20 in other All-Time Career Records for Texas women's volleyball.
Stats
Here are some stats from Anjelina's high school career, courtesy of MaxPreps (for complete stats, Click Here).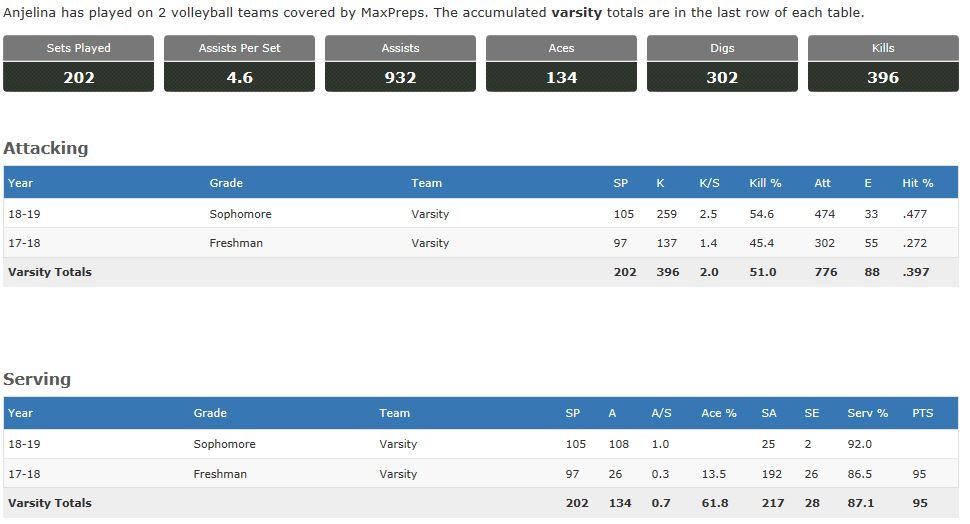 Videos
Here's a link to a video of the 2018 Nevada Class 4A Championship match: https://www.nfhsnetwork.com/events/niaa/gamde4f201233# (you may need to register to view)
Here's a video from 2017 (when Anjelina was 14 years old) of Anjelina touching 10 feet: