No. 8 Penn State women's volleyball will face one of its biggest tests of the season this weekend when it plays No. 5 Minnesota Saturday and Sunday night at Maturi Pavilion in Minneapolis.
Although there won't be any crowd, the Golden Gophers present more than enough challenges on their own. Minnesota is 6-0 following a pair of five-set wins on the road at Purdue last weekend. Senior opposite hitter Stephanie Samedy was named AVCA Division I National Player of the Week after posting 48 kills and 36 digs against the Boilermakers.
"Stephanie Samedy is one of the premier players in the country," head coach Russ Rose said this week. "I watched a little video of them from the weekend and I thought they've got a couple of newcomers who look terrific. They look very strong, as they normally do."
Two of those highly touted newcomers, freshman setter Melani Shaffmaster and freshman outside hitter Taylor Landfair, wasted zero time making significant impacts for the Golden Gophers. Shaffmaster quickly solidified herself as Minnesota's starting setter after the Golden Gophers mainly employed a 6-2 system with Kylie Miller and Bayley McMenimen last season.
Shaffmaster was named Big Ten Freshman of the Week to start the season and most recently took home her first Big Ten Setter of the Week honors after dishing out 113 assists and 27 digs against Purdue. Landfair, who checks in at 6-foot-5, was named Big Ten Freshman of the Week after a pair of sweeps over Maryland two weeks ago in College Park.
Shaffmaster and Landfair are members of Minnesota's 2020 recruiting class that ranked No. 2 nationally, per PrepVolleyball.com. Shaffmaster leads the Golden Gophers with 212 assists so far this season, while Landfair is third on the team with 62 kills — behind Samedy's 91 and Adanna Rollins' 68. Rollins leads a group of five Minnesota players with at least 52 digs, recording 83 through the first three weekends of the season.
Minnesota is also strong at middle blocker with Regan Pittman and Maryland transfer Katie Myers, who lead the Golden Gophers with 22 and 20 blocks, respectively. Standout libero CC McGraw has 65 digs and won't give up any easy points for Penn State's offense.
"I think we just have to be ready for Samedy," Penn State midde blocker Kaitlyn Hord said. "She's pretty insane. We just have to be ready for that right-side attack, because that's something you don't really see from teams."
It's unclear whether the Nittany Lions will have starting setter Gabby Blossom and starting libero Jenna Hampton available against Minnesota after the duo missed Penn State's series against Illinois. They were dressed in street clothes for both matches alongside teammates Lauren Clark, Allie Holland, and Sophie Walls. Sophomore setter Emily Oerther stepped up in Blossom's absence and performed well with 82 assists and 20 digs last weekend.
"Emily did a great job," Hord said. "I was very proud of her for coming in and showing exactly what she's capable of, which is some great things. Very happy with her performance."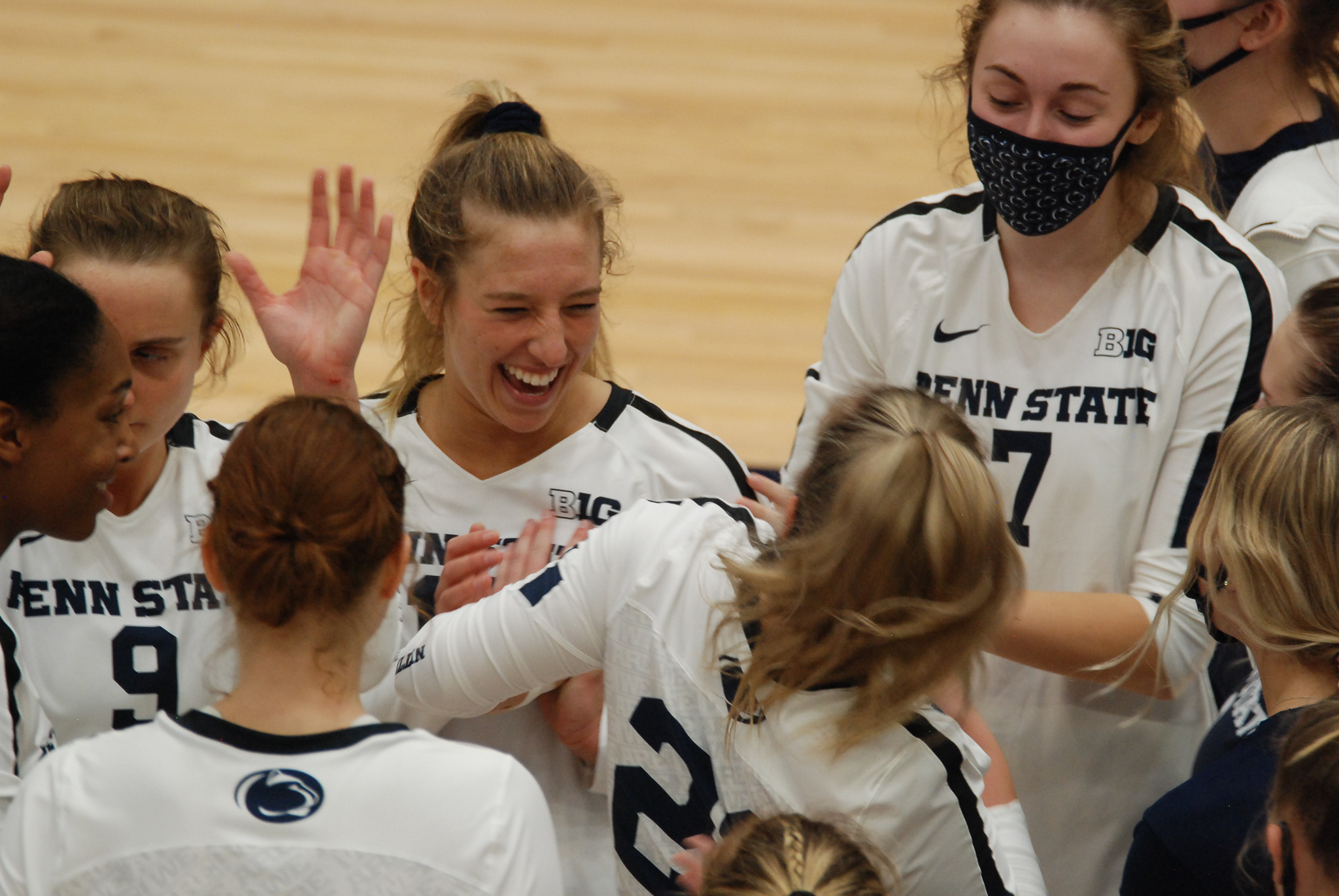 Rose gave Oerther high praise as well during his weekly press conference Tuesday afternoon, but admitted he would like to see her be more vocal on the court. If Oerther gets the starting nod again, the Nittany Lions will need to focus on working the ball to Hord and Serena Gray in the middle a little more often than they did against Illinois.
"I thought Emily just really did a fine job from last year to this year," Rose said. "I said that I thought she was our most improved player from last year through this summer heading into the fall, so I was really pleased with how she played. She does some things well. She's physically strong. She's very calm."
Gray, who is one of the Big Ten's best serving middle blockers, offered her assessment of where the Nittany Lions are as a team following their first two matches of the season. After a pause of team-related activities due to positive COVID-19 test results among the program's Tier 1 personnel, Penn State is still ramping things up when it comes to gelling as a team.
"I would say we definitely haven't peaked yet," Gray said. "I would say we're slowly on the incline. There's for sure some nerves that we have to work through, as it's a lot of people's first time playing and starting, and playing for coach in itself will bring a lot of nerves. I think that plays a lot into where we are."
Freshmen Annie Cate Fitzpatrick and Maddy Bilinovic shined against Illinois and will be important to Penn State's success this weekend. Fitzpatrick had 30 kills and 26 digs during opening weekend, while Bilinovic had 32 digs wearing the libero jersey for the Nittany Lions.
Four Penn State players recorded at least 21 kills during the Illinois series, including Fitzpatrick, Hord, Jonni Parker, and Anastasiya Kudryashova. Whoever is setting for the Nittany Lions, whether it be Blossom or Oerther, will have quite a few options at their disposal. Gray will also likely round back into form after a somewhat quiet weekend offensively against the Fighting Illini.
"It will be interesting playing in their facility without the normal crowd involvement that they have," Rose said. "I'm sure it will be different, but the players still need to be ready to play."