No. 7 Penn State women's volleyball rallied from a two-set deficit to beat No. 5 Wisconsin 3-2 (19-25, 15-25, 25-12, 25-22, 15-11) in thrilling fashion at Rec Hall, denying the Badgers their chance to clinch the Big Ten title outright Friday night.
Jonni Parker and Gabby Blossom finished with double-doubles in the emphatic victory, as Blossom set a new career high with five kills and added 48 assists, 10 digs, three blocks, and an ace. Parker tallied 12 kills, 10 digs, four blocks, three assists, and two of Penn State's six aces.
Four Nittany Lions recorded double-digit kills against the Badgers, who fell to 21-6 and 17-2 in Big Ten play. Serena Gray and Tori Gorrell tied for the team lead with 13 kills apiece, while Kaitlyn Hord came alive down the stretch for 11 kills and a team-high six blocks after a slow start. Hord didn't have a single attack error all night. On the other side of the net, Dana Rettke had 15 kills and a ridiculous 13 blocks.
Penn State delivered a spectacular 14-0 run between the end of the third set and the beginning of the fourth, eliciting roof-shaking roars from a Rec Hall crowd of 4,927. The Nittany Lions no doubt ensured Russ Rose had a birthday to remember. Penn State's head coach called upon sophomore defensive specialist Brooklynn Hill early in the fifth set and the move resulted in Hill serving five straight points. Gorrell's final kill of the night closed things out and sent Wisconsin to its locker room dejected.
Allyson Cathey returned to the starting lineup after not making the road trip to Rutgers last Sunday and posted seven kills against the Badgers. Kendall White had a team-high 14 digs and a season-high seven assists. She's now just 34 digs away from breaking the Penn State program record. Jenna Hampton and Emily Sciorra were also excellent in the back row, registering eight and seven digs, respectively. Heralded 2020 recruit Sophie Fischer, a 6-foot-5 outside hitter from South Carolina who's currently uncommitted, was in attendance for the win.
The Nittany Lions (24-4, 17-2 Big Ten) can earn at least a share of their 18th Big Ten title in program history with a win over No. 8 Minnesota Saturday at 8 p.m. in Rec Hall. If Penn State wins and Wisconsin beats Rutgers Saturday evening in New Brunswick as expected, the two teams will share the conference crown.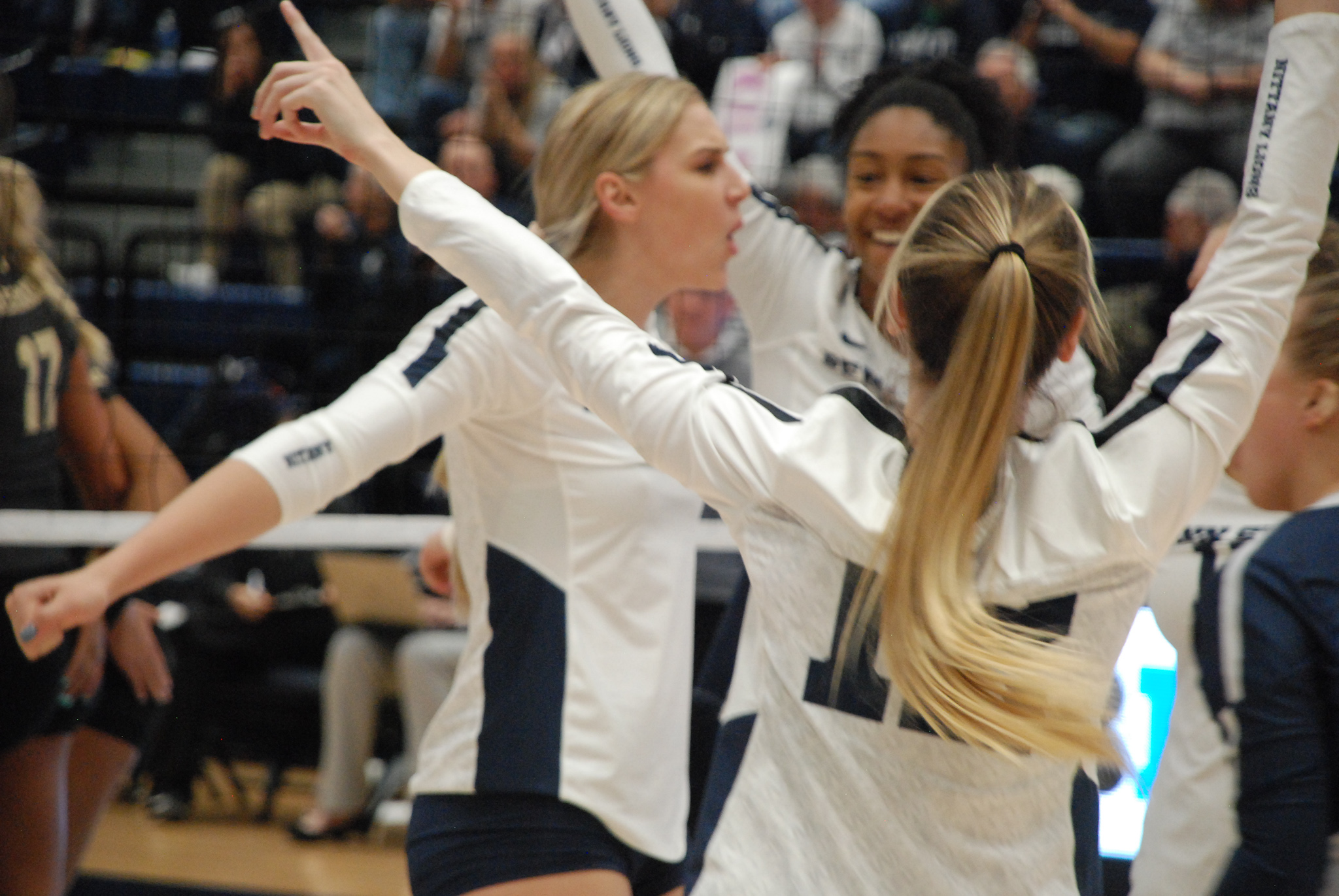 Post-Match Quotes
Coach Rose's opening statement:
"I thought it was a real gutsy effort. We played really hard and had a clean fifth game, which is what you need to have against a great opponent. They were really exceptional the first two games, and we weren't playing bad, but they were really playing at a high level. We were battling out there and I thought that was what we needed to do. We switched the rotation a little bit in the third set and put Tori at the front. I thought that made a big difference. Serena kind of woke up and her and Kaitlyn started scoring with different matchups. We just kind of reversed the script a little bit. At their place, they played with a lot more confidence and we had our worst match passing, got aced seven times, and they only got aced once. Tonight, they got aced six times and we only got aced once. It was a great effort tonight by our kids. It will have greater importance if we can do it again tomorrow against another great opponent."
Tori Gorrell on the team making Coach Rose wait to unwrap his birthday present: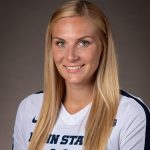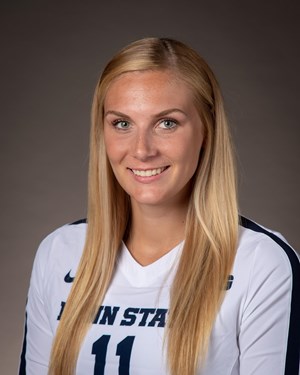 "We were all able to come alive when things mattered. I think we did a really good job late in the match. It's really good to win against a really good team. It will hopefully help us going into the tournament. It's a big momentum change for us. Making coach wait might be a good thing."
Kendall White on said subject: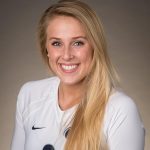 "I think with coach, I don't think he really cares about his birthday. It wasn't really about that. It was about us coming together as a team. Yes, of course, we want to do it for him, but we also want to do it for each other. We came out on the court and we didn't want to lose 3-0 in our own gym. That was not happening tonight. I think fighting back together was just good for us, especially like [Tori] said, coming into the tournament."
Gabby Blossom on how proud she was of her team coming back from down 2-0: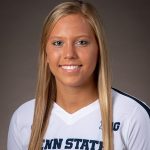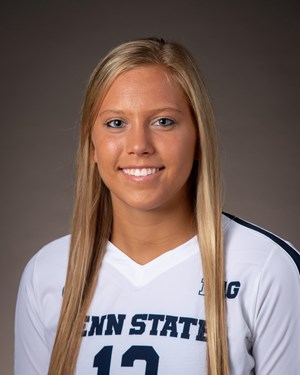 "I feel like we have this talk a lot. Me personally, I don't think we came out great tonight. I mean, the score [in the first two sets] kind of reflected that, but playing at home, our fans were incredible. They always are, but tonight they were huge in helping us. Like coach said, we kind of changed the matchups and it definitely allowed our defenders and our hitters to have different looks on balls. I got the ball to the middles a little bit more, which I needed to do from the beginning, but that opened up our pins. Like coach said, we had an incredible passing match. When you pass well, you can run a lot of things."
Gabby Blossom on going head-to-head with Wisconsin setter Sydney Hilley:
"She's really good. I have a lot of respect for her. She's probably the best setter in the conference, so I think she's great. I've seen her in club, I've seen her in college. She's a really good setter. I definitely learned a lot watching her and stuff like that, so it was fun."
Coach Rose on Emily Sciorra's performance against the Badgers: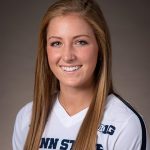 "I thought she did a real nice job. It's hard to believe after spending the day sitting and getting sunburned somewhere that she could come out and play that well."
Kendall White on what it was like watching Brooklynn Hill go on a service run: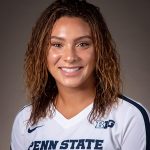 "So awesome. I loved it. Brooklynn's energy on the bench and on the court is amazing. She has one of the best serves on our team. She came out balls blazing. She came out and served the ball as hard as she could. She did a great job. She had a dig, made some plays, and she really gave us the momentum [in the fifth set]. It was awesome. I love playing with her. She's an amazing server."
Tori Gorrell on Serena Gray and Kaitlyn Hord's play in the win:
"Serena and Kaitlyn are such dominant players, and when they're on fire it just changes the momentum for our team. It really opens up the pin hitters so that the other team's middles have to commit with them, and it gives everybody more options to swing where they want. I think Gabby did an amazing job getting it to the middles and the middles did a phenomenal job of just getting balls on the ground, blocking balls, everything all around. They're two great players."
Coach Rose on his message to the team heading into tomorrow's Minnesota match:
"It's like I said to the players, though. They're in great position if they take advantage of it tomorrow. It's not easy because they've got to dig deep against another team that was ranked as high as third or fourth in the country earlier in the year. There's one game behind them in the conference standings and they're battling just like everybody else to get a high seed in the NCAA tournament. It's the last match of the [regular season]. Last year whenever we played, we had a similar thing. We had a five-set match. The kids were exhausted the next day, but it's part of the conference. At least we had a little earlier match [tonight] and hopefully the kids can hydrate, get some rest, and be a little fresher tomorrow."