Penn State women's volleyball begins a 22-match Big Ten schedule on the road this weekend against the Michigan Wolverines. First serve is scheduled for 6 p.m. Friday and Saturday at Cliff Keen Arena in Ann Arbor.
The Nittany Lions return plenty of talent from last season's roster and added eight newcomers to the program via recruiting and the transfer portal. Penn State's 2021 spring roster features 18 players from 11 different states and one from Russia.
Jonni Parker, Kaitlyn Hord, and Serena Gray earned spots on the preseason All-Big Ten team. Penn State tied Wisconsin for the most selections with three apiece. The conference's coaches unanimously picked the top-ranked Badgers as the favorites to take home the Big Ten crown, while the Nittany Lions slotted in at No. 4 behind Minnesota and Nebraska.
Parker and fellow captain Gabby Blossom spoke to the media Wednesday about their excitement for the upcoming season and provided insight on a handful of new teammates who could play important roles for the Nittany Lions this spring.
Freshman outside hitter Annie Cate Fitzpatrick has generated significant buzz leading up to her collegiate debut this weekend. Blossom and head coach Russ Rose discussed the impact of Fitzpatrick's addition to the team during their respective press conferences this week.
"AC is great," Blossom said. "She brings a ton of energy. She goes really hard. Some people might say she's small, but I would take her on my team any day. I love her. I think she brings so much to the team and I'm really excited for her Penn State career and that I get to be a part of it."
Rose mentioned how Fitzpatrick, who's listed at 5-foot-11 on Penn State's official roster, has the skillset to be a six-rotation player for the Nittany Lions.
"Annie Cate's an undersized outside hitter — certainly in comparison to a lot of the players in our conference who might be six or seven inches taller than her — but she plays hard, she's really enthusiastic, she's physically strong. I'm really looking forward to seeing how she does," Rose said. "She could carry a pretty big load, because she's more of a six-rotation player than somebody who might be a back-row player who just comes in to serve and comes out."
Fitzpatrick is one of five freshmen who arrived on campus this past fall and participated in practices while the status of the upcoming season was still uncertain. Now that Big Ten volleyball is finally back, Penn State's 2020 recruiting class will get its first taste of what the conference is all about this Friday.
Maddy Bilinovic, a 5-foot-7 defensive specialist from Independence, Ohio, could see a decent amount of playing time this weekend. Rose brought up Bilinovic's name when discussing his primary back-row options off the bench now that Jenna Hampton has earned the libero job. He also mentioned sophomore Macall Peed and West Virginia transfer Keatan Broughton as being in the mix for solid playing time at defensive specialist as the season gets underway.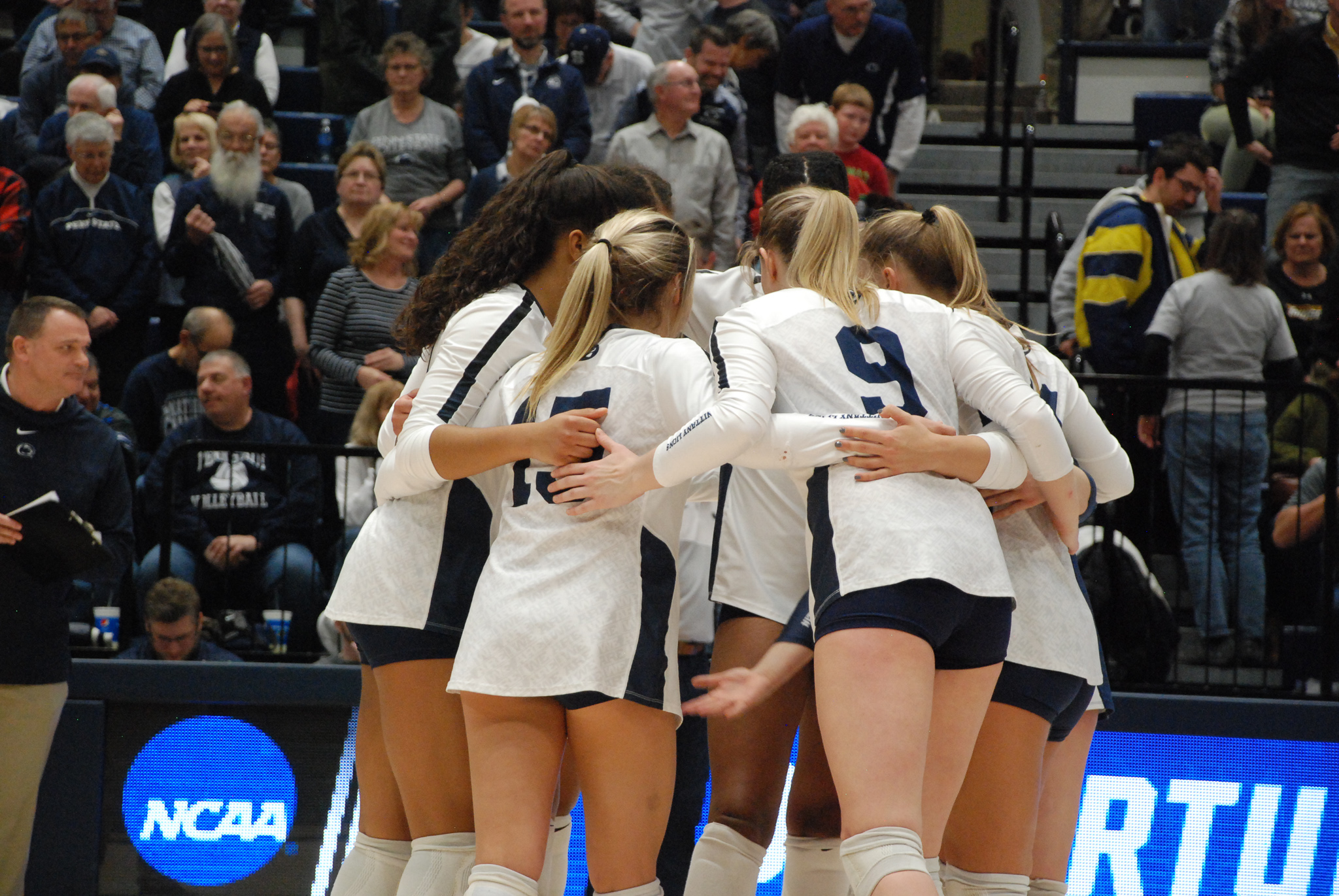 Parker had high praise for Bilinovic's competitive spirit and vocal nature. Some freshmen may feel intimidated to speak up on the court right away, but it appears that's not an issue for the feisty Bilinovic, who was also quite an accomplished server in high school. She finished her career at Independence High School with 1,383 digs and 232 aces, per MaxPreps.
"Maddy's great," Parker said. "She came in guns blazing. She went after everything. She was talking all the time on the court and was always getting extra reps — willing to help with anybody, coming in extra. She's a great player and is always talking in the gym. You can always hear her no matter where she's at on or off the court. She's a great defender and passer and I can't wait to see what she does this season."
While the Nittany Lions will be breaking in a new rotation at defensive specialist following the graduation of Kendall White, Keeton Holcomb, Emily Sciorra, and Kristin Krause, Penn State is absolutely loaded at middle blocker with returning All-Americans Kaitlyn Hord and Serena Gray forming one of the most fearsome tandems at the position in the country.
Hord finished second in the NCAA in hitting percentage with a .440 clip as a sophomore during the 2019 season. She tallied 310 kills and a team-high 149 blocks on her way to being named a first-team AVCA All-American. The 6-foot-4 Hord, who's tied with Rutgers transfer Anastasiya Kudryashova as the tallest player on the team, has an outstanding vertical leap. Her feet often come close to the bottom of the net when she swings away.
Gray was second on the team with 317 kills last fall and made an impact all over the court for the Nittany Lions. Gray proved herself as an extremely effective server, totaling 34 aces on the season. Only Parker had more with 42. Gray added 92 blocks and 60 digs in 2019 and received AVCA All-American honorable mention for the second straight season.
Memphis grad transfer Hannah Flowers, a 6-foot-3 right-side hitter, has the most career kills of any player on Penn State's roster heading into this season. She racked up 1,005 kills during three seasons with the Tigers and could very well nab a starting spot or at least ample playing time for the Nittany Lions this spring.
"She's actually from St. Louis where I'm from, so I've known her for a while, but to now be teammates with her is just amazing," Blossom said. "It's really cool. She's mature. She's a good hitter. I think she does everything really well. I think she does her job well. She's a really encouraging, positive person and brings a lot of energy to the gym, so I'm excited to get to play with her."
Before Rose begins his 42nd season as head coach of the Nittany Lions this Friday, he made sure to mention how appreciative he is that his players get a chance to compete this spring after such a turbulent offseason of speculation stemming from COVID-19 concerns.
"I think the players are enthusiastic and excited about the opportunity to play some new opponents and see where they are," Rose said. "Certainly from the coaching staff standpoint, we're also looking forward to playing some new opponents and just kind of seeing the development of some of the players and certainly just having an opportunity to play.
"It's been a challenging period of time, and it's great that these individuals even get an opportunity to play. We're appreciative of that opportunity and hope that the players embrace it and play really hard."