No. 11 Penn State women's volleyball lost to No. 6 Ohio State 3-2 (25-19, 25-27, 28-26, 14-25, 15-17) for the second time this season Saturday night at Rec Hall in the program's annual Dig Pink match.
Kash Williams led the Nittany Lions (17-6, 6-6 Big Ten) with a season-high 24 kills in the loss, while Maddy Bilinovic paced Penn State's defense with 20 digs. Leisa Elisaia, Cassie Kuerschen, Gillian Grimes, and Anjelina Starck joined Bilinovic with double-digit digs.
Elisaia had a season-high four aces to go along with 51 assists, 14 digs, four kills, and two blocks, battling back and forth with Ohio State setter Mac Podraza. Gabby Gonzales matched Williams with 24 kills of her own, while libero Kylie Murr had a match-high 22 digs and nine assists.
The Nittany Lions came back from a 24-19 deficit to win the third set, fueled by an Allie Holland kill, Williams solo block, a pair of aces from Grimes, and a handful of attack errors by the Buckeyes (15-5, 11-1 Big Ten). It was even more impressive that Penn State won the set considering the Nittany Lions hit negative that frame.
Holland and fellow middle blocker Katie Clark both had strong showings against the Buckeyes, combining for 26 kills and only two attack errors apiece. Clark hit .476 in her seventh start of the season. The Buckeyes outblocked Penn State 14-12 and finished with a .266 hitting percentage to Penn State's .183 clip.
The majority of Penn State's team wore Elena Delle Donne's signature Nike sneakers, the Deldon 1, during tonight's match against the Buckeyes. It was an exciting opportunity to highlight the historic sneakers in a televised match.
The Nittany Lions will be back in Rec Hall Wednesday at 7 p.m. when they host Maryland (13-11, 4-8 Big Ten) in a televised match on Big Ten Network. Penn State beat Maryland 3-1 October 21 in College Park. The Terrapins were swept by No. 1 Nebraska Saturday night in Lincoln.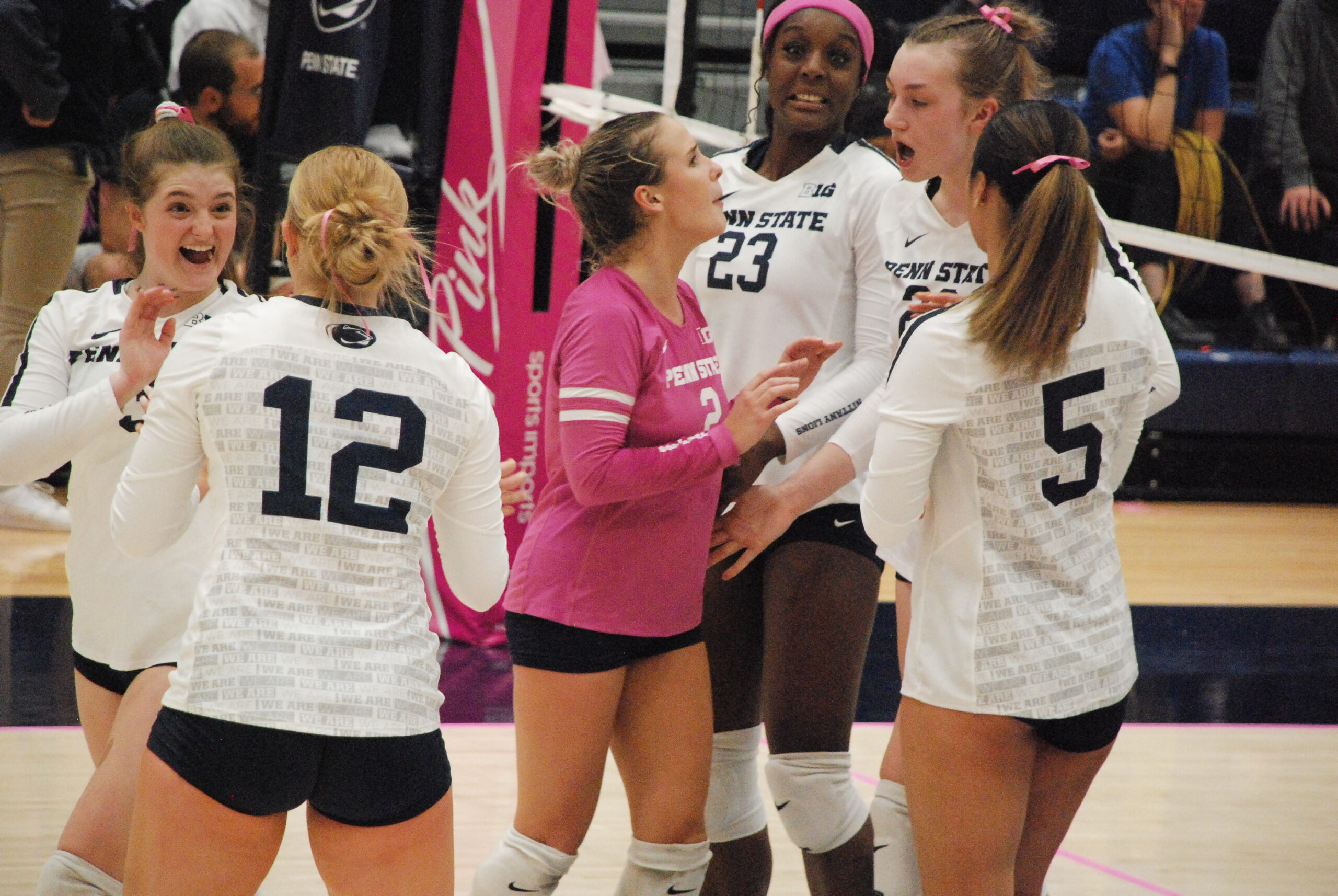 Katie Schumacher-Cawley's opening statement:
"I'm proud of the group. I'm proud of how we competed. I thought we showed some guts and made some adjustments from our loss at Illinois. We need to keep pressing. We need to keep getting better. That's all I have."
Maddy, what are some things that Ohio State's offense did particularly well tonight?
Bilinovic: "I thought Ohio State runs a very fast offense. It makes us very accountable for always talking in between contacts, and the front row and I having to always be on the same page — if they're seeing something, if I'm seeing something. It's definitely hard to defend."
The entire match was very competitive. It seemed like every set could have gone either way. What do you think went differently in the fourth set?
Holland: "I think a five-set match is a marathon, not a sprint. There are ups and there are downs. I think there are definitely some downs that happened during that match, but I think overall, I'm proud of every single person who came in. I think that our defense was great, I think our setting was great, and I think our offense was great. I think it was just one of the downs of the long match."
How do you refocus and get ready for Maryland after a loss like this?
Clark: "I think each game, as soon as it ends, you have to change your mindset. We just get back in the gym and start focusing on the next game and coming back together as a team."
What's the one thing you want to focus on heading into the next match that you saw a lack of tonight?
Holland: "I think taking advantage of when we have a lead is what I personally want to focus on. I think when we have a lead and we're at home, we have this great environment and this great crowd, we have to take better advantage of that."
Coach, it was a crazy third set. How impressed were you that they were able to rally and come back from that 24-19 deficit?
KSC: "I'm impressed, but not surprised. We talk about it all the time, taking it one play at a time. We showed some guts, served aggressively, dug some balls, and I thought everyone was doing their job well. It was pretty crazy we won that third set hitting negative."