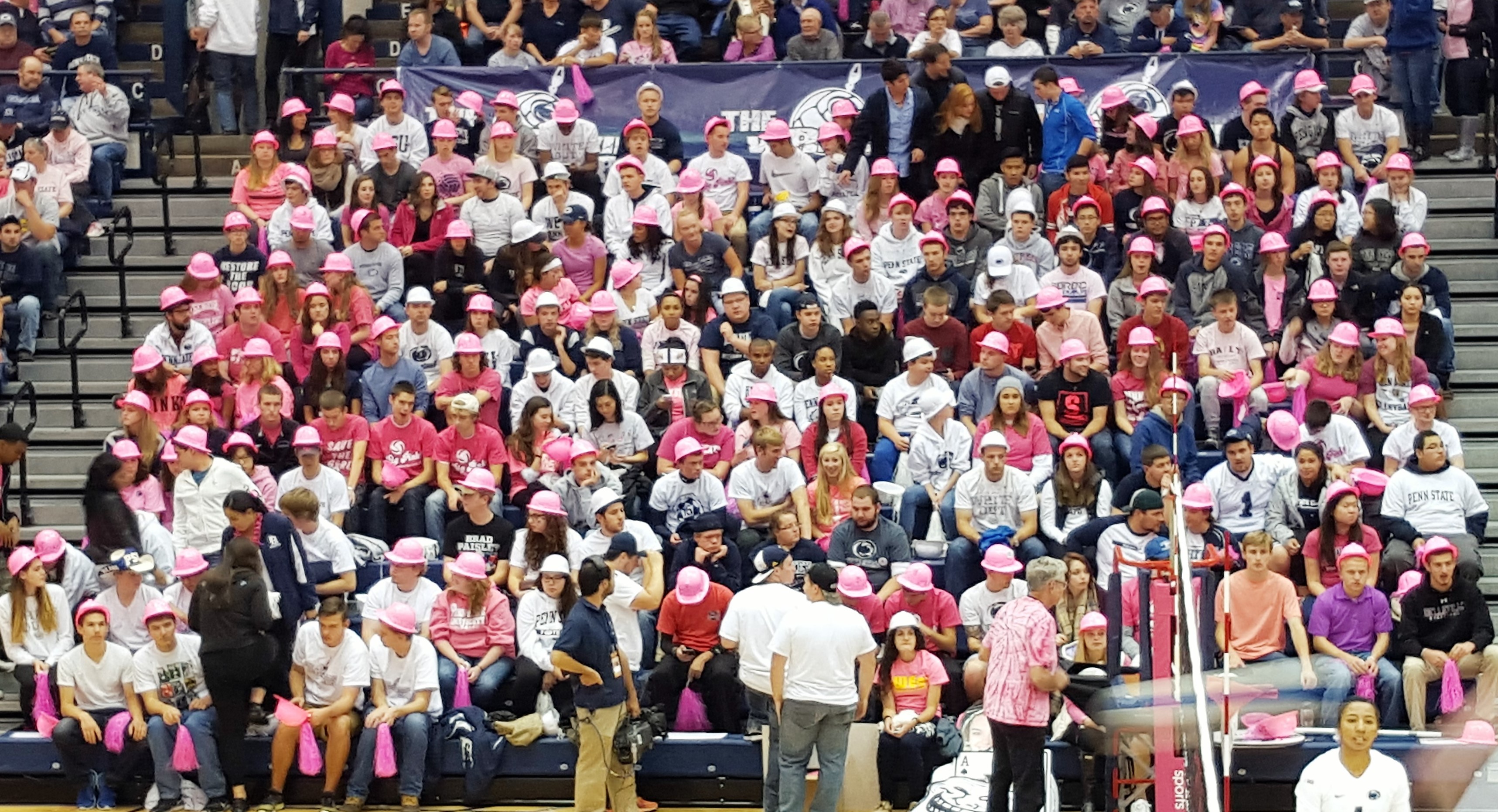 It was nice to get a victory tonight.
It was a sweep (26-24, 25-16, 25-23), and even though it wasn't the blowout some Penn State fans were hoping for, Penn State Head Coach Russ Rose was happy the Nittany Lions (14-1; 3-1 in the B1G) walked away with the win over the Iowa Hawkeyes (10-7; 0-4 in the B1G):
Iowa played with great energy, and had they not missed six serves in the last game, we could still be playing right now.  I thought we controlled the ball a little bit better tonight, but as I told the players earlier today, losing, or your statistics, don't really define you.  They're just an indication of how you played.  How you bounce back from defeat or challenges is how people will define you and you can define yourselves.

I thought we had some people play a little better tonight than they did last night, and you need to — the conference is very strong.  We're pleased, I thought we did some good things.  There's a lot of things I didn't think were very good, but we'll just focus on the fact that it was nice to get a victory today.

Iowa's a good team.  Iowa, against Nebraska last week, had two deuce games in a three-game match.  So doing that with [Nebraska] and with us — Iowa's very good.  It's a new staff, they have a new energy, the kids are playing hard, and the coaches are doing a great job.  They're going to beat somebody, and I hope it's not us when we go back to Iowa City.
Bouncing Back
Sr. DS/libero Kendall Pierce (one of three team captains) spoke to the mood of the team after the loss to Nebraska, and how the team had responded:
We're all competitive players — we all come here to win, for a reason — so you had some angry and quiet girls for once in the locker room.  But with every loss comes an opportunity, and it's how you bounce back.  We had a practice where we really tried focusing on that.  We wanted to have more of a statement game, but it's a process.
Back-to-Back 5K Crowds
Despite Friday night's loss, 5,331 fans turned out to cheer on the Nittany Lions and honor Dig Pink night (more on that below).  It was the second consecutive 5,000+ fan turnout at Rec Hall — and without having checked the statistics, we wouldn't be surprised if Penn State is on track to set a new home attendance record.
They witnessed some great individual performances and some nail-bitingly close sets.  6-2 Sr. OH Megan Courtney registered her fourth consecutive double-double (12 kills, 13 digs) and reached the 1,000 career kills milestone (and is only 4 digs away from 1,000 career digs.)  Asked about that accomplishment, Coach Rose said:
Megan's had a great career to date.  She's been a real fixture in support of our program and progress.  She's a good leader, and I'm proud of the performances she has and how she conducts herself.
6-3 So. MB Haleigh Washington totaled 11 kills and 3 blocks, 6-1 So. RS Simone Lee and 6-1 So. OH Ali Frantti each tallied 7 kills, with Lee also contributing 3 blocks.  6-0 RS Fr. setter Bryanna Weiskircher directed Penn State to a .330 team attack % along with 19 digs.
Serve vs. Serve
Iowa was particularly effective in serving, as they registered seven aces in the match.  Asked about that, Coach Rose said:
I think they serve tough — they're not afraid to make errors and they got us a little jammed a couple of times.  We had matches where Micah would miss four or five serves.  When it's in, you really keep everyone on their heels.
For Penn State, Bryanna Weiskircher had a good night serving, with three aces.  Asked about her performance, Weiskircher had this to say:
Coach has always been on me — I have one of the toughest serves [on the team], so I know I have to go back there and just let it rip sometimes, and have my team help me and defend my serve.  Sometimes I come up with aces, and sometimes I don't, but it got the team rolling a little bit, so it was nice.
Third-Set Struggles
Once again, the third set was a struggle for the Nittany Lions, who were limited to a .182 attack % after hitting .607 in the second set.   Asked about the difficulties Penn State has encountered recently in third sets, Kendall Pierce said:
I think it's on us.  It's how we come out in our third game, and our biggest puzzle-piece right now is how to come out as a team.
About the Crowd, the Band, the Wrecking Crew (and Dig Pink)
It was Dig Pink night at Rec Hall — an event to raise breast cancer awareness.  After the match, Sr. Kendall Pierce spoke about what hosting the event means to the team:
I think it's really special.  As women, it's really important for us.  It's the big picture — what are we playing for, what are we representing?  Tying the ribbon in our hair for that one night means a lot.
Coach Rose spoke to the impact of the crowd, and how appreciative the staff and the team are to the fans and the university for their support:
It's a great weekend.  I've been here for a long time, and to have [a total of] over 10,000 people come in . . . to watch the women's volleyball team [this weekend], I think it's great.  I think the promotions people have really done a great job, and the booster club, and the student Wrecking Crew have really all made a difference, and I'm really proud to be a part of that.
About the Challenge System (and the Big Ten Network's Show on Women's Volleyball)
Those of you who watched the Wisconsin vs. Illinois match on Wednesday got a first-hand look at the new "Challenge" system, where coaches can ask for video review of certain calls where they think the officials made a mistake.  Penn State has chosen not to implement the system (it's voluntary).  Rose spoke after the match about his thoughts on video challenges:
I think the challenge is good if you do it like they do it in FIVB [international volleyball federation], where they have all of the cameras, and they're calibrated correctly, and you see up on the jumbotron the result of the appeal.  But we have to start somewhere, so I think it's an information gathering thing, where they're going to see some of the positives and the negatives of it, which I understand.

It's like the Big Ten's show on women's volleyball.  There are going to be some people who thought it was great.  There are going to be some coaches who are disappointed that they weren't in it.  I just look at it like it's the first time there's been an hour-long show on [collegiate] women's volleyball.  They give you like ten minutes for the NCAA show.

So I think there are some things that are moving in the right direction and some things were I think maybe they're making a wrong turn.  I'm not interested in doing it here.  We could do  it — in some matches you'd like to be able to have a third party look at it and say 'that was a bad call.'  But it's part of the game.
Match Stats
(Courtesy of GoPSUsports.com)