The outside hitter position was a major question mark for Penn State women's volleyball heading into the spring season. Now, just a few months later, the Nittany Lions are in significantly better shape with a bevy of proven players and a highly regarded freshman joining the team.
Three-time All-American Jonni Parker, standout freshman AC Fitzpatrick, and Rutgers transfer Anastasiya Kudryashova were among four Nittany Lions who started all 16 matches this spring, joining middle blocker Kaitlyn Hord.
Only 10 days after losing to Texas 3-1 in the Sweet 16 of the NCAA tournament, Russ Rose and his coaching staff made major waves around the college volleyball community on April 28 when Adanna Rollins and Erika Pritchard announced their transfers to Penn State.
Pritchard, who holds the Maryland career points record, is exercising her fifth year of eligibility in University Park following the NCAA's decision to pause individual eligibility clocks for the 2020-21 academic year. Pritchard has by far the most kills of any player on Penn State's 2021 roster with 1,526.
Rollins, a Carrollton, Texas, native, was a significant contributor for Minnesota and is one of the better passing outside hitters in the Big Ten. Rollins combined for 20 kills and 17 digs in a pair of wins over the Nittany Lions last season. She has two years of eligibility remaining.
The program recently held its preseason photoshoot for the team and released a few shots of Pritchard and Rollins in their new Penn State uniforms. It appears Pritchard will wear No. 5 for the Nittany Lions this season, while Rollins will don No. 1.
Parker, Fitzpatrick, and Kudryashova combined for 61 percent of Penn State's kills during the spring season with 490 of the team's 807. Parker led the Nittany Lions in kills for the third straight season after recording 194. She sits just 42 kills away from reaching 1,000. Now that Rollins and Pritchard are on campus, Rose has plenty of lineup combinations at his disposal heading into the fall.
Rose and his staff have already hosted prospects for their first camp of the summer a little over a week ago after the NCAA's 15-month emergency recruiting "dead period" due to COVID-19 concluded on May 31. July will be a busy month for the coaches as well as Penn State's players, who will hold nine camps in the span of two weeks.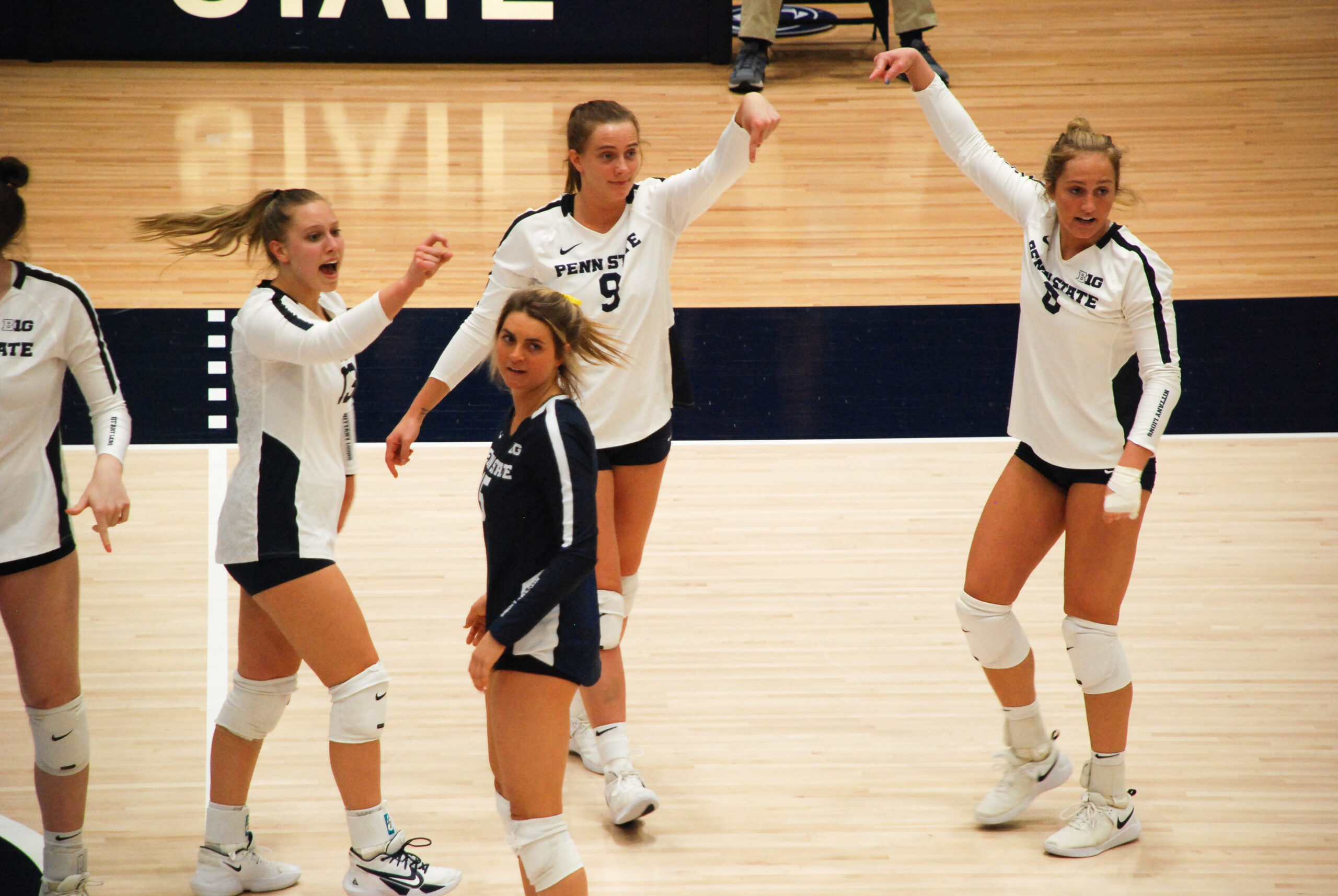 Anjelina Starck, a 6-foot-2 outside hitter who attended camp at Penn State several years ago as a recruit and is considered one of the nation's top incoming freshmen, recently led Rampart High School to its first Colorado 5A state title in program history with a match-high 26 kills in the 3-1 championship win over Grandview.
Starck and setter Rachel Muisenga, another member of Penn State's six-player 2021 recruiting class, were named Gatorade State Player of the Year for Colorado and Illinois, respectively. They both earned Under Armour first-team All-American recognition, too, but the annual showcase match was unable to be played last winter.
It's rather unlikely that either will be asked to contribute significantly right away given the depth at their positions, but both are exciting young talents who will have the chance to learn from some veteran leaders and hopefully see the court in some capacity this fall, whether that's late in an anticipated sweep or otherwise.
After spending two seasons at Penn State as a member of its 2019 recruiting class, outside hitter Lauren Clark announced her transfer to Florida Gulf Coast earlier this spring. Clark played in 40 sets as a freshman and had a strong end to her debut campaign, but appeared in just nine sets as a sophomore and struggled to crack the rotation once Fitzpatrick and Kudryashova established themselves early.
The duo performed well as full-time starters and, although there are certainly ample things to work on this offseason, they have the requisite skill sets to do some serious damage in the Big Ten. Fitzpatrick not only showed she can rise above the net with authority, but that she can also distribute the ball efficiently (to the tune of 131 digs) and intimidate opponents from the service line. Fitzpatrick led Penn State with 20 aces thanks to her jump serve.
Kudryashova tallied double-digit kills in eight of her first 10 matches for the Nittany Lions, but her production dipped slightly as the season went on and her blocking could use some refining. Kudryashova mainly played right-side hitter and middle blocker at Rutgers, so it's not surprising to see her take a little while to get comfortable at a new position. Her diving save and circle-back block against Stephanie Samedy of Minnesota was one of the top plays of the season.
Macy Van Den Elzen, the former Gatorade State Player of the Year from Pennsylvania, did not play a single set for the Nittany Lions during her first season on campus, but boasts solid size at 6-foot-3 and will be aided by a full offseason in the strength and conditioning program in order to add muscle to her frame.
Rose said after the loss to Texas that he needed to find players who could "terminate," saying that was the most noticeable difference from the 2019 team to this spring. The combination of Parker and Pritchard is a good start. It's anyone's guess how the rotation will look come August, and, more importantly, December.